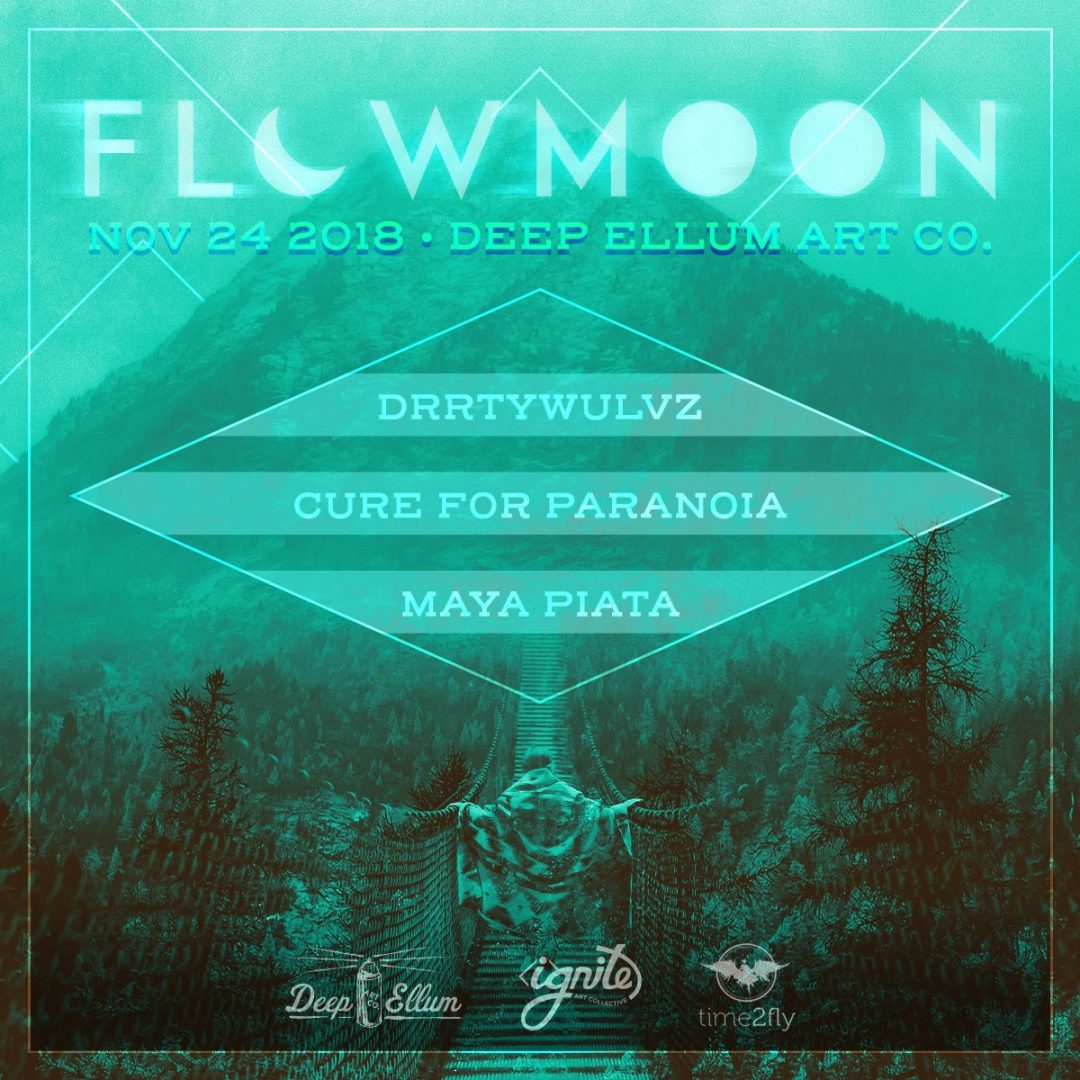 Flowmoon w/ Drrtywulvz, Cure for Paranoia, and Maya Piata
at

Deep Ellum Art Company
Saturday

,
November
24
2018
Ignite Art Collective | Time2Fly Music | Deep Ellum Art Companypresent: FLOWMOON with DRRTYWULVZ, Cure For Paranoia, and Maya Piata
Performance Artists | Live Music | DJs | Vendors | Art | Glass Blowing | Live Graffiti | Open Fire Circle & much more!
We'll be kicking off the holiday season proper, with more live music than ever!
||| Headliner |||
Coming from the small town of Bulverde, TX, DRRTYWULVZ has been hard at work for the past five years; a passionate musical project aiming to take listeners on an interesting, electronica journey filled to the brim with brain-melting frequencies and earth-shaking bass.
Levi Witt, the auditory wizard behind the impressively crisp production, currently resides in Austin where he continues inspiring dance floors everywhere. Others have certainly noticed, and large festivals such as Symbiosis, Enchanted Forest and Burning Man have brought DRRTYWULVZ to their stages as he has released several albums, including his most recent creation, "Re-Hatched".
The pleasantly alluring compositions of DRRTYWULVZ can be closely compared to the glitch and psydub of Tipper or Kalya Scintilla, yet his unique approach to euphoric dub styles is nothing short from extraordinary. Open your mind and prepare to howl at the moon, for the energetic melodies and innovative beat patterns of DRRTYWULVZ will blow you away.
Website:
https://www.drrtywulvz.com/
Instagram:
https://www.instagram.com/drrtywulvz/?hl=en
Soundcloud:
https://soundcloud.com/drrtywulvz
||| Featured Fire |||
Jasmine Kienne has been hoop dancing for 6 years. She enjoys traveling to festivals all over the US to teach her workshops and perform. In addition to being a highly skilled hoop dancer, she also has a full flute studio and plays in several symphonies in Austin, Texas; where she currently resides. This multi-talented lady is one you don't want to miss!
Instagram:
https://www.instagram.com/hothoopdancemama/
Youtube Channel:
https://www.youtube.com/user/jasminebartzInst