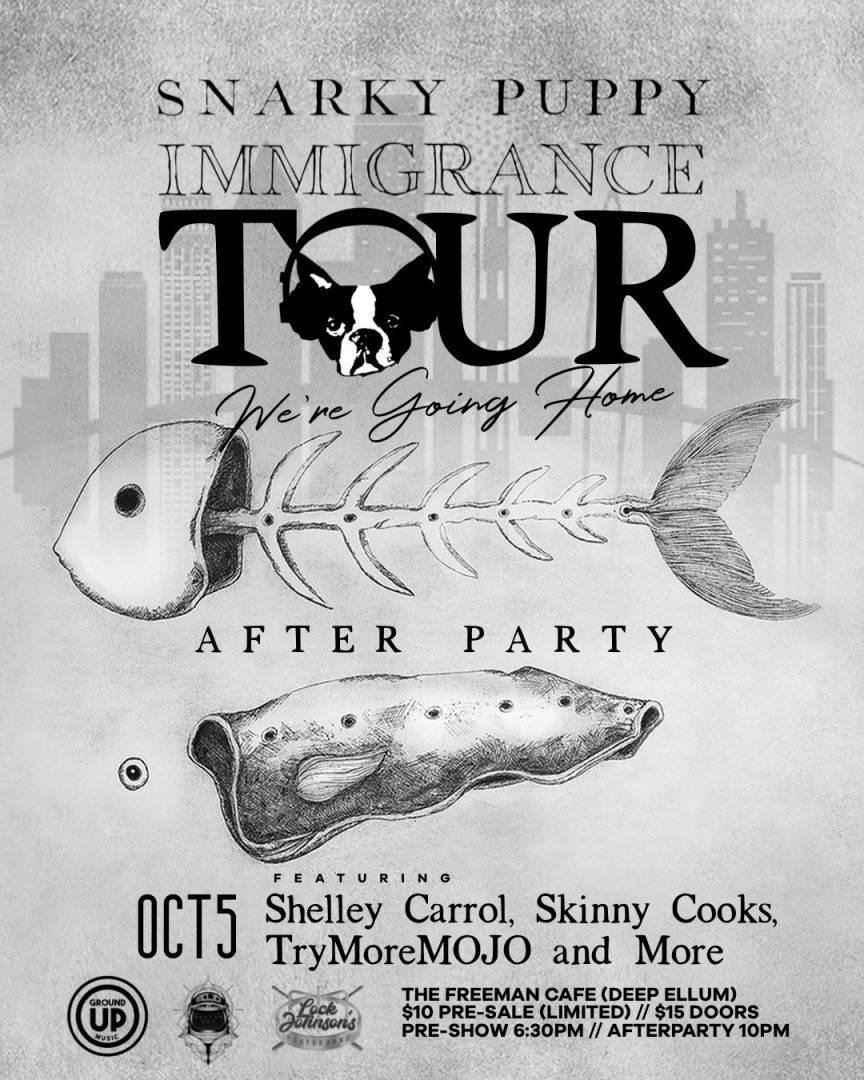 Official Snarky Puppy Immigrance Afterparty‑Dallas w/TryMoreMOJO
at

The Free Man
Saturday

,
October
05
2019
Snarky Puppy & GroundUP Music present;
The OFFICIAL Snarky Puppy Immigrance Tour Dallas afterparty! Headlined by TryMore MOJO, in conjunction with LockJohnson's Playground, featuring Skinny Cooks & Shelley Carrol.
Celebrating the end of their US tour after a 7 month trek around the globe, with 2 more months to go!
Saturday 10.05.19, destination The Freeman Café
2630 Commerce St. Dallas, Tx 75226
Pre-Show 6:30pm, AfterParty 10pm, $10 PreSale (Limited Amount), $15 Doors.
Powered By TryMoreMOJO, LockJohnson's Playground, Time2Fly Music and GroundUp Music
#SnarkyPuppy
#LongLiveMusic
#JammGoodTime
#trymoreMOJO
#staywokewebeendope©️
#ComeHearWhatMusicLooksLike™️
TryMore MOJO
[ Psychedelic | Spacefunk | Deep Groove ]
http://trymoremojo.com/
Seeking the highest of interstellar peaks, TryMoreMOJO aims to guide the listener on their mission through space with their blend of funky riffs, modular soundscapes, energetic vocals, and heavy grooves; inviting fans to contribute their energy in a give-and-take partnership between performer and listener.
An introspective look at funk and electronic music; MOJO offers funky riffs, spacey soundscapes, inviting vocals, and heavy grooves.
"MOJO an upcoming funk/electronic band are exactly what you need after a long week. Not only do they bring the grooves needed to wash away the stress of the week, the visuals provided are simply astounding. MOJO is like watching your own personal Pink Floyd, meets Rage Against the Machine, meets STS9, yes I went there. Do not miss these guys…" – DentonRadio.com
Goes well with:
TAUK, Lettuce, Ghost-Note, Snarky Puppy, Spafford, Aqueous, Papadosio, Magic Beans, STS9, BIG Something, Umphrey's McGee, Emancipator Ensemble, Pigeons Playing Ping Pong, Earphunk