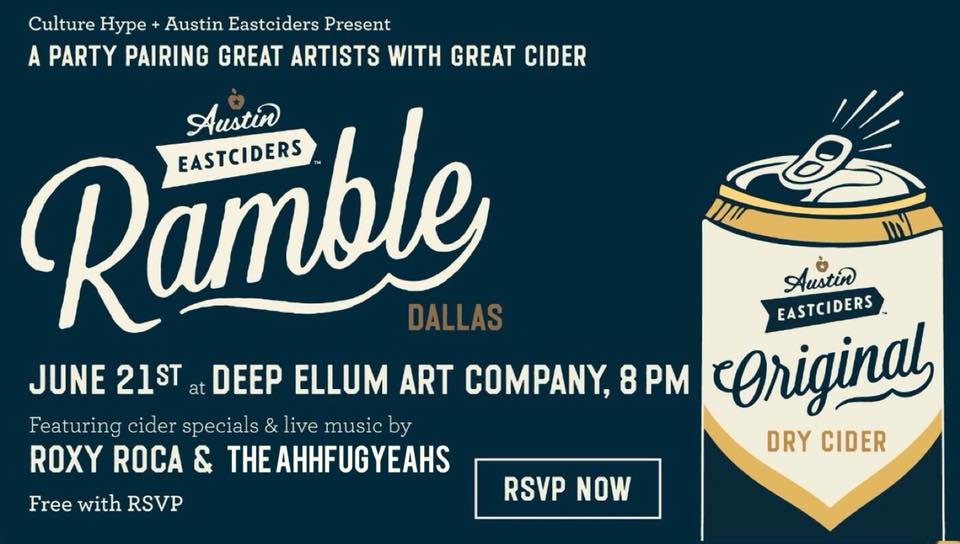 Austin Eastciders presents: FREE SHOW with ROXY ROCA and The Ahhfuggyeahs!
at

Deep Ellum Art Company
A party pairing great artists with great cider!
FREE with RSVP: http://do214.com/eastcidersramble-june2018
Austin Eastciders Ramble will feature cider specials all night and live music by:
* ROXY ROCA
[ Soul / Funk / Rock ]
http://www.roxyroca.com
* The Ahhfugyeahs
[ Rock n Fuggin' Roll]
The Ahhfugyeahs are a revolving all-star cast of musicians exploring the realms of Rock n fuggin Roll & celebrating decades of music you want to hear – Tool, Radiohead, Led Zepplin, Stevie Wonder, Nate Dog + Warren G, Sublime, & more!
@ Deep Ellum Art Company
[ venue / art gallery / backyard / bar ]
http://DeepEllumArt.Co
>>> 4:00 pm: BAR OPENS
>>> 8:00 pm: CIDER TASTING BEGINS
>>> 9:00 pm: THE AHHFUGYEAHS
>>> 10:45 pm: ROXY ROCA
PARKING:
Street parking available on Commerce (front) & Murray (side). Lot parking is available on Canton (back) across the street in the Equipment and Maintenance Services building after 6pm. We do not recommend parking in the business lot on Murray.