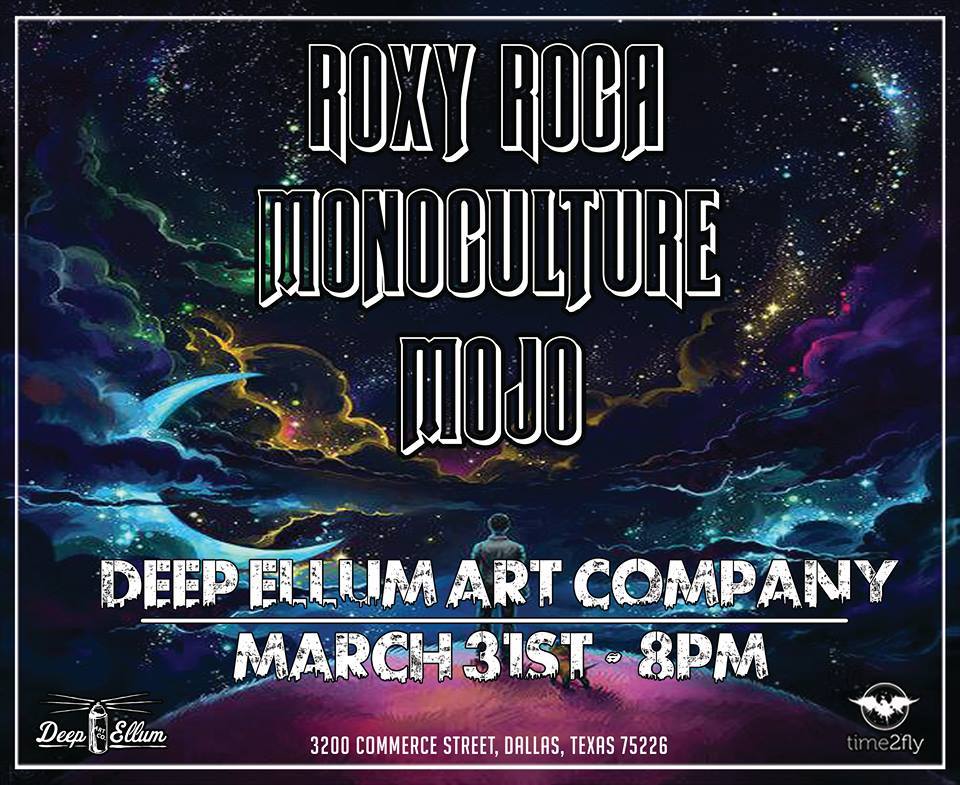 Roxy Roca with Monoculture & MOJO
at

Deep Ellum Art Company
Deep Ellum Art Company Presents:
[ live music / art gallery / backyard / bar ]
>>> 1pm: BAR OPENS
>>> 8pm: BOX OFFICE
>>> 8:30pm: MUSIC STARTS
ROXY ROCA
[ soul / funk / rock ]
www.roxyroca.com
No one leaves a Roxy Roca show dissatisfied. A sonic shot to the arm of Texas infused, powerhouse-southern soul and funk complete with a certain tightness only achievable after playing an average of more than 220 shows a year. Roxy Roca shows are like stepping into a tent-revival somewhere in the Deep South, and crooner Taye Cannon is here to speak the gospel. Each tune flows over with hooky guitar riffs, funky backbeats, slammin' horn lines, and lyrics of love, heartache, and a message of choosing happiness above all else sung with a conviction and sincerity as only Roxy Roca's green-eyed Soul-Cannon can deliver.
MOJO – Modular Johnson
[ jamtronica / hip-hop ]
http://trymoremojo.com/
An introspective look at funk and electronic music; MOJO offers funky riffs, spacey soundscapes, inviting vocals, and heavy grooves.
"MOJO an upcoming funk/electronic band are exactly what you need after a long week. Not only do they bring the grooves needed to wash away the stress of the week, the visuals provided are simply astounding. MOJO is like watching your own personal Pink Floyd, meets Rage Against the Machine, meets STS9, yes I went there. Do not miss these guys…" –DentonRadio.com
Monoculture
[ psych / jazz / blues ]
www.monocultureband.com
Monoculture is a Dallas psych rock four-piece. What once started as aimless jams between founders and longtime friends Olan Mijana and Nick Leibold became something with a little more purpose when the two completed a four-track demo while living 300 miles apart. This demo was the catalyst to the two's completion of Monoculture's full-length, debut album "Heavier Daze," an eclectic take on psychedelic rock.
Tickets on Sale Now!
$8 ADV / $12 DOS
http://bit.ly/RoxyRocaArtCo
PARKING:
Street parking available on Commerce (front) & Murray (side). Lot parking is available on Canton (back) across the street in the Equipment and Maintenance Services building after 6pm. We do not recommend parking in the business lot on Murray.