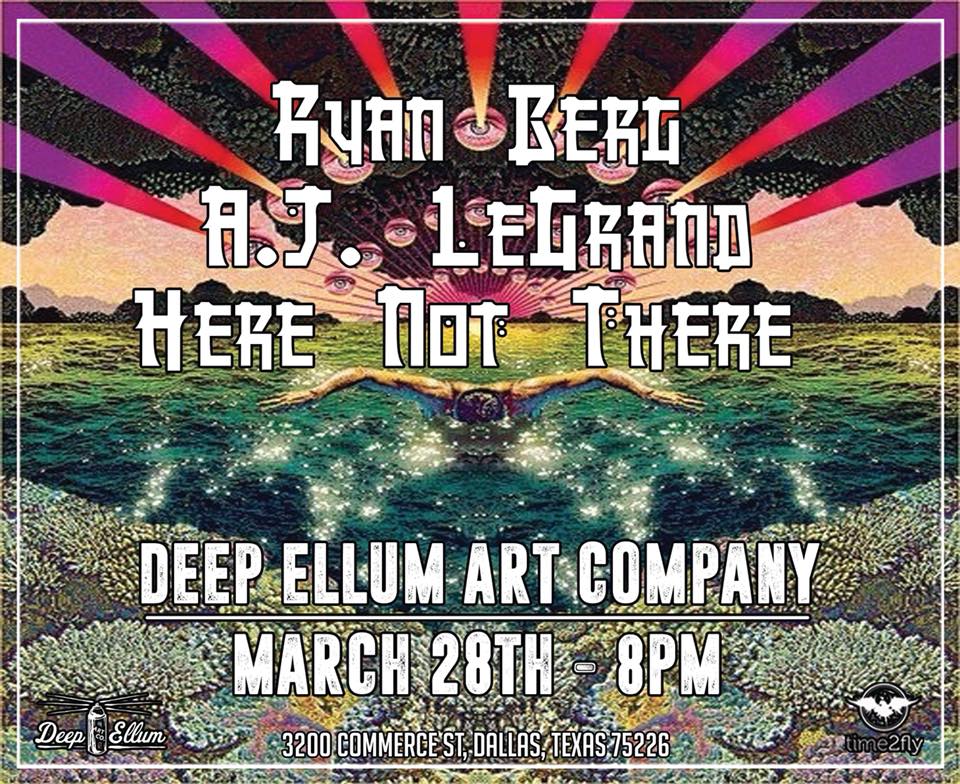 A.J. LeGrand, Ryan Berg, & Here Not There
at

Deep Ellum Art Company
Deep Ellum Art Company Presents:
[ live music / art gallery / backyard / bar ]
>>> 4pm: BAR OPENS
>>> 8pm: BOX OFFICE
>>> 8:30pm: MUSIC STARTS
A. J. LeGrand (Dallas, TX)
[ alternative / country / americana ]
http://ajlegrand.com/
A.J. LeGrand describes his music as "stories accompanied by cowboy melodies." Others have said that "his songs send [them] on an unpredictable emotional journey; exploring a myriad of genres from soul, to folk, to blues, to country rock–demonstrating his incredible gift for storytelling while telling them with the perfect amount of energy and passion."
LeGrand has always gravitated to those "ordinary yet inspiring individuals." This has led to a constant search for them as he's traveled across the US and the world with the hopes of sharing his songs and hearing their stories.
Ryan Berg (Dallas, TX)
[ singer-songwriter ]
www.ryanbergdtx.com
Ryan Berg & The Velvet Ears are an acoustic driven Blues/Jazz band from Dallas Texas. The project began when singer-songwriter Ryan Berg moved back to his hometown from San Marcos, Texas. Shortly after, Ryan began playing duos around the metroplex with lead guitarist, Glen Fleischman throughout 2014 when they met drummer, Charles Alexander.
In the Summer of 2017 Ryan Berg & The Velvet Ears were pleased to announce the release of their debut full-length album titled "The Velvet Ears". After the release of the album, "Molly Miss My" was featured on Dallas local radio station, 91.7 KTX. In 2018, Berg was announced runner up in KXT's listeners favorite vote.
Here Not There (Dallas, TX)
[ improv / funk / blues ]
Here Not There is a improvisational music group based out of Dallas TX. Our goal is to develop new music through the art of spontaneous jamming.
Jack Watt's Going Away Bash!
Tickets on Sale Now
http://bit.ly/RyanBergDTX
$8 ADV / $10 DOS
PARKING:
Street parking available on Commerce (front) & Murray (side). Lot parking is available on Canton (back) across the street in the Equipment and Maintenance Services building after 6pm. We do not recommend parking in the business lot on Murray.
DRINK SPECIALS:
1/2 Price "Craft on Draft" Cocktails