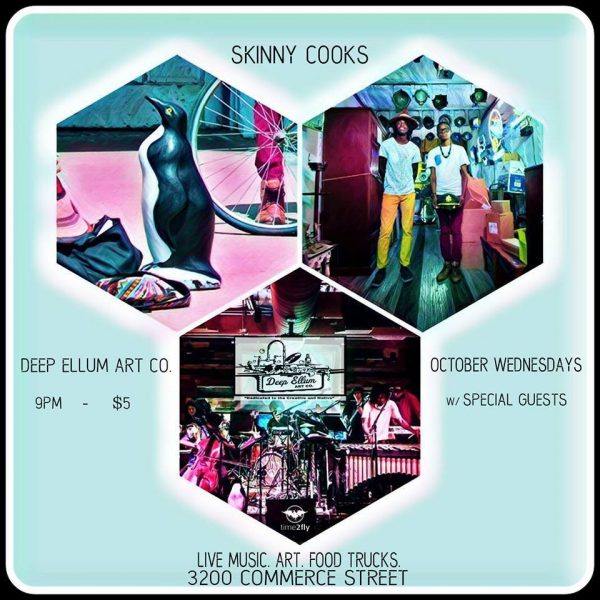 Wednesdays in October
Skinny Cooks
•
El Dub
at

Deep Ellum Art Company
Wednesday

,
October
18
2017
Deep Ellum Art Company Presents:
[ live music / art gallery / food truck yard ]
Skinny Cooks (Denton, TX)
www.theskinnycooks.com
[ funk / hip-hop / R&B ]
"Groovilicious. We're not doctors, but we can definitely fix whatever it is that's wrong with you. We fully understand the benefits of a healthy, balanced, wholesome groove, an uncompromised groove…"
Born out of the discovery that their sound was very special, Skinny Cooks is a demonstration of amazing songwriting and performance virtuosity. Brianne Sargent and Nigel Newton first explored working together in mid-2011 when they met in Dallas and performed an impromptu headliner show, crafting three songs on the spot – leaving the audience wanting more.
w/ Special Guest
El Dub Music (Sioux Fallas, SD)
www.eldubmusic.com
[ jam / reggae / rock ]
Lee "El Dub" Walsh: Lyric Extraordinaire, Musician, Composer, Multi-Instrumentalist, and Vocalist, with a love of music to no end and an even bigger passion to share it!
El Dub is what you call a "looper" or "One man Band". He plays all instruments live including, beat boxing, guitar, bass, keys and harmonizing vocals and loops them into layers that end up sounding like a full band with just one guy. El Dub uses the RC50 Loop Station as well as a Godin Synth Guitar, and Roland GR55 guitar synth pedal for sounds like horn sections, flutes, organ, piano, and wah clavi, which help him create the staple sounds of a true funk band. You may recognize this type of performance from other "looping artist" like Zach Deputy, and Keller Williams.
$5 cover