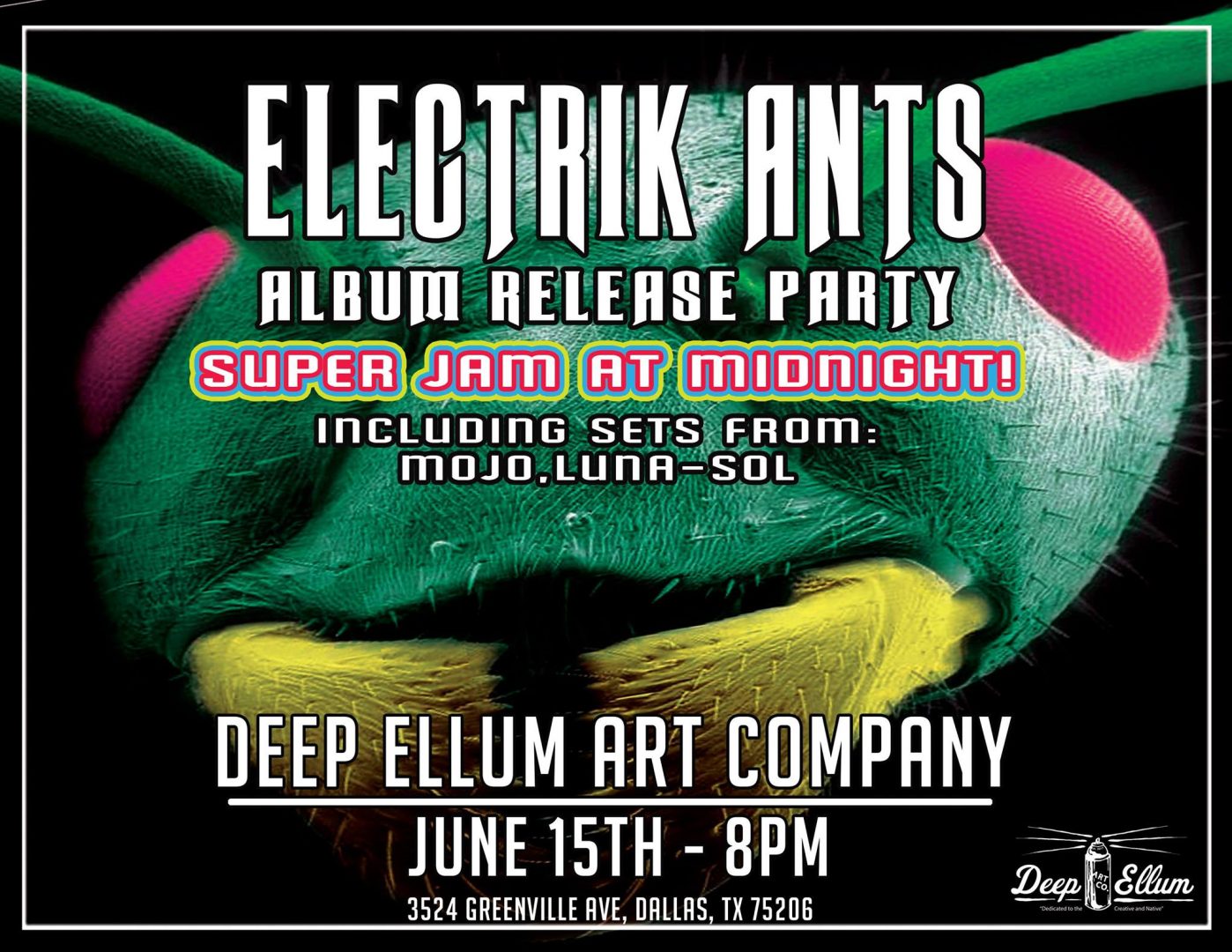 Electrik Ants
•
TryMoreMOJO
with special guest Luna-Sol
at

Deep Ellum Art Company
Deep Ellum Art Company Presents:
[ live music / art gallery / backyard / bar ]
SUPER JAM with Electrik Ants, MOJO – Modular Johnson, Luna-Sol & with members of Sagacious Zoo + more TBA!
Celebrating Electrik Ants New Album!
>>> 4pm: BAR OPENS
>>> 7pm: BOX OFFICE
>>> 8pm: MUSIC STARTS
Electrik Ants (Dallas, TX)
[ funk / hip-hop / rock ]
http://electrikants.com
Electrik Ants live in the vibe of the music – a genuine blend of hip hop, funk, psychedelic, and groove, unique and exciting. They are a seven-piece band with sax, DJ, drums, bass, and three members that rotate between rapping, singing, guitar, keys, synth, and percussion, The Ants are have great freedom in performing and writing; A freedom explored and expressed with emotional and technical dedication. There isn't a live or recorded band as ambitious, capable, or unique as Electrik Ants.
Influenced by: Gorillaz, Lettuce, Pink Floyd, Red Hot Chili Peppers, Outkast
MOJO – Modular Johnson
[ funk / jamtronica / hip-hop / progressive rock ]
http://trymoremojo.com/
An introspective look at funk and electronic music; MOJO offers funky riffs, spacey soundscapes, inviting vocals, and heavy grooves.
"MOJO an upcoming funk/electronic band are exactly what you need after a long week. Not only do they bring the grooves needed to wash away the stress of the week, the visuals provided are simply astounding. MOJO is like watching your own personal Pink Floyd, meets Rage Against the Machine, meets STS9, yes I went there. Do not miss these guys…" – DentonRadio.com
Goes well with:
Spafford, Emancipator, STS9, Lettuce, Papadosio, Umphrey's McGee, Pigeons Playing Ping Pong, Earphunk, Tauk, Tycho, Zoogma
Luna-Sol
[ jazz / r&b / soul ]
Music for Escapism and Expression. Luna-Sol aims to create new worlds and sanctuaries through the medium of musical instruments.
with Elevation Station out back, under the pavilion.
[acoustic / bluegrass / rock ]
>>>Tickets On Sale Now!
>>>$8 ADV // $12 DOS
>>>http://bit.ly/superjamartco
DRINK SPECIALS:
$5 Wells till Box Office starts up (7pm)
PARKING:
Street parking available on Commerce (front) & Murray (side). Lot parking is available on Canton (back) across the street in the Equipment and Maintenance Services building after 6pm. We do not recommend parking in the business lot on Murray.