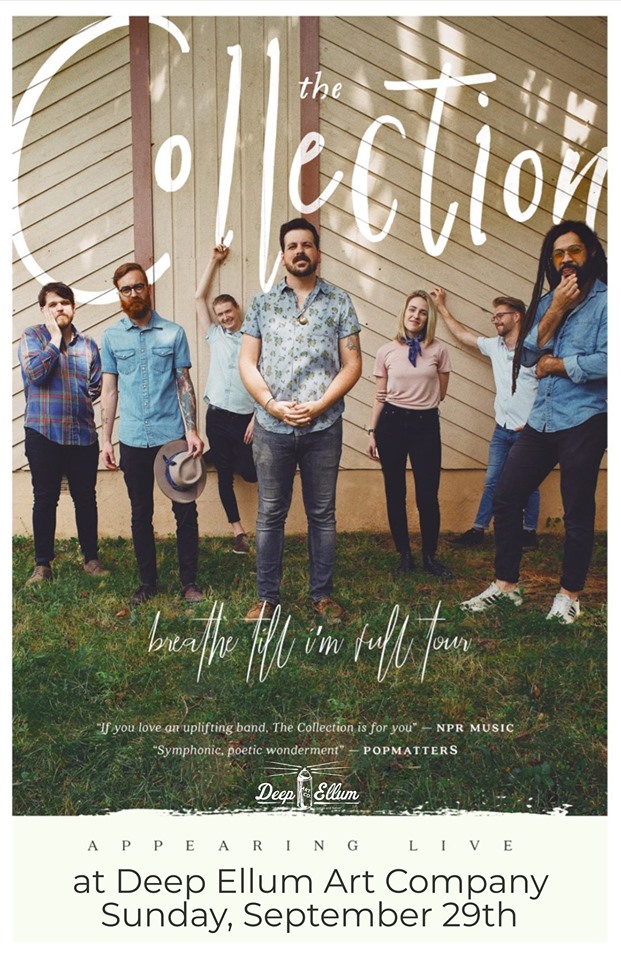 The Collection: Breathe Till I'm Full Tour| Dallas, TX
at

Deep Ellum Art Company
Sunday

,
September
29
2019
Deep Ellum Art Company Presents:
[ live music | art gallery | bar | art yard ]
http://DeepEllumArt.Co
The Collection with Jacob Metcalf!
The Collection : BREATHE TILL I'M FULL – a tour to celebrate all that is life, from the sunsets that catch us beautifully off-guard, to the mornings we run out the door to a flat tire, each experience is a reminder we are HERE, NOW, in this moment, living together on this wild planet in these beautiful bodies.
Come JUST AS YOU ARE and be with us, as we band together in joy and sorrow, peace and frustration, hope and doubt, to sing, dance, and create something beautiful for an evening at Deep Ellum Art Company in Dallas, TX, one of the coolest spots in one of our favorite cities in the country.
Get your tickets now to reserve your spot, and stay tuned for more announcements on support, interactions, and fresh creations for your eyes and ears.
TIckets on Sale Now!
>>> http://bit.ly/TheCollection_DTX
The Collection – North Carolina
[chamber pop}
Feels Like: Young Oceans, Tow'rs, Little Chief
Combining the energy and volume of a marching band with the sing-along sensibility of pop melodies, The Collection has quickly become a commanding force on the national stage. After an initial release wrestling with deaths within community, Ars Moriendi, praised by NPR and American Songwriter, and the whittled-down band's loss-of-faith follow-up, "Listen To The River," who's single, Sing Of The Moon quickly garnered over 5 Million plays, the group presented "Entropy," a personal record detailing the de- and re-construction that bookend vocalist Wimbish's divorce, wreck, move, and loss of community.
Since that first release, the band has been busy, touring nationally on shows with a variety of acts, from The Oh Hellos and Family & Friends, to mewithoutYou and Josh Garrels. This year brings exponential excitement, however, with Entropy debuting at #6 on iTunes singer/songwriter charts and #11 on National College Radio in December, single Beautiful Life hand-picked by Megan Trainor for her Wedding Songs Spotify Official playlist, and an exciting Top Shelf placement in NPR's Tiny Desk Contest, a top 10 spot out of 6000 entries.
With that energy and fire, The Collection are moving forward into the Breathe Till I'm Full Tour, a celebration/commiseration of all that is life, from the good, to the bad, and the ugly. Through changing and condensing lineups, near-fatal bike wrecks, and the energy of all that has come of the last several years of hard work, the 7-piece indie folk band maintains their original vision: to create safe and open space for folks wherever they're at in their lives.
Jacob Metcalf is a postmodern composer, songwriter and multi-instrumentalist from Dallas, Texas. Metcalf's debut album Fjord (2016) received positive responses from the international press community and music lovers alike for its art-folk compositions. The eleven song collection ranges from wistful, unhurried ballads to swirling, majestic orchestrations, sometimes within the same song, and all set to Metcalf's inviting vocals and non-linear story-telling. Highlighting eastern sounds and western orchestra, Fjord reads like a love letter to humanity, for splintered people living in a fractured age.
Hear Fjord in its entirety on Spotify, Apple Music, iTunes, Bandcamp, Youtube, 180 gram vinyl, CD, and more.
Metcalf is writing album number 2, Monitors, slated for release in summer 2020.