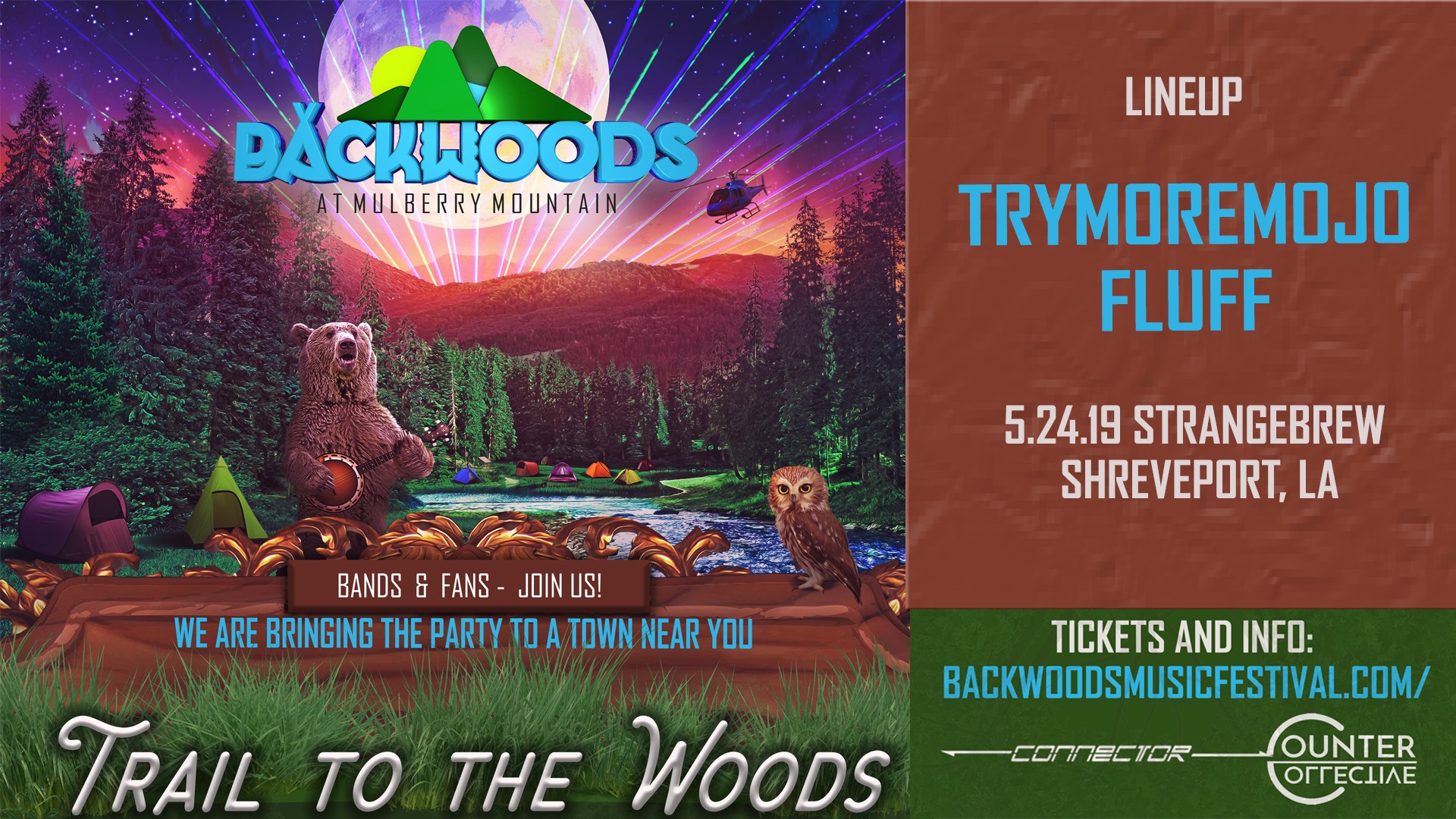 Trail to Backwoods w/ TryMoreMOJO & FLUFF Shreveport, LA
at

Strangebrew Shreveport, LA
at
Strangebrew Shreveport, LA
The OFFICIAL Backwoods at Mulberry Mountain 2019 pre-party!
FLUFF returns to Shreveport with very special friends TryMoreMOJO, from Dallas, Texas. We have been very busy creating new sonic adventures for y'all and the home town will get a special dosage of it. This is the weekend before BACKWOODS MUSIC FESTIVAL on Mulberry Mountain so come preparty with us and get excited. Come out early for our friends in TryMoreMOJO who shred!!!
https://soundcloud.com/fluffc8/sets/flow-state
https://fanlink.to/MFR0006?fbclid=IwAR3eyHfoIg-hdOKmeot4qJ6tGMu4H-Dm6V0whQ5-CF8x6FURjXcDLlsPA_A
TryMore MOJO
[ Psychedelic | Spacefunk | Deep Groove ]
http://trymoremojo.com/
Seeking the highest of interstellar peaks, TryMoreMOJO aims to guide the listener on their mission through space with their blend of funky riffs, modular soundscapes, energetic vocals, and heavy grooves; inviting fans to contribute their energy in a give-and-take partnership between performer and listener.
An introspective look at funk and electronic music; MOJO offers funky riffs, spacey soundscapes, inviting vocals, and heavy grooves.
"MOJO an upcoming funk/electronic band are exactly what you need after a long week. Not only do they bring the grooves needed to wash away the stress of the week, the visuals provided are simply astounding. MOJO is like watching your own personal Pink Floyd, meets Rage Against the Machine, meets STS9, yes I went there. Do not miss these guys…" – DentonRadio.com
Goes well with:
TAUK, Lettuce, Spafford, Aqueous, Papadosio, Magic Beans, STS9, BIG Something, Umphrey's McGee, Emancipator Ensemble, Pigeons Playing Ping Pong, Earphunk