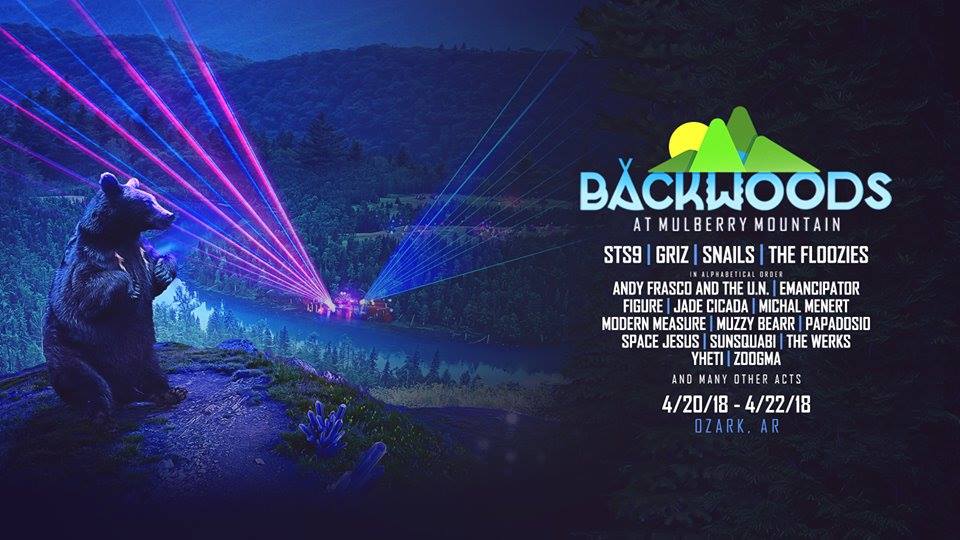 Trail to the Woods: Backwoods at Mulberry Mountain Dallas Pre‑Party
at

Deep Ellum Art Company
Deep Ellum Art Company Presents:
[ live music / art gallery / back yard / bar ]
>>> 4pm: BAR OPENS
>>> 8pm: BOX OFFICE
>>> 9pm: MUSIC STARTS
Dallas: Come celebrate the road to Backwoods at Mulberry Mountain 2018 at the Art Co on Friday, April 14! Let's gear up for an epic Jamily field trip to the Ozarks! Live music featuring:
* Trouble in The Streets (Austin, TX)
www.troubleinthestreets.com
[ electro tribe ]
Hailing from Austin, TX and playing their very own unique style dubbed as "Electro Tribe", Trouble in The Streets has quickly moved up the local and vibrant musical culture surrounding them.
Mixing a blend of influences from World, to Hip-Hop, Electronic, and R&B, Trouble in The Streets continues to leave a big musical impression everywhere they play.
Influences include: Queen, Rage Against the Machine, Fela Kuti, Beastie Boys, Nina Simone, Pink Floyd, Betty Davis & more!
* Ryan Viser (Shreveport, LA)
http://www.ryanviser.com/
[ electro / funk / livetronica ]
Ryan Viser, an American trumpet player and electronic music producer, has stirred up a frenzy and is gaining a rapid following amongst music fans since forming in 2013. Combining his aggressive trumpet playing with his hard hitting original productions, Ryan is developing a reputation for lighting up a crowd every time he picks up the horn.
In 2014, his track "Steppin Up", won the Management's Choice Award in The Untz Challenge V, giving Ryan the opportunity to shine on the stages of 6 major music festivals including Electric Forest, Wakarusa, Sonic Bloom, and Summer Camp.
With album releases in 2015, 2016, and 2017, Ryan is continuing to hone his sound and focus on a new style of brass infused bass music.
* The Voodoo Fix (Nashville, TN)
www.thevoodoofix.com
[ rock & roll ]
Formed in the south-side of Los Angeles, The Voodoo Fix are a larger than life rock band that blends genres of rock, funk, and southern soul into one seamless sound.
Grateful to call Nashville home, The Voodoo Fix brought an element of rock and funk to the local scene with well attended shows at some of Music City's most popular venues.
The Voodoo Fix puts it all on the table leaving crowds ecstatic, energized, and hungry for more of the high-powered, soul-sustaining rock they provide night after night. The Voodoo Fix lives for their audience and makes music "for the express purpose of making people feel good."
* STARPARTY (Denton, TX)
http://youtube.com/user/starpartytube/videos
[ pop / disco / rock ]
Dance music from another galaxy!
"Most of STARPARTY's members have been playing music virtually their entire lives. Steinberg, who had been doing covers of electronic-pop duo Daft Punk on his own, was approached by a member of another band who was interested in doing the same thing. When that band member passed away unexpectedly, the remaining group still wanted to carry out that idea: a Daft Punk cover band with some individuality of their own."
Tickets on Sale Now
$10 ADV // $15 DOS
http://bit.ly/BackwoodsDallas
Limited amount of $7 Early Bird tickets available!
PARKING:
Street parking available on Commerce (front) & Murray (side). Lot parking is available on Canton (back) across the street in the Equipment and Maintenance Services building after 6pm. We do not recommend parking in the business lot on Murray.
DRINK SPECIALS:
$5 wells until 8pm