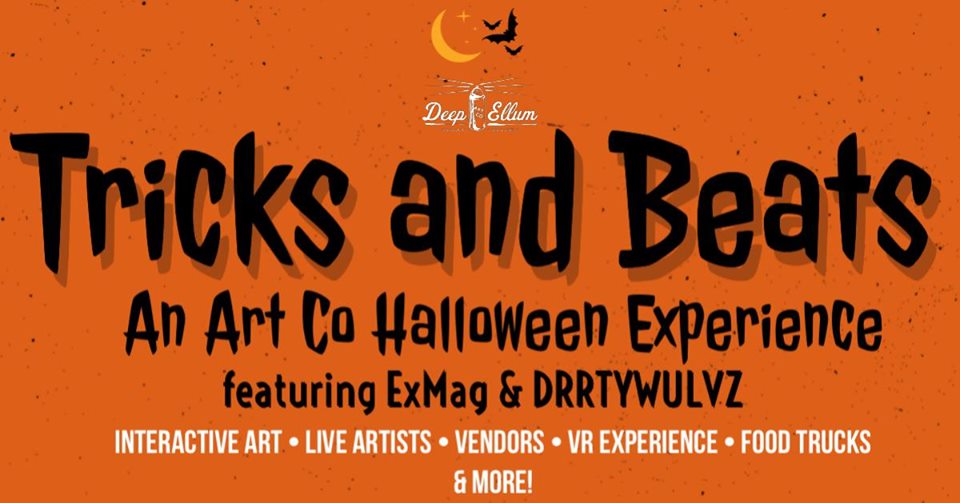 Tricks and Beats feat. Exmag and Drrtywulvz ‑ A Halloween Party
at

Deep Ellum Art Company
Saturday

,
October
26
2019
Deep Ellum Art Company Presents:
[ live music | art gallery | bar | art yard ]
http://DeepEllumArt.Co/
Tricks and Beats: An Art Co Halloween Experience featuring Exmag and DRRTYWULVZ
Live Artists – Vendors – Interactive Art – VR Experience – Food Trucks
& More To Be Announced!
Tickets on Sale Friday, September 27th @ 10am!
Exmag
[jamtronica | funk | electronic]
Feels Like: Sunsquabi, The Motet, The Floozies
Exmag is for the people!
"It is undeniable that these guys have modern hip-hop originality with the smooth, timeless style of jazz. From their street style to their verging-on Minnesota niceness, there is nothing less than real about these fellas. Always about the music, always about creating, the most attractive part about them … is their obvious authenticity and raw artistry. Keeping their genuine interests as first priority … the guys continue creating as a whole culture builds itself around the products of their imaginations." -EDMChicago
While Exmag and Kanye West come from vastly different genres and career stages, they are making parallel moves in live entertainment by turning the concert's traditional role in album marketing on its head. – Forbes
From the sultry vibes of "Go Up" to the funky beats of "Not The Last Time," the listener goes from hip swivels to full body oscillations. Featuring only instrumentals on this track, Exmag exhibits their love of funk and soul as well as their skill in creating it. Thick and encompassing, "Not The Last Time" is as familiar as it is unique, reaching across genres and audiences. Their playful and uplifting sound can easily enliven any dancefloor, from the sticky floors of a night club to the dusty ground of a music festival. -Huffington Post, Morena Duwe
"Containing all the right elements of funk, soul, blues, R&B, and electronica, this evergrowing contingent of artists is not just another EDM group, but a production collective who explore new means of pushing the limits by combining live instruments and vocalists with their own synthesized beats." – Empty Lighthouse
&
DRRTYWULVZ
[psychedelic | bass | electronic]
Feels Like: Tipper, Kalya Scintilla, Goopsteppa
DRRTYWULVZ is a passionate musical project that guides listeners on a deep adventure through sound.
Levi Witt currently resides in Austin, TX where he regularly inspires dance-floors with his impressively crisp production.
DRRTYWULVZ has graced quite a few festival stages including Oregon Eclipse, Symbiosis, Enchanted Forest, and Coalesce. He has released several albums and his most recent creation "Nest of the Falcon" releases 3/26/2019.