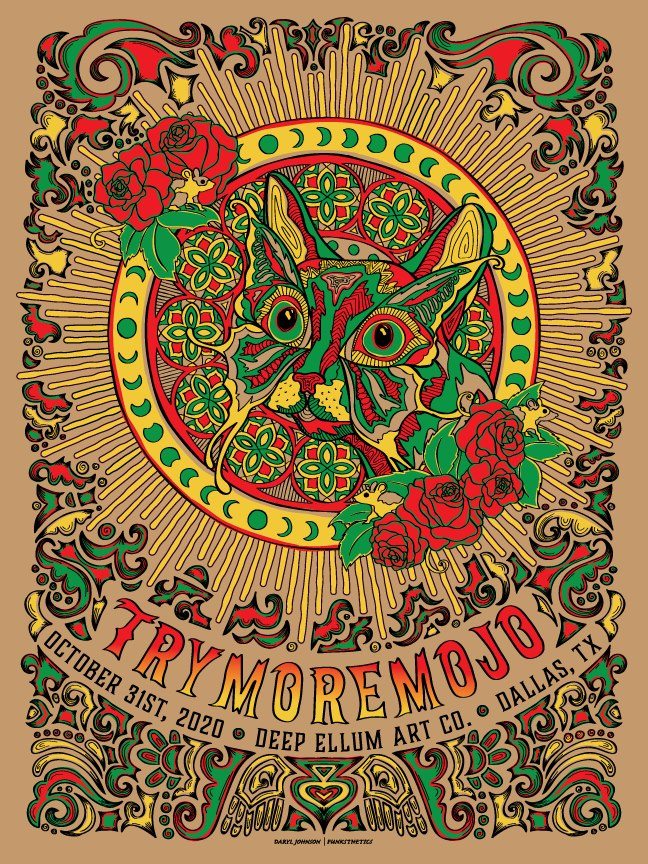 TryMore Halloween with TryMoreMOJO in the Art Yard
at

Deep Ellum Art Company
Saturday

,
October
31
2020
TryMore Halloween with TryMore MOJO in the Art Yard!
[psychedelic space funk]
Saturday, October 31st
Art Yard Opens at 5PM
Show begins at 7PM
Food provided by Butcher's Son
COSTUMES HIGHLY ENCOURAGED!
—
About TryMore MOJO:
Seeking the highest of interstellar peaks, TryMoreMOJO guides the listener on their mission through space with their blend of funky riffs, modular soundscapes, energetic vocals, and heavy grooves; inviting fans to contribute their energy in a give-and-take partnership between performer and listener.
The Dallas, TX based group has worked tirelessly to solidify and expand their position in the southern region. Starting with a sold out debut show in 2016 followed by continuous regional performances, and nominations for "Best Funk Act" & "Best Electronic Act" by the Denton Area Music Awards before the end their first year; MOJO showed a tangible amount of momentum and persistence, opening doors to many future opportunities.
That momentum has started to steamroll with the band sharing stages with national acts such as, Snarky Puppy, STS9, Papadosio, TAUK, Charli 2na, Naughty Professor, Aqueous, Chris Dave & The DrumHeadz, BIG Something, CBDB, The Werks, Ghost Light, JJ Grey, Eminence Ensemble, Cycles, Steady Flow, Voodoo Visionary, Iceman Special, Forgotten Space, Funk You, The Jauntee and more.
Meticulously working in the studio, MOJO is set to release their debut EP in Spring 2020, all the whilst maintaining a road-ready regional presence. With a growing fanbase eager to see what this band of unique personalities has to bring to the table, Its The Time to "TryMoreMOJO"
"MOJO an upcoming funk/electronic band are exactly what you need after a long week. Not only do they bring the grooves needed to wash away the stress of the week, the visuals provided are simply astounding. MOJO is like watching your own personal Pink Floyd, meets Rage Against the Machine, meets STS9, yes I went there. Do not miss these guys…" – 
DentonRadio.com
*KNOW BEFORE YOU GO*
This is a SEATED show, there will be no standing room General Admission available.
-LIMITED tickets available.
Single Seats at $20 (includes fees)
Double Seats (seats 2) at $40 (includes fees)
Art Yard Tables (seats 6) at $100 (includes fees)
-Please remain seated at your table unless using the restroom or ordering a drink
-Table Cocktail Service will be available.
-The Butcher's Son will be providing charcuterie boards.
-Feel free to order food from Postmates or any food delivery service to the venue.
3200 Commerce St Dallas, TX 75246 is our address.
-Masks are REQUIRED at all times (unless eating or drinking), even while seated.
-If you do not abide by the mask/social distancing rules, you will be asked to leave. No refunds.
-Bar Service through the side window, access to outdoor restrooms,
picnic tables will be 6ft apart.
-Please respect our guidelines as we want to keep YOU & our staff as safe as possible.
-No Shoes, No Shirt, No Mask, No Service.