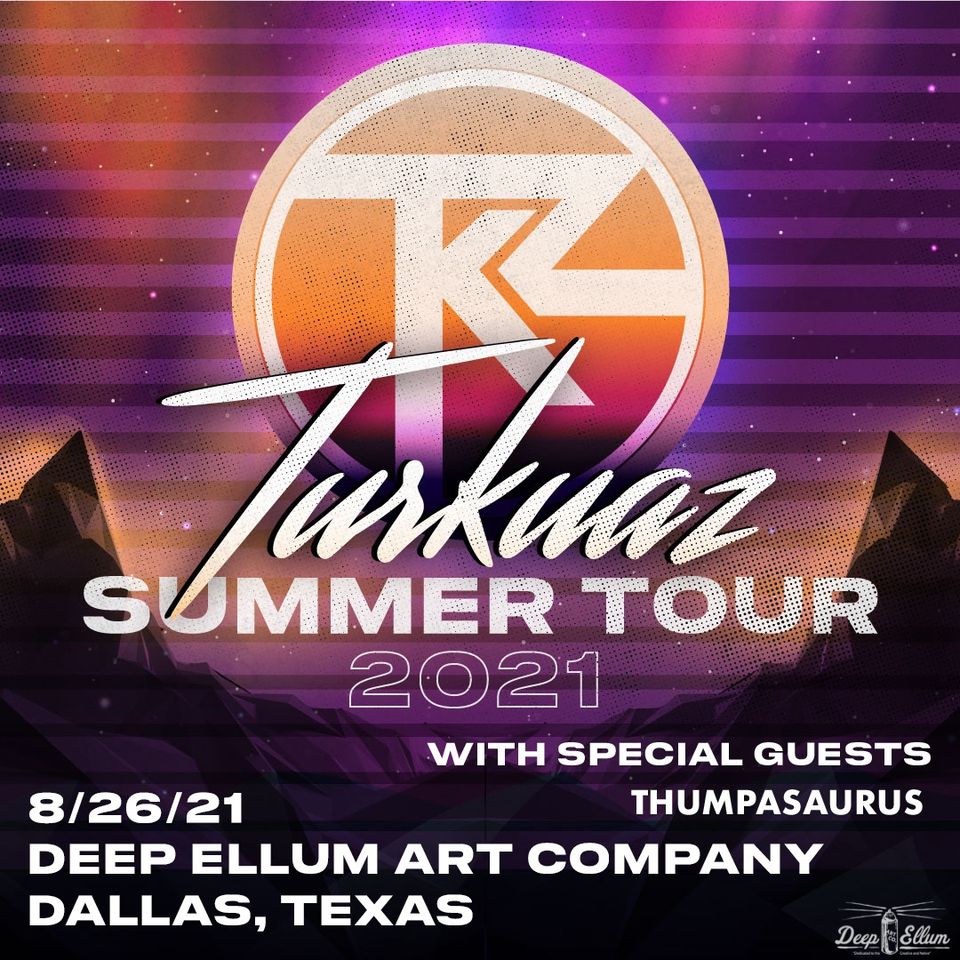 Turkuaz
at

Deep Ellum Art Company
Deep Ellum Art Company Presents: Turkuaz with support from Thumpasaurus (THUMP)
TURKUAZ
Balancing male-female harmonies, strutting guitars, wild horn arrangements, and interminable grooves, a spirit takes shape on stage nightly for Turkuaz via larger-than-life performances. Among numerous critical plaudits, The New Yorker claimed, "[Turkuaz] delivers horn-filled funk incorporating elements of R&B, psychedelic pop, gospel, Afro-pop, New Wave, classic rock, and just about any genre that gets people dancing."
The Brooklyn-based nonet—Dave Brandwein [guitar, vocals], Taylor Shell [bass], Craig Brodhead [guitar, keys], Michelangelo Carubba [drums], Chris Brouwers [trumpet, keys], Greg Sanderson [tenor sax], Josh Schwartz [baritone sax, vocals], Sammi Garett [vocals], and Shira Elias [vocals]—ignite an explosion of energy punctuated by neon hues, deft musicality, and show-stopping singalongs on their newest EP, Kuadrochrome.
Touring incessantly in support of four full-length studio albums, EPs and live releases, they've lit up stages everywhere from Bonnaroo, Hulaween, Okeechobee, Electric Forest, and Mountain Jam to Telluride Jazz, High Sierra, and Lock'n, in between gracing stages at legendary spots such as Red Rocks, Terminal 5, and The Fillmore, to name a few. Since emerging in 2011 with their self-titled debut, the group have quietly animated a movement.
"I would love for our music to be a bright spot in an otherwise dark world. You can come to our shows, let go, exist, and have a good time in spite of what may be going on outside. That's what music does for us. We want to share that."
THUMP
Los Angeles-based THUMP are a gang of five superbly-skilled young American musicians taking hugely divergent influences and channelling them into something uniquely Thumpasaurian.
THUMP offer up their own unique punk/funk stew wherein, hidden in plain sight and sound, you'll find traces of Zappa, Beefheart, James Chance, Funkadelic/Parliament, Morphine, Devo, Talking Heads and Prince, as well as some rocking heavy metal, free jazz, musical theatre and even some light opera references thrown in for good measure.
Lead singer and guitarist Lucas Tamaren's alter ego, Sensei Boland, recently achieved web notoriety by challenging the world to bring him something he can't karate chop. A promotional meme for "Mental Karate" resulted in Buzzfeed picking up on the video & the band's music being shared by the likes of Alt-J, Shakey Graves, and Rob Thomas amongst others. See here: 
http://whatichopped.com
After a sold out 12 show run at the Edinburgh Fringe Festival, Thump opened their 2018 with an at-capacity play at the Echo, as well as support for KNOWER's sold-out shows in LA (Lodge Room) and SF (Brick & Mortar). For their first-ever headliner at the Bootleg Theater on April 1st, the band packed 200+ people in to witness the live debut of their original rock opera, Where Does The Love Go?, complete with a 20-person choir. Seriously. Thump teased the opera in physical cd-only format at the show.
Additionally, 2018 has seen the band record an EP with legendary house producer, Dirtybird's Justin Jay. Consisting primarily of remixed Thump songs, the EP is out on Jay's Fantastic Voyage label and was premiered by Annie Mack on BBC Radio 1. The music has already been played by massive DJ's in the house and techno scene across the country, including at an EatsEverything's headlining set at Ultra Festival in Miami. Members of the band were special guests on Justin's tour in May supporting the EP release. In June, the band supported WAVVES at the FigFest festival in downtown LA.
The band released their self-produced debut album, The Book Of Thump, in July 2019, with new singles and videos coming soon, plus their biggest-ever headlining show at the Troubadour in LA. Followed by a return to Scotland for the Fringe Festival with a brand new headlining residency, as well as the debut of their rock opera, and in October are set to take up the legendary mantle of resident band at the Echo for 5 straight Mondays.
Thumpasaurus has received radio play from tastemaker stations such as KCRW (Wayne's World) and BBC Radio 1 (Space Barn) as well as BBC Radio Scotland (You Are So Pretty, Dance Like It's Your Life, Mental Karate).
THUMP will be releasing a new record in 2021.
Think. Dance. Smile. Feel. Thumpasaurus are about to come into your life and make you do all of the above. Go see, go hear – you'll never feel more alive.
Long may you Thump.
Deep Ellum Art Company
3200 Commerce Street
Dallas, TX