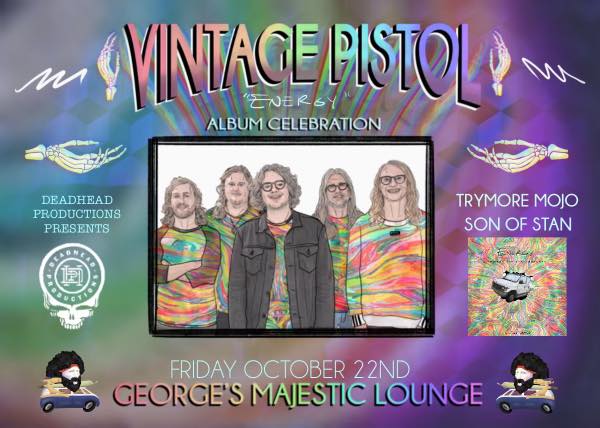 Vintage Pistol ‑ Album Release w/ TryMore MOJO
at

Georges Majestic Lounge
Deadhead Productions presents: Vintage Pistol- "Energy" an album release celebration! Mark your calendar now! Support from TryMore MOJO and late night vinyl DJ party
with DJ @sonofstan!
www.georgeslive.com
Poster creation from the mind of Walt Blythe!
"Energy: A Remedy for Roadlessness" was recorded during the start of the pandemic in 2020 when the world flipped and the band was forced to take a step back from their way of life on the road. This record is a mix of songs written while touring across the country in basements, garages and living rooms. While some exciting direction for this record arrived on the spot in a control room at Sōl studios, in Fort Smith, AR, many of these songs were road tested in front of crowds and our peers. The band has released music in the past, although this album feels like an introduction to who Vintage Pistol really is, can, and will be. The name "Energy" was settled upon as it is the word used by fans new and old to describe experiencing VP and our live performances. We want for nothing but to make sure we captured that feeling across this record.
We are so excited to FINALLY celebrate this record with everyone!!