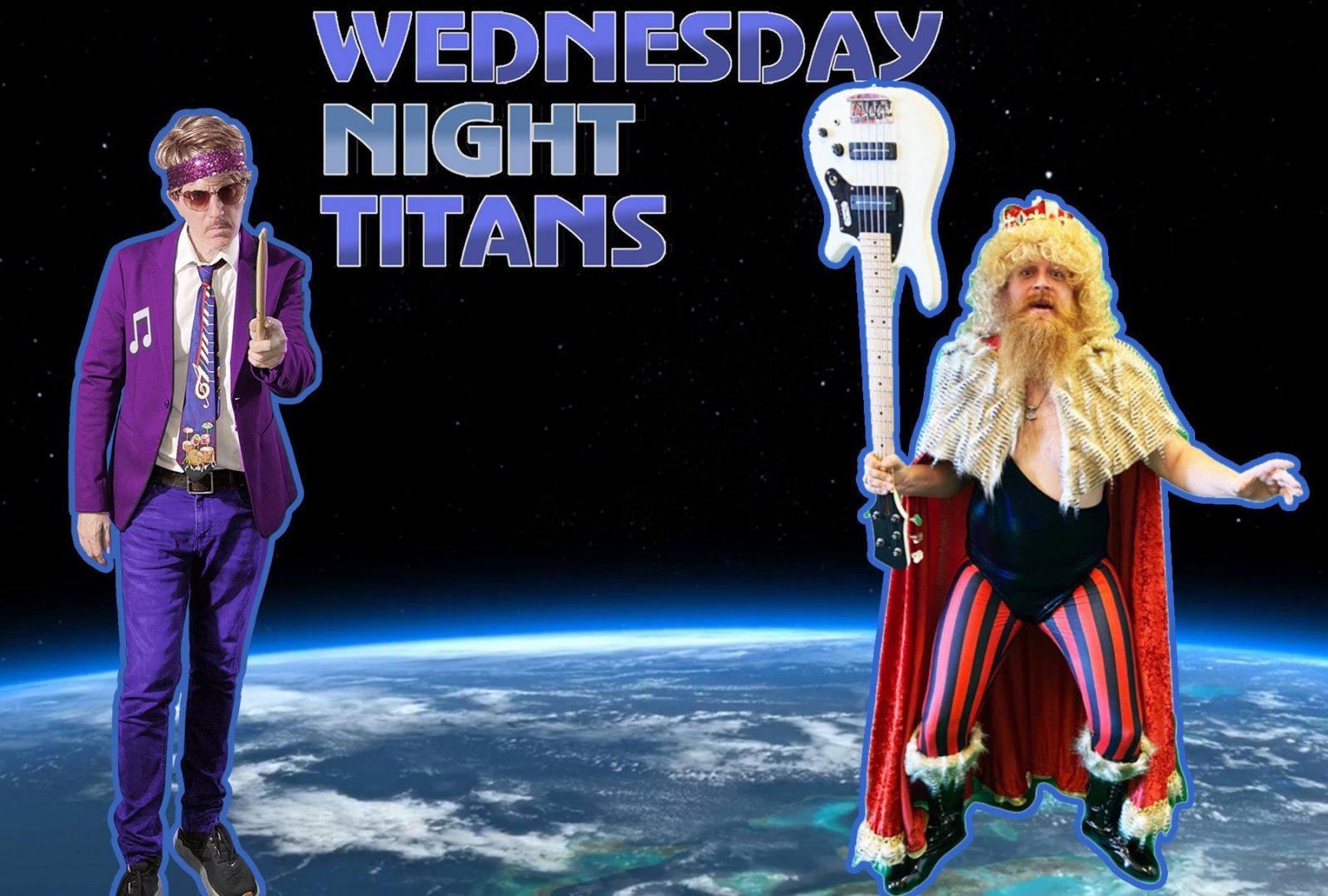 Wednesday Night Titans at Heist Barrel Arts
at

Heist Brewery
Thursday

,
February
03
2022
Time2Fly Music & Records On The Wall Present – Wednesday Night TItans at Heist Barrel Arts
All Ages
$12
No Refunds
Drummer Zach Danziger and bassist Kevin Scott are two of the baddest and busiest musicians on the global music scene. Wednesday Night Titans is their baby, a Championship Wrestling-fueled extravaganza that's one-part NASA-like brain challenge (Google "Zach Danziger TED Talk"), two parts video shock treatment, and three parts future-music language lesson.
Using the theatrical in-the-ring taunts of such 1980s-era wrestling icons as Hulk Hogan, Ric Flair, Dusty Rhodes, and Randy "Macho Man" Savage as their video-projected inspirations, Wednesday Night Titans create a proto-cosmic, fusion-fueled soundtrack accompaniment to the combatants' chest-pounding declarations, manipulating their speech and images to further derange the proceedings. It's an over-the-top mind-gasm of roid-warrior madness and instrumental profundity.
Breaking ground is nothing new for Zach Danziger. As a fifteen-year-old at New York City's Drummers' Collective, the boy wonder could be heard jamming with Dave Weckl and Dennis Chambers, leaving the older drummers dumbfounded. At age seventeen, Danziger joined Latin pianist Michel Camilo's groundbreaking trio before stoking guitarist Wayne Krantz's blitzkrieg band in a four pioneering albums. Danziger currently mans the drum chair with saxophonist Donny McCaslin's (of David Bowie's Blackstar) genre-busting band. Danziger has scored many soundtracks (and recorded David Holmes' long-running Oceans . . . series), and co-designed Zildjian cymbals Re-Mix, Kerope, and Avedis lines.
Alabama native bassist / producer Kevin Scott has an equally impressive resume, including longtime collaborations with Colonel Bruce Hampton, Bernard Purdie, Jimmy Herring, John McLaughlin, and Wayne Krantz; the mighty Matador Soul Sounds and FORQ currently benefit from Scott's dynamic bass and extreme presence.
Staking visionary turf in today's decentralized music business is tough. The trials are enormous, the gamble real, the obstacles daunting. Like Jake "the Snake" Roberts says in one massive WNTs' reel, "Some people are imitators and some people are innovators and I am an innovator!" Join Wednesday Night Titans as they step into the ring and drive their innovative sounds deep into your brain.