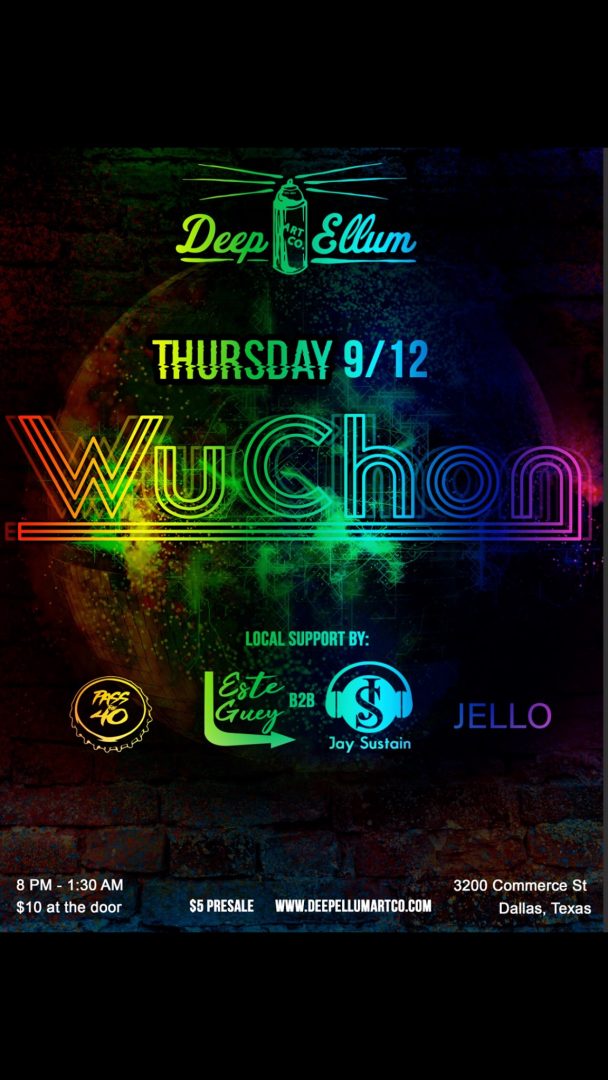 WuChon w/ Pass The 40, Jello, Este Guey, Jay Sustain
at

Deep Ellum Art Company
Thursday

,
September
12
2019
Deep Ellum Art Company Presents:
[ live music | art gallery | bar | art yard ]
http://DeepEllumArt.Co
A Night of Disco. Funk. House. Techno.
Thursday, September 12th
Wu Chon (Craig Brodhead of Turkuaz)
[disco | funk | house]
https://soundcloud.com/wuchon/wuchon-live-set-8-27-19
From the the the grit and grime of Hartford CT (via Brooklyn) emerges a true leader in funk, house, and disco music. WuChon (pseudonym of Craig Brodhead, lead guitarist, and keyboard player for the legendary funk band, Turkuaz) has been carving his path in the electronic dance scene in recent years. His love for creating and mixing funk, disco, techno, and house music has become a passion and he has been spreading the gospel of funky house. DO NOT miss an opportunity to see Wu Chon spin a non stop journey of dance music from the past, present and future.
Pass The 40
[house | tech-house]
As a staple in the Dallas electronic music scene for almost a decade, Pass The 40 has carved out the perfect lane himself. The versatility of his DJ sets and productions have garnered the respect of djs from all the genres that electronic music encompasses. He's released music on well respected labels like Main Course, Box of Cats, and Psycho Disco!, to name a few. He has also opened up for some of biggest names in dance music from RL Grime to Pete Tong and everything in between. Recently, he was named the winner of the Corona Electric Beach contest which landed him a slot at EDC Las Vegas . From sweaty night clubs like Dallas' famed It'll Do Club to festivals like EDC, Pass The 40 can and will get any crowd dancing until they can't dance anymore.
Jello
[electronic | dance | funk]
At an early age, Joe started expressing interest with musical creativity by making mixtapes. He eventually discovered the art of mixing songs and music in a different way. Joe knew the best creative outlet for his newly found interest would be to pursue the art of being a disc jockey. The urge to play whenever possible resulted in successfully mixing on numerous occasions at parties, bars, weddings and night clubs. Even from those first days playing middle school dances for The Boys and Girls Club, Joe has found that diversity in his music can lead to infinite opportunity. Capability of mixing across all genres has given Joe a mixed spectrum of musical influence.
Learning the basics on vinyl and turntables, progressing to mixing boards and recently learning how to use CDJs, Joe has found comfort in any setting. Hoping to continue with music growth, he hopes to learn to create some original music and continue to play in different settings, such as a larger scale music festival.
By not afraid to play different genres for different events, it ultimately comes down to playing those tracks that get the crowd tapping their feet, nodding their heads, and moving their bodies without them realizing it, regardless of genre, speed, style, or release date.
ESTE GUEY
[disco | funk | house]
Este Guey, or in English- This Guy, has been adding his unique coat of music to the Dallas dance scene for the last 3 years. His style is rooted in Disco, Funk, and house but branches out into all genres of dance music, as well as music most people wouldn't think to
associate with the dance scene. Este Guey seems to blend these various genres into, what feels like, cohesive stories, and prefers to structure his sets this way. He also draws inspiration from classic and psychedelic rock, to boot. His sets tend to coax you into a heavy boogie while leading you down a heady rabbit hole. In his short time playing in the Dallas music scene he's opened for Kenney Glasgow, Eli & Fur, Hotel Garuda, Treasure Fingers, VNSSA, amongst a plethora of artists from all over the map. Listen at your own risk. Product may be habit forming….You've been warned.
Jay Sustain – Our Resident DJ
[deep house | dance | electronic]
Dallas Based Producer / Remixer / DJ
www.JaySustain.com