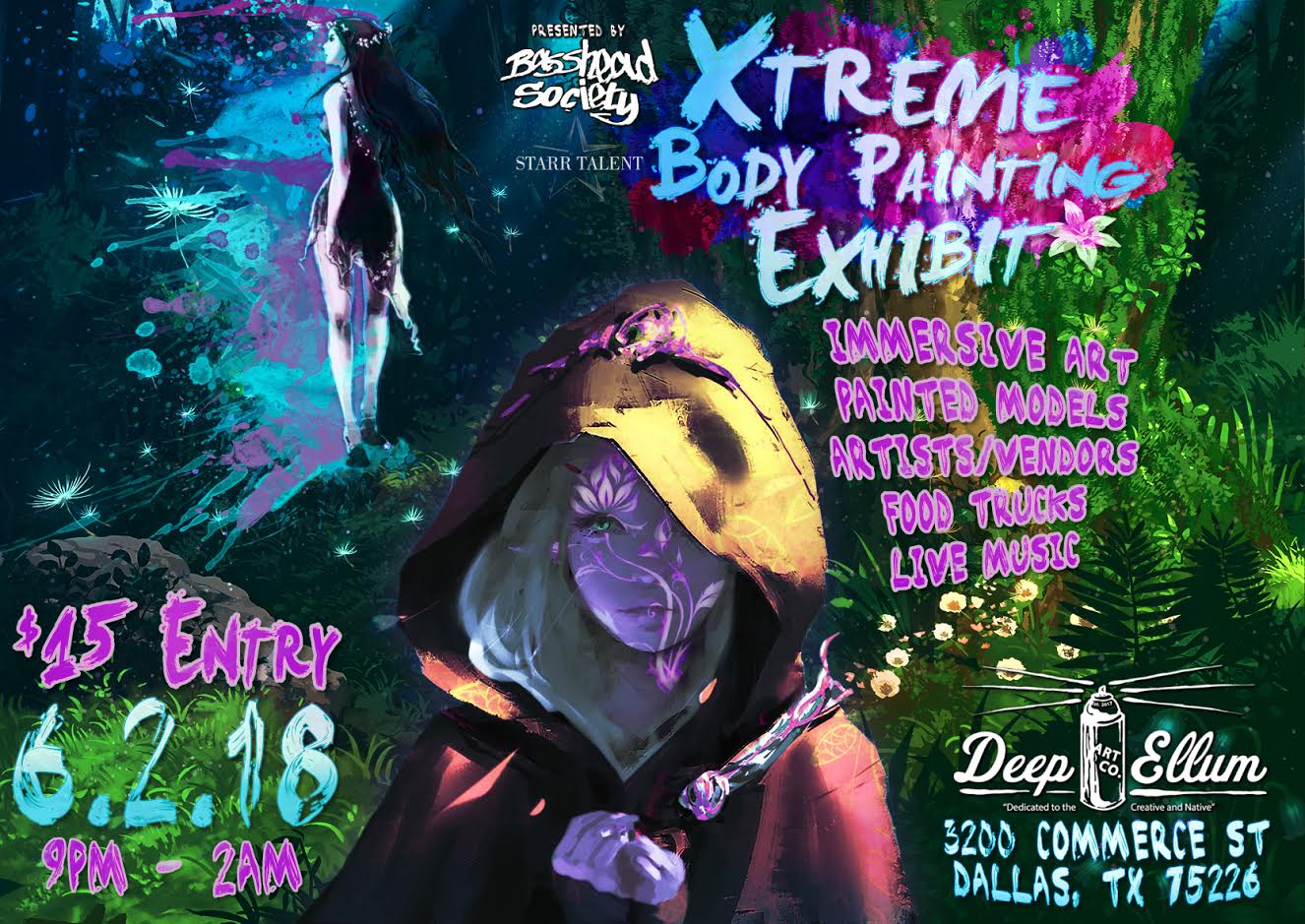 Xtreme Body Painting Music & Art Exhibition
at

Deep Ellum Art Company
Basshead Society Presents:
XTREME Body Painting Music & Art Exhibition
June 2nd, Saturday 2018 8PM-2AM
Deep Ellum Art Co.
$10.00 Pre-Sale Tickets Online
$15.00 at the door
We are bringing you the biggest and best of Body Painting that DFW has to offer! And we are going XTREME!!!! Full body painting including prosthetics, props, and MORE!!! Featuring Shelby Starr Talent and her models! They'll be totally transforming themselves by using their bodies as the canvas! This show will be something beautiful so make sure to come by and enjoy the LIVE art and LIVE music entertainment, brought to you by Basshead Society!
Deep Ellum Art Company
3200 Commerce St
Dallas, Texas 75226
(BODYPAINTERS)
Bryan Jackson – TribalLifeArt
Lhars Ebersold – Art Page: https://www.facebook.com/GorgonDreams
Mallory Jones (Mal Pal) –
Xochiti Maria Miranda
Santiago Huerta – IG: ArtComesToLife
Torres Chris – Ink Inc IG: tattoo.torres
Damon Thompsonn – Ink Inc
Loren Sivad /Webpage: www.instagram.com/lorensivad
James Stein – facebook.com/SteinDesignArt
Chesley Keeser – https://www.facebook.com/facesbychelseak/
Bryan Crump (OKC) /Webpage: https://www.facebook.com/thecrumpeffect/
(BODYPAINTERS with Model)
Justin O'Keith Higgs-Esq – facebook.com/justinokeithcreative
Kasey Jones Art Amusements- facebook.com/kaseyjonesartist/
Nancy Etter & Sally Swanson (Blood Moon Tattoo) https://www.facebook.com/bloodmoontattoogallery/
Dean Armstrong
Faye Ramirez /Website: www.instagram.com/ravenfayespecialfx
Williams Dannyray Mode/Chelsea Blubaugh
Janelle Nicole Jex – https://www.facebook.com/janellejexart W/ Shannon Kemp/ Website: instagram.com/featheredfury
Dro Sol/ Webpage: https://www.instagram.com/drosol/ W/ Haley Driver
Models:
(SPONSOR) Shelby Starr (Starr Talent Modeling Agency)
https://www.facebook.com/mystarrtalent/
Xochitl Maria Miranda
Sophie Weeks
Megan Ashley Parker
Brandy Fae / Website: www.instagram.com/cosmicfae;
Sandra Nuñez /Website:www.instagram.com/promisingnada
Keana Kasha Smith
Kimberly Nicole Garcia
John Claset
Kristen Lubetkin
Danielle Walters
Janet Castillo
Rayne Drawps/ Webpage: Https://www.instagram.com/fearisafunnythingManage
Jordan Taylor Shewmaker
Scarlet Crawford Pinson
Shelby Hutchinson
Karen Flowers / Webpage:Instagram.com/lucidsapphiree
Sydney Szmuc
Susanna Joan Lightfootna Joan Lightfoot
PJ du Preez
Jei Pubill
Alexandra Joyce
Ro Lucky/ Website: instagram.com/scribeoftales
Shannon Kemp/ Website: instagram.com/featheredfury
MIchelle Nguyen FB: https://www.facebook.com/mb1nguyen
Alexis Kostecki FB: https://www.facebook.com/alexisbkost
Jessica Hoffman FB: https://www.facebook.com/jeckym
Alexis Kosteck
(Live Artists)
Irasema Rohas (Ira Sophia) – IG: CreationsBySophia & facebook.com/CreationsBysophia1111
Yasmine Mei Ison – IG: Picachu_Yaz
Afroza Imran – facebook.com/AfrozaAbstract
Merlin Wylt –
Emery Browning –
Khalid Robertson- Steelo IG: khalid.steelo
Kitty Chan – IG: Pinkemilk
Destin LaGronene – IG: RainyDayWoman
Blackbird Garamoni – NearlyFeral – facebook.com/eatthetv69/
@Jordan Eric Bailey – Ig:rippleeffect61 & http://www.jordanericbailey.com/
Ty Breakerr – IG: TyxBreaker
(Vendors)
Eric Schmalhorst – Jewelry & Jewelry IG: kaotik_kid333 & facebook.com/startetdesign/ e.schmalhorst@gmail
Williams Dannyray
Music Entertainment:
Basshead Society's own:
Yoshi Moto – (DJ Producer)
BASSHEAD SOCIETY
Resident: The Green Elephant / Dallas Drum Djam
Bio
Born in Guatemala City, Mr.Yoshimoto is an open format DJ, producer and musician currently residing in Dallas, Texas. With an energetic and eclectic style deeply rooted in House and Latino music, he credits his wide range of musical influences to his early years growing up traveling between The United States and Central America as well as countless hours exploring his grandmothers record store as a youth. Establishing himself in Atlanta in the early 2000's he came up in a very diverse rave and music scene performing as an indie artist in various coffee shops and bars in Atlanta. It was during this time that he began to hone his skills on the decks and ultimately fell in love with the art of DJing and has now played at venues across the North and South Eastern United States. MrYoshimoto's cites some of his significant DJ musical influences; Sikora, Bad Boy Bill, DJ Craze, DJ Irene, Qbert, Diplo, DJ Icey, Mixin Mark, John Digweed, Carl Cox and Aphrodite.
Check him out here!
https://m.soundcloud.com/mistayoshimoto/
mryoshimoto
Webpage: https://www.facebook.com/mistayoshimoto
Aaron Hensley – (DJ/Producer)
Bio:
In the early 90s, Aaron relocated from Memphis to Dallas where he stumbled upon a Saturday night EDM unlike any other: Edgeclub 94 with Jeff K and DJ Merritt. It was there that he found himself drawn to an electronic drum; similar to hip hop beats he loved but with an exciting new pace. Aaron would search tirelessly for info on Dallas's underground scene, where he became witness to local, regional, national and world talent generating astounding atmospheres with hypnotic beats.Aaron won his first dance music vinyl single in 1997 from Edgeclub called Da Funk by Daft Punk. A year later, he bought his first Technics 1200 turntable from DJ Merritt and his first mixer from JT Donaldson at Spin Masters. It was a while before he was finally able to purchase his second Technics 1200 — the missing piece to his dream. Then there were the countless trips to Bills Records and Tapes, Oaklawn Records, Core records, ATPT and Tower Records. Aaron's bedroom became his creative sanctuary where he devoted countless hours each day to his craft.In early 2000s, he got a major break playing for a DJ contest at Homebar for the newly formed Big Pimp Productions and forged a friendship with the owner, Jared Romero – a friendship that has lasted over a decade and been a major contributing factor to his career. His journey later found him playing events in Dallas, Austin, Shreveport and Miami as well as throwing his own club events and even owning a record store at one point.
DJ Page: https://www.facebook.com/AaronHensleyMusic/
Listen for FREE on soundcloud:
https://soundcloud.com/aaronhensley
Buy Music Here on Beatport : https://www.beatport.com/artist/aaron-hensley/625401
Follow on Twitter: https://twitter.com/djaaronhensley?lang=en
Add on Instagram: https://www.instagram.com/djaaronhensle
Miss CJ – Basshead Society /www.djmisscj.com
Chris Jungle – (AKA: Sickone) @Basshead Society –
Miss Haze (DJ/Producer)
Bio:
In these digital days when DJ's and producers are a dime a dozen it can be hard to stand out, But triple threat Miss Haze does just that.For over 12 years this bass goddess has packed dance floors across the country. Her ever changing sound and ability to read the crowd gets peoples attention and then her graceful live vocals come in for the kill. The perfect combination of sexy and sweet with a hint of evil is enough to make any bass fan drool.These days Miss Haze is quite busy with holding down residency's in 3 different cities, Throwing a weekly event called bass cellar in SF, and producing lots of new music. Her first ep "Live The Night" is now released on Muopia Records.2013 is going to be a big big year for haze so be on the lookout for this talented bass lady!
Website: www.misshazemusic.com
Listen for FREE on Soundcloud: https://soundcloud.com/misshaze
Buy her tunes on Beatport: https://www.beatport.com/artist/miss-haze/320311
Ricky B
More to come !