The Latest Scoop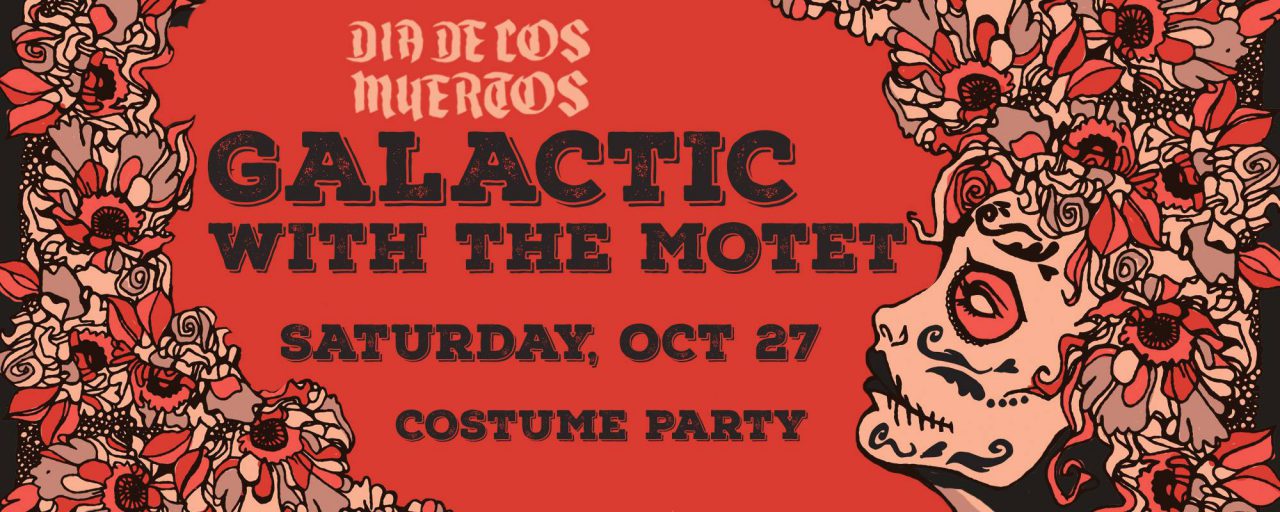 Saturday, October 27th, we welcome Galactic to the historic Granada Theater! Galactic are a New Orleans based funk band that has consistently pushed artistic boundaries on the road and in the studio, approaching their music with open ears and drawing inspiration as much from the sounds bubbling up from their city's streets as they do from each other. Opener The Motet join them!
Goes Good With: George Clinton and Parliament Funkadelic, The Roots, The Meters, G. Love & Special Sauce
More News >
Upcoming Events
Kyle Hollingsworth Band at Deep Ellum Art Company
at

Deep Ellum Art Company
Dallas

,
Texas
Kyle Hollingsworth Band
with special guests The Drunken Hearts
Deep Ellum Art Company
Dallas, TX
Tickets: $20 adv / $25 dos
All ages
KYLE HOLLINGSWORTH:
Thirty years ago, Kyle Hollingsworth set out on a career in music. With a wealth of desire and an abundance of ability, Hollingsworth has established himself as a formidable and versatile music talent deftly able to contribute, collaborate, compose, and communicate on a number of levels and within a vast spectrum of musical environments. Today, as a member of acclaimed jam masters The String Cheese Incident, Hollingsworth is revered by both peers and fans for his ability to write and perform in a mosaic of styles, from rock to classical, ragtime to bebop. Playing in SCI has allowed him unrestricted access to the world of music, and has bestowed on him the kind of fearlessness a composer needs to flirt with such disparate genres. Those who've seen SCI know that they can jerk from funk to bluegrass on a chord change. "In the jam world, where there are no set ways of doing things, we're not afraid to move in and out of genres," he says, "and because of that I've learned to be creative, not only onstage but in the studio. I can get on board with something pretty quickly. You have to."
www.KyleHollingsworth.com
www.facebook.com/KyleHollingsworthMusic
www.twitter.com/kyleonkeys
www.youtube.com/HollingsworthFilms
www.soundcloud.com/kyle-hollingsworth
www.instagram.com/kyle_on_keys
Music in 3D at Deep Ellum Art Company | Nov 30
at

Deep Ellum Art Company
Dallas

,
Texas
Music in 3D: Not just a show; It's a movement!
What started out as just a DJ & Drummer collaboration has grown into a bridge way to open up people to different ways to "see" good music.
>> Friday, November 30
>> Deep Ellum Art Company
>> [ venue | art gallery | bar ]
>> http://DeepEllumArt.Co
>> Doors open at 7:30 PM
>> Music starts at 8:30 PM
>> Tickets on Sale Now!
>> http://bit.ly/Music-in-3D_DTX
After the success of the first two events, Jay Clipp & Medrick Greely aimed for higher heights yet again!! The third edition of this series is the LAST before it goes on it's national run. It will be at the great Deep Ellum Art Company.
The line up is still being solidified but if you know anything about this event, then you know we keep it A-1!! Updates will be given to everyone here, and social media!
There are a couple of surprise guest that'll be popping up, as usual… But you just have to be there to find that out! Set your calendar! Come on out, bring a friend (or 5).
More Events >
Join The List
find out about T2F shows in your area & chances to win free tickets
About Us
Time2fly is a booking and promotions agency based in both Texas and Charlotte, NC offering production solutions for musicians, bands and venues all across the c
ountry. Being a homegrown family organization, our mission is to spread good times to the wonderful people of this earth and to introduce new music to anyone listening.
If you need live music we have options for you.
More about T2F >
Contact >