The Latest Scoop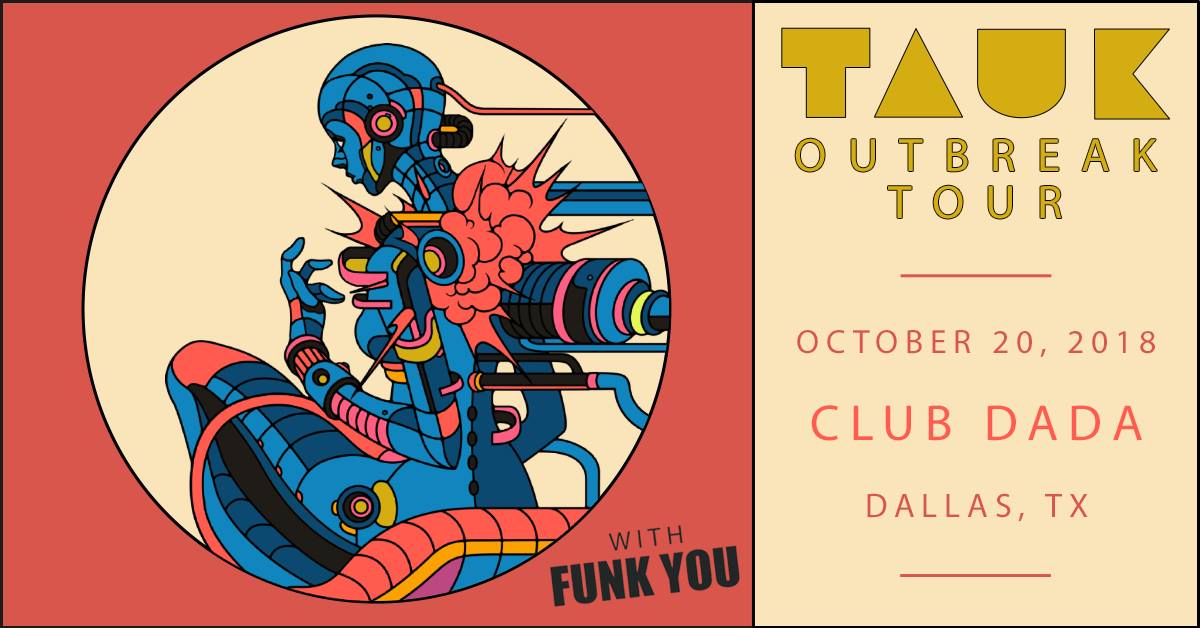 TICKETS ON SALE NOW:
Sat Oct 20, 2018
TAUK – Live at Club Dada
OUTBREAK TOUR
w/ Funk You & MOJO -trymoremojo
All Ages ⎮ Tickets $15
Doors: 8:00pm
Show: 9:00pm
—
https://www.facebook.com/taukband
https://www.youtube.com/user/Taukband
https://www.instagram.com/taukband/
Want to stay updated? Sign up to receive the latest Tour Dates and News from TAUK – http://taukband.com/email-list/
Join our street team dubbed the STAUKERS and get free tickets to shows by helping spread the word! Join here: http://taukband.com/staukers/
Check out our Merch – http://hellomerch.com/collections/tauk
---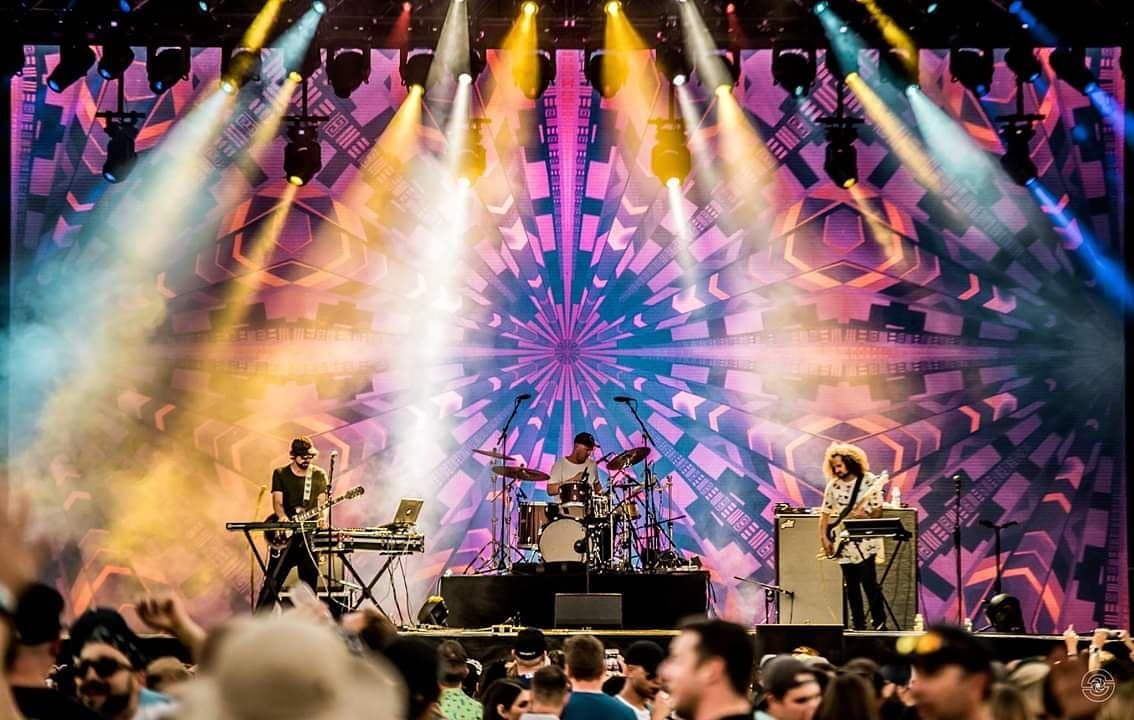 TICKETS ON SALE:
Banjos To Beats presents:
SunSquabi
+ Late Night Radio
Live at Deep Ellum Art Company
Fri Oct 19, 2018
Doors 9PM | Show 10PM
TICKETS ON SALE NOW:
---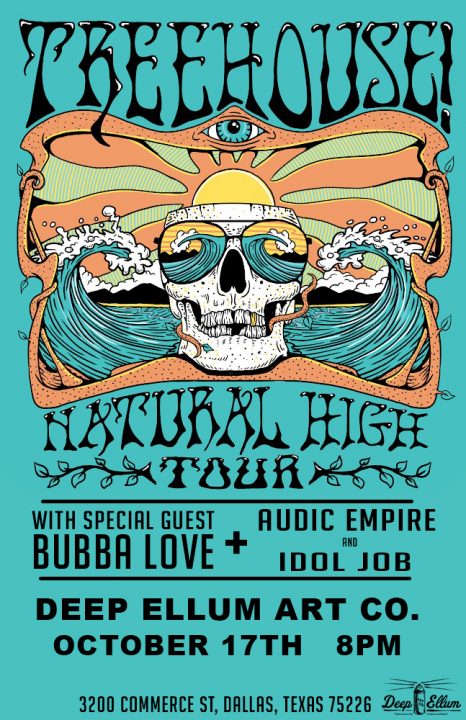 Deep Ellum Art Company Presents:
[ music venue | art gallery | backyard |bar ]
Natural High Tour
October 17, 2018
Dallas, TX
TreeHouse! w/ special guests,
Bubba Love & Audic Empire
Local Support by:
idoljob
Tickets on Sale Now!
$7 ADV / $10 DOS
WEDNESDAY HAPPY HOUR:
1/2 off Specialty Cocktails on Draft
—
TreeHouse
(Myrtle Beach, SC)
[ reggae | jam | rock ]
For nearly seven years, the guys from TreeHouse! have spent the majority of their days as road warriors blazing sprawls of highway and at night playing an unapologetic enthusiastic blend of reggae jam rock they are know for in venues across the nation.
TreeHouse! songs resonate in your soul. With lyrics filled with rising above adversity, gratitude, and unity. For every setback, there's a step up waiting for you if you keep your focus. For every day, there's a blessing to count and for every event, we must recognize we are a part of it all. It's this kind of message that makes the most recent studio album, Lifted, their strongest release to date.
Bubba Love Music
(Huntington, WV)
http://reverbnation.com/bubbalovemusic
[ singer/songwriter | reggae ]
This razzle dazzle, down to earth man, is magical whether it's the smiles his ukulele is inspiring or the dreams being birthed in the minds of his listeners, when the tones of his voice reach beyond your ears and into your heart. You can't help but to listen to his songs with their deep message and feel a stir in your existence. With a warmth of hope, life, and laughter his chords, melodies, and soul will warm your heart and bring life into your step.
idoljob
(Arlington, TX)
[ roots | rock | reggae ]
Roots Rock Reggae band from Arlington Texas! Bringing those smooth harmonies, heart-stoppin bass, that dub stylee and wailing guitar riffs to melt your face off! Guaranteed to make you shake it!
Audic Empire
(Austin, TX)
[ reggae | rock | feel good ]
Audic Empire was formed in late 2010. Since then they have been turning heads in the Austin music scene with their psychedelic, Reggae/rock and feel good tunes. They have a high intensity performance and an astonishing sound with the contrast of two singers, their Red Hot solo Guitarist, and rock solid rhythm section. Audic Empire has played with numerous great artists and festivals.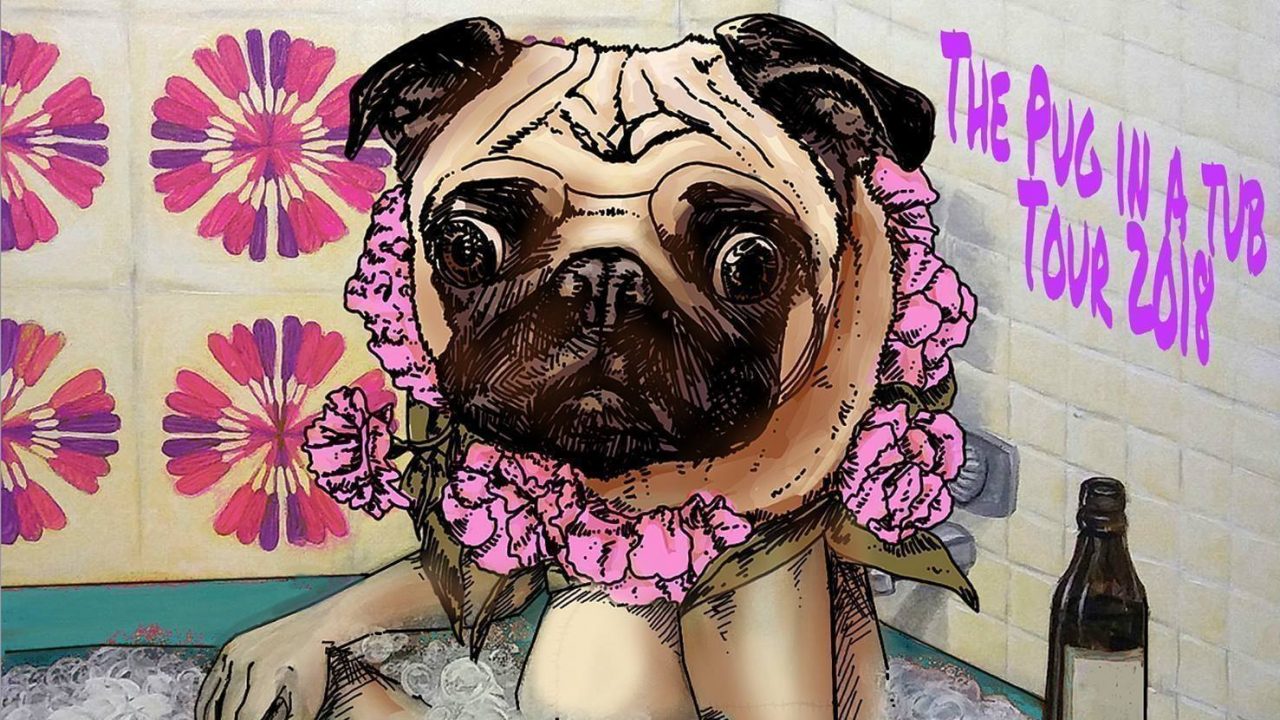 Too Many Zooz: "Pug in a Tub" US Tour – Fall 2018
At the 2016 CMA Awards one sound burst from the stage like a thunderquake. As Beyoncé performed "Daddy Lessons" accompanied by Dixie Chicks and Too Many Zooz — the New York City trio which originally recorded the song on the star's Lemonade album — TMZ brought the sound of the street to Beyoncé's glittering musical declaration. Glued to their smart phones, tablets, and TVs, America beheld Too Many Zooz' innovative polyglot style.
Beyoncé and Dixie Chicks sashayed the song's verses in a rollicking country vibe, but as the performance neared midpoint, a tall, burly baritone saxophonist with a luminous white pompadour took the stage like a bar-walking gladiator. TMZ's Leo P danced, shimmied, and shaked, matching Beyoncé move for move, while blowing growling saxophone notes that infused urban funk to "Daddy Lessons"' two-beat country jig. TMZ trumpeter Matt Doe and drummer King of Sludge performed on the stage's backline as a blaring brass line raised "Daddy Lessons"' intensity, followed by Beyoncé and Dixie Chicks slamming song's political theme home.
Too Many Zooz's saxophonist Pellegrino, trumpeter Matt Doe, and drummer King of Sludge held Nashville's Bridgestone Arena stage for mere minutes, but the same talent that moved Beyoncé to have the group record both "Daddy Lessons" and "Formation" on Lemonade has seen TMZ sell thousands of CDs and downloads, and inspired viral videos.
Too Many Zooz's manic music, dubbed "BrassHouse" by drummer King of Sludge, is an irresistible rocket that combines styles more diverse and far-flung than any international space station. As heard on the group's EPs — F NOTE, Fanimals, Brasshouse Volume 1: Survival of the Flyest, The Internet, and the LP, Subway Gawdz — Too Many Zooz creates a visceral smack-to-the-senses. TMZ's BrassHouse summons EDM, house, techno, and glitch, paired to the indigenous punch of Cuban, Afro-Cuban, Caribbean, and Brazilian Carnival rhythms. TMZ's music is further heightened by the dancing and saxophone soloing prowess of Pellegrino, virtually a bionic Pepper Adams. Like Nortec Collective mashed with Daft Punk by way of a mad sonic scientist, Too Many Zooz has conquered New York City — your headset's resistance is futile.
"We pride ourselves that nearly every person of every color, creed and background and upbringing can find something in our music to relate to," Matt Doe says. "Someone from Cuba can say 'I hear Cuban music in the cowbells.' Someone into death metal will enjoy it next to a grandmother who hears it as old swing music. Others hear Klezmer. Whatever people want to hear in our music they can seemingly find it."
Many New Yorkers discovered Too Many Zooz at the Union Square subway station, where the trio began busking in 2014. After one of TMZ's videos went viral on Reddit, creating almost a million fans, sales of the band's digital downloads and CD sales skyrocketed.
If TMZ's music wasn't already electrifying, Leo Pellegrino's dance moves, which spin like a Zoot-suit wearing swinger, add visual thrills to the band's musical mastery. A classically trained musician, Pellegrino began dancing as both expression and rebellion. What Beyoncé loved is now available to all.
"Horn players, especially baritone saxophone players, look so lame on stage!" Pellegrino notes. "I just watched an NBA half-time show and this band's horn players were killing my eyes. I wondered 'why does the horn have to be such a lame instrument visually?' I began dancing in the subway and people loved it. I realized that I had been brainwashed, all my teachers telling me not to move. I'd been told that was improper technique, but that became my key to success."
Too Many Zooz's songs are marvels of simplicity born of musical complexity. Pellegrino, Doe, and King of Sludge condense multiple — what might be considered clashing styles — into a riveting jackhammer brew. King of Sludge's staccato eighth-note rhythms performed on a unique bass drum/cowbell/jamblock/cymbal setup forms the music's gritty rhythmic bed. Matt Doe's trumpet provides melody and harmony, while Leo Pelligrino's saxophone follows rhythm directions and solo revelry.
"I don't like using standardized terms when describing our music," Matt explains. "We're all doing things that are out of the ordinary. I provide the synth sound you would hear in a dance track. Leo plays saxophone but he's also providing the bass sound you would hear in electronic music. When Leo solos, it's like a breakdown when the bass is the featured element of the band. I don't solo per se, but I am playing nearly the entire show. It doesn't make sense for me to play more!"
TMZ's seeds were formed when Indiana native King of Sludge, and Boston-born Pellegrino played in subway busking band, Drumadics. Fellow Manhattan School of Music classmate and Pittsburgh native Doe played in various ensembles with Pellegrino, the threesome eventually busking together by chance — their chemistry sparking an instant bond.
"From the start, we were all bouncing off each other, listening to each other and not thinking too much," Doe says.
TMZ have collaborated with Galatic, Kreayshawn, Jerry "Wonda" Duplessis, and, of course, Beyoncé.
"Knowing that Beyoncé enjoys our music on her own time?" ponders King of Sludge. "That's a great thing."
What's next for TMZ? The trio's upcoming EP will feature a rawer sound, the group returning to their original roots, and most likely, their original 14th Street subway station.
"When we began, it was just trumpet, saxophone and drums," Leo says. "Our first EP was pretty straight up, then we added production and guests and vocalists on Subway Gawdz. This next EP is back to our roots."
Does TMZ recommend the subway path to stardom?
"The subway, then videos and Beyoncé helped propel our popularity," Matt says. "The subway is a great promotional vehicle. There's nowhere else that you can reach such a wide demographic. If you want to get out and be seen and up your numbers, go to the subway. That's always part of our business plan."
---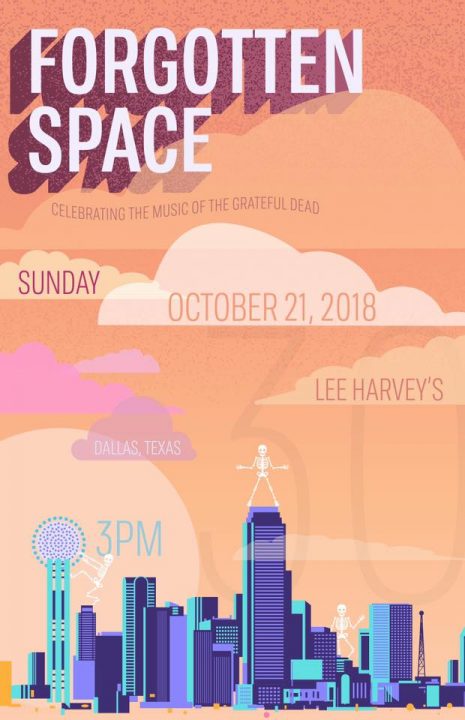 DFW Deadheads, come join us for a "special" Sunday afternoon show at Lee Harvey's on October 21, 2018 from 3:00 pm – 7:00 pm. There's much to celebrate, and we need your good vibes there to be a part of it!
More News >
Upcoming Events
TAUK: Outbreak Tour w/ MOJO & Funk You at Club Dada
at

Club Dada
Dallas

,
TX
TICKETS ON SALE NOW:
http://bit.ly/TAUKDTX
Sat Oct 20, 2018
TAUK – Live at Club Dada
OUTBREAK TOUR
w/ Funk You & MOJO -trymoremojo
All Ages ⎮ Tickets $15
Doors: 8:00pm
Show: 9:00pm
—
www.TAUKband.com
https://www.facebook.com/taukband
https://twitter.com/taukband
https://www.youtube.com/user/Taukband
https://www.instagram.com/taukband/
Want to stay updated? Sign up to receive the latest Tour Dates and News from TAUK – http://taukband.com/email-list/
Join our street team dubbed the STAUKERS and get free tickets to shows by helping spread the word! Join here: http://taukband.com/staukers/
Check out our Merch – http://hellomerch.com/collections/tauk
—
On their new album Shapeshifter II: Outbreak, New York-bred band TAUK offer an unsettling but ultimately exhilarating look at artificial intelligence and its potential to upend our world. With its dynamic sense of tension and cinematic mastery of mood, TAUK's all-instrumental blend of progressive rock, hip-hop, and jazz proves to be the perfect backdrop for such explorations, giving way to an album that's both powerfully hypnotic and intensely thought-provoking.
"We're all very much interested in A.I., and this idea of machines getting out of the hands of the people trying to control them," notes TAUK guitarist Matt Jalbert, whose bandmates include bassist Charlie Dolan, keyboardist Alric "A.C." Carter, and drummer Isaac Teel. "This album felt like a good setting to tell that kind of story, but in a way where we could have fun with it and let the listener escape into a whole other world."
Equally inspired by classic sci-fi like Blade Runner and more recent films like Ex Machina, Shapeshifter II: Outbreak embeds that narrative into TAUK's most sonically adventurous, emotionally expansive work to date. A continuation of their early-2018 EP Shapeshifter I: Construct, the new album picks up its predecessor's narrative thread with "Prelude": a fantastically unsettling intro track whose frenetic keyboard work and chilling vocal samples set the tone for what's to come. "The idea is that in the EP you're seeing the construction of this being, and in the album you're seeing it break out and become something that you can't ignore anymore," Carter explains.
From there, TAUK charge forward with the driving rhythms of "Recreational Outrage" (a track laced with the ominous throb of a robotic heartbeat), the futuristic soundscape and heady grooves of "CMF 9000," the gauzy reverie and glorious chaos of "Checkmate," and the bright melodies and soulful guitar sprawl of "Convoy." One of the album's most mesmerizing moments, "Let It Ride" builds a brilliant tapestry from its luminous keyboard tones, kinetic guitar work, and kaleidoscopic rhythms. And on "Upside Down," TAUK close out Shapeshifter II: Outbreak with a thrillingly epic burst of unfettered experimentalism.
Free-flowing yet elaborately composed, Shapeshifter II: Outbreak came to life in collaboration with TAUK's longtime cohort Robert Carranza—a Grammy Award-winning producer/mixer/engineer also known for his work The Mars Volta, Ozomatli, Marilyn Manson, and Taj Mahal. In a departure from their previous releases (including 2016's Sir Nebula), the band shunned the typical studio environment and holed up for weeks in a long-abandoned, century-old home that Teel describes as "the Jumanji house meets Addams Family meets Amityville Horror." Located in their homeland of Long Island, the house turned out to be the ideal spot for their makeshift studio, allowing for a creativity-enhancing seclusion. "Overall the whole process was incredibly organic—there were no constrictions as far as time or space, nothing ever felt forced," says Dolan. "There was a greater feeling of possibility, and it ended up being a really liberating experience for all of us." Jalbert adds: "The location definitely added to the vibe of everything we were going for. It was like we set up a laboratory in the middle of nowhere and shut off the rest of the world, which really helped get us into a specific headspace."
True to its thematic terrain, Shapeshifter II: Outbreak endlessly blurs the boundaries between organic and electronic, with TAUK broadening their sonic palette to include a vast spectrum of synth sounds and programmed effects (such as those exquisitely eerie vocal samples heard in "Prelude"). And in sculpting the album's intricate arrangements, TAUK called on such esteemed musicians as The Naughty Horns, Ghost-Note's Nate Werth (a percussionist who's also played with David Crosby, Q-Tip, and Snarky Puppy), and Juan Alderete (longtime bassist for Racer X and The Mars Volta).
Throughout Shapeshifter II: Outbreak, TAUK reveal the potent chemistry they discovered in childhood, when longtime friends Dolan, Jalbert, and Carter formed their first band in seventh grade. After playing together in various projects, the trio brought Teel into the fold in 2012, cementing the final lineup. Since then, TAUK have shared stages with acts like Umphrey's McGee, Widespread Panic, and Lettuce, appeared at festivals like Electric Forest and Bonnaroo, and earned acclaim from major outlets like the Washington Post (who praised TAUK for "creating a hard-charging, often melodic fusion that—thanks to a penchant for improv—offers limitless possibilities"). As Teel points out, the band's incessant touring over the years has significantly strengthened their musical connection. "The four of us as individuals are all very animated souls in our own right," he says. "We each have our ideas and our perspectives, and when it all comes together, it creates this collective statement that takes on a life of its own."
In creating Shapeshifter II: Outbreak, TAUK made that statement more deliberate and impactful than ever before. But while several upcoming videos and the vibrant artwork of illustrator Raul Urias add a new dimension to the album's concept, the band purposely maintained a certain open-endedness in its execution. "People tell us all kinds of stories about what our songs mean to them, and it's always cool to see how wide the gamut of those stories is," says Carter. "What the song means to me might not be the same as what it means to you, but that's one of the great things about this whole experience. There's room for everyone to develop whatever narrative they want."
More Events >
Join The List
find out about T2F shows in your area & chances to win free tickets
About Us
Time2fly is a booking and promotions agency based in both Texas and Charlotte, NC offering production solutions for musicians, bands and venues all across the c
ountry. Being a homegrown family organization, our mission is to spread good times to the wonderful people of this earth and to introduce new music to anyone listening.
If you need live music we have options for you.
More about T2F >
Contact >