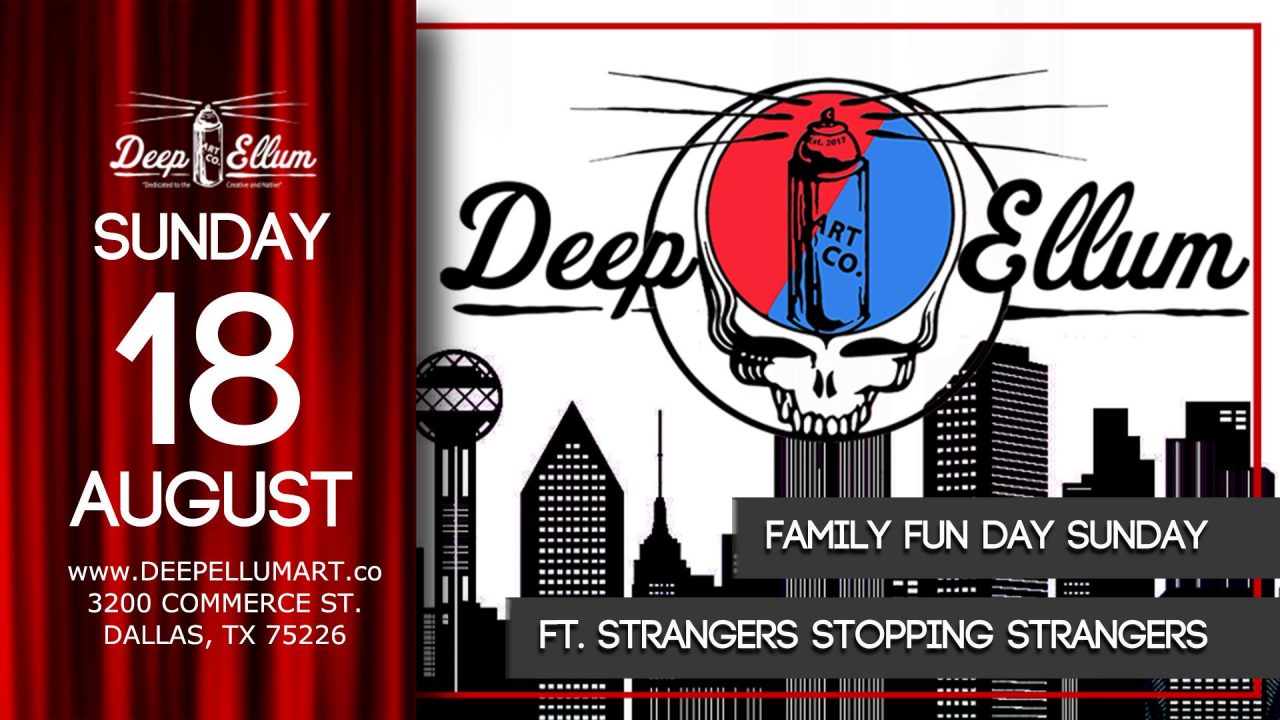 Deep Ellum Art Company Presents:
[ live music | art gallery | bar | art yard ]
http://DeepEllumArt.Co
IT'S FREE!
Family Meet-Up Every Sunday Afternoon…
Fun Activities for All Ages!
➔ Artist Market
feat. Local Vendors
➔ Games & Crafts
➔ Live Music
(2:30 – 5:00 PM)
feat. Strangers Stopping Strangers – A Tribute to The Grateful Dead.
➔ Drink Specials:
$4 Mimosa, Blood Mary, or Screwdriver
---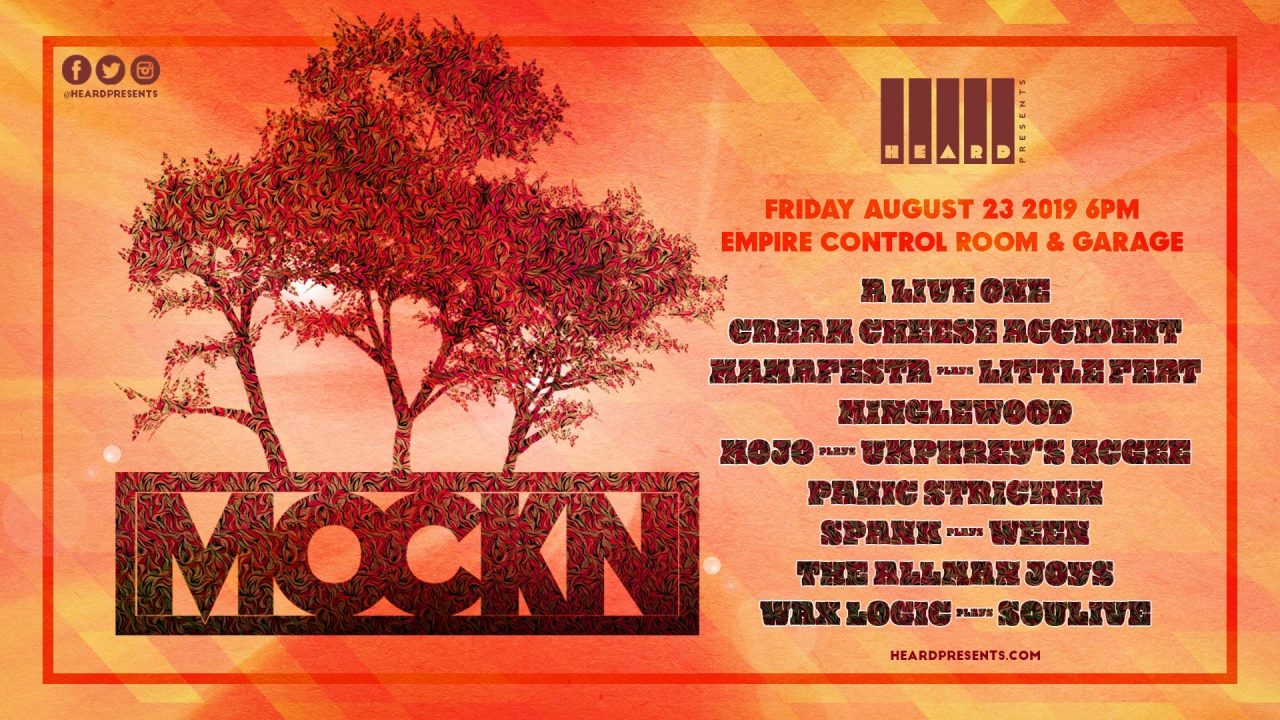 Heard Presents:
MOCKN'
at Empire Control Room & Garage 8/23
🎟: http://bit.ly/Mockn_Aug23
☞: ALL AGES
🚪: 6pm
🎸 A Live One – Phish
🎸 Cream Cheese Accident – String Cheese Incident
🎸 Mamafesta – Little Feat
🎸 Minglewood – Grateful Dead
🎸 TryMore MOJO – Umphrey's McGee
🎸 Panic Stricken – Widespread Panic
🎸 Spank – Ween
🎸 The Allman Joys – The Allman Brothers
🎸 Wax Logic – Soulive
---
Parliament-Funkadelic After Party with Electrik Ants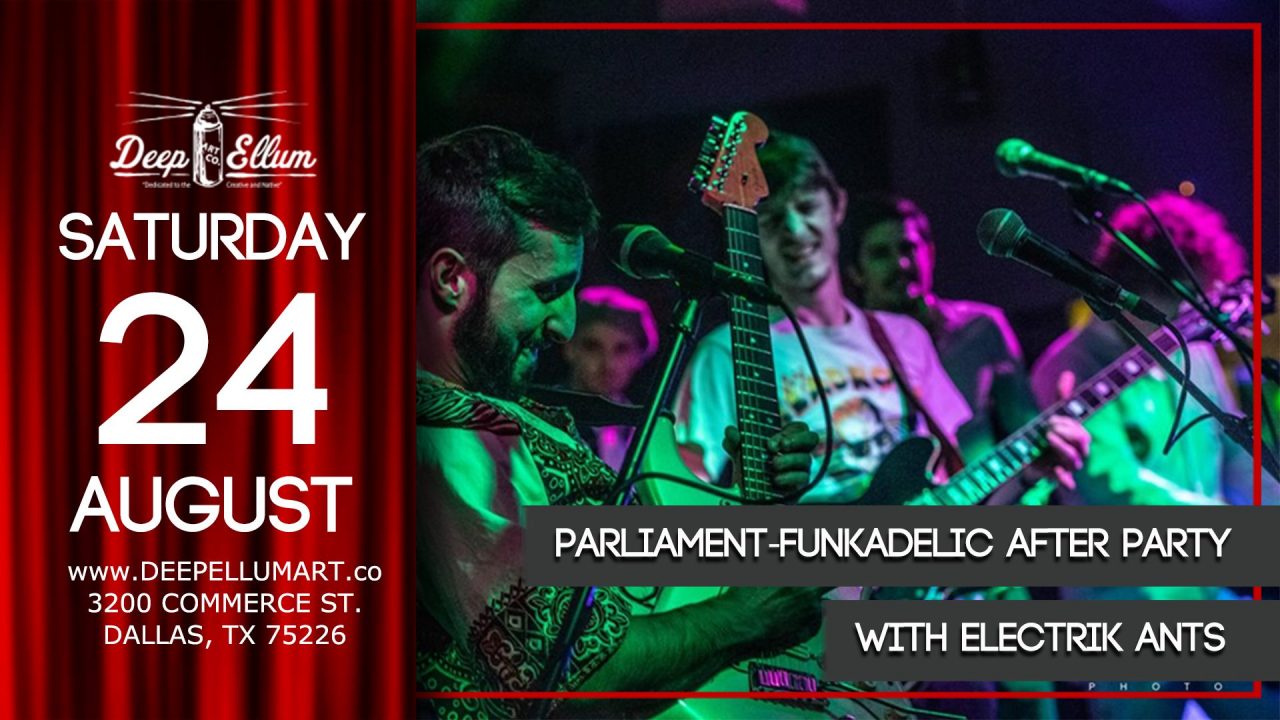 Deep Ellum Art Company Presents:
Join us after the show at The Bomb Factory for some late night psychedelic funk jams.
The George Clinton and Parliament Funkadelic After Party
with
Electrik Ants – Dallas, TX
www.electrikants.com
[psychedelic | funk | hip-hop]
Electrik Ants live in the vibe of the music – a genuine blend of hip hop, funk, psychedelic, and groove, unique and exciting. They are a seven-piece band with sax, DJ, drums, bass, and three members that rotate between rapping, singing, guitar, keys, synth, and percussion, The Ants are have great freedom in performing and writing; A freedom explored and expressed with emotional and technical dedication.
Their debut album, Rhetorik One out now! bit.ly/RhetorikOne
>>Tickets on Sale NOW!
---
Audic Empire, idoljob, & Positive Vibe Tribe | Dallas, TX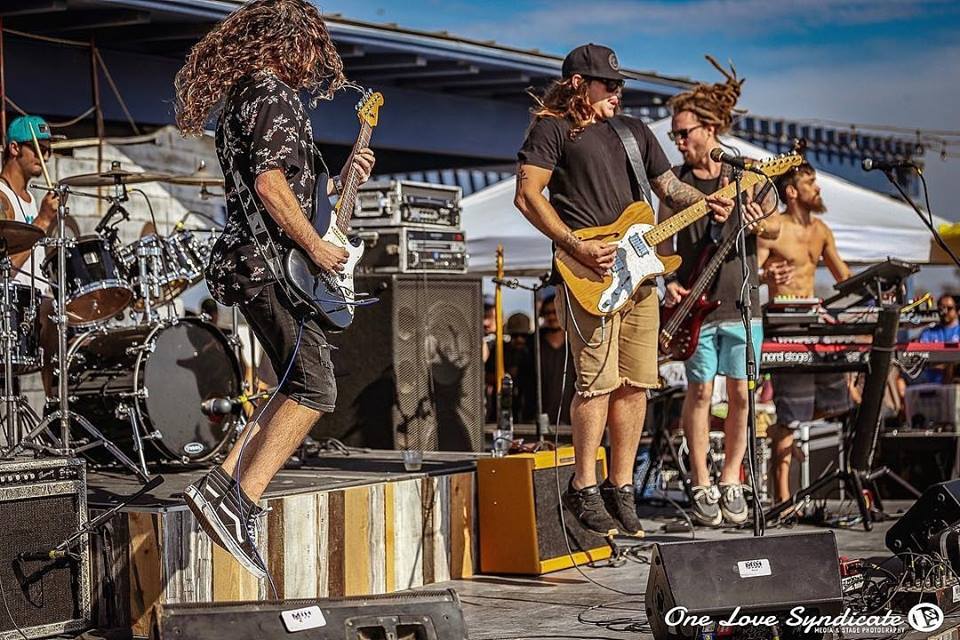 Deep Ellum Art Company Presents:
[ live music | art gallery | bar | art yard ]
http://DeepEllumArt.Co
Irie Vibes are coming to Deep Ellum Art Co. on August 29th!
Tickets on Sale NOW!
>>> http://bit.ly/AudicEmpire_DTX
Audic Empire– Austin, TX
[ Reggae | Rock | Feel Good]
Audic Empire was formed in late 2010. Since then they have been turning heads in the Austin music scene with their psychedelic, Reggae/rock and feel good tunes. They have a high intensity performance and an astonishing sound with the contrast of two singers, their Red Hot solo Guitarist, and rock solid rhythm section. Audic Empire has played with numerous great artists and festivals. With the rapid growth of their reggae/rock sound, Audic Empire is on the rise with their journey to produce a unifying sound wave of love and music.
idoljob
[roots reggae | rock]
Roots Rock Reggae band from Arlington Texas! Bringing those smooth harmonies, heart-stoppin bass, that dub stylee and wailing guitar riffs to melt your face off! Guaranteed to make you shake it! "When Idol's on the Job, it goes hard like cement."
idoljob has kicked up the volume a few notches in the reggae scene in North Texas. What started out as a passion project for lead vocalist Michael Peace (formerly of Champa) in 2006 with a cast of rotating players and landed quickly with lead guitarist Terry Davis (formerly of Egress & the Sublime tribute band, 40 oz to Freedom), has now become a highly sought after reggae act for the Dallas/Fort Worth area providing direct support for national and international acts alike, such as Stephen Marley, Steel Pulse, Israel Vibration, The Movement, Etana, Maoli, Cas Haley and more!
Rounding out the band is Angela Peace on backup vocals/effects/melodica, Bobby Liszewski (formerly of Egress) on bassie, beats master Jay "J-Bird" Wilson on drums (also a part of current hip-hop duo, Lost Art Legacy), Christian Ortiz on Saxy (currently King David Band, In The Mood tour), Jeff Fulkerson on Trumpet (King David Band), Matt Solis on Trombone (In The Mood tour).
Combining all their Captain Planet-like super powers of reggae, rock, roots, soul, jazz, big band, metal, pop, hip-hop and rap – they are currently working on their debut album due in 2019!
PositiveVibeTribeBand
[reggae | rock]
---
TryMoreMOJO at George's Majestic w/ Kadela | Aug 29th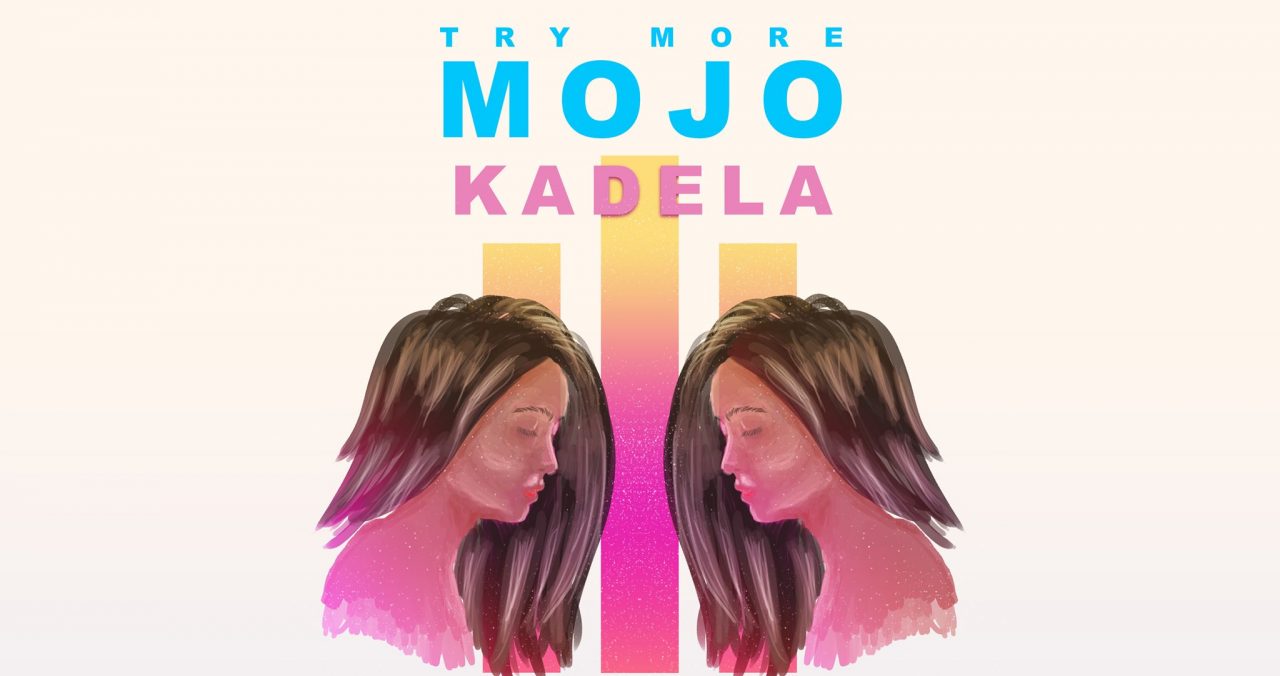 Emerg Entertainment & Time2Fly Music present:
TryMore MOJO's debut at George's Majestic Lounge
w/ special guest Kadela
TryMore MOJO
[ Psychedelic | Spacefunk | Deep Groove ]
http://trymoremojo.com/
Seeking the highest of interstellar peaks, TryMoreMOJO aims to guide the listener on their mission through space with their blend of funky riffs, modular soundscapes, energetic vocals, and heavy grooves; inviting fans to contribute their energy in a give-and-take partnership between performer and listener.
An introspective look at funk and electronic music; MOJO offers funky riffs, spacey soundscapes, inviting vocals, and heavy grooves.
"MOJO an upcoming funk/electronic band are exactly what you need after a long week. Not only do they bring the grooves needed to wash away the stress of the week, the visuals provided are simply astounding. MOJO is like watching your own personal Pink Floyd, meets Rage Against the Machine, meets STS9, yes I went there. Do not miss these guys…" – DentonRadio.com
Goes well with:
TAUK, Lettuce, Spafford, Aqueous, Papadosio, Magic Beans, STS9, BIG Something, Umphrey's McGee, Emancipator Ensemble, Pigeons Playing Ping Pong, Earphunk
Kadela
[ Jamtronica | Future Bass | Psychedelic ]
Originating in Arkansas from acoustic and organic roots, Kadela is a psychedelic electronic jam project with inspirations from the Grateful Dead to Mr. Carmack. Focusing heavily on improvisation with bass, guitar, and drums, they have played alongside and supported acts such as TAUK, Cherub, CloZee, Thriftworks, Space Jesus, Yheti, Lapalux, and many more. Kadela has been released by tastemakers such as Daruma, Artist Intelligence Agency, Trap Nation, and Glitch Hop Community.
18+
---
Celebrating 2 Years w/ Deep Ellum Art Co! ft. Forgotten Space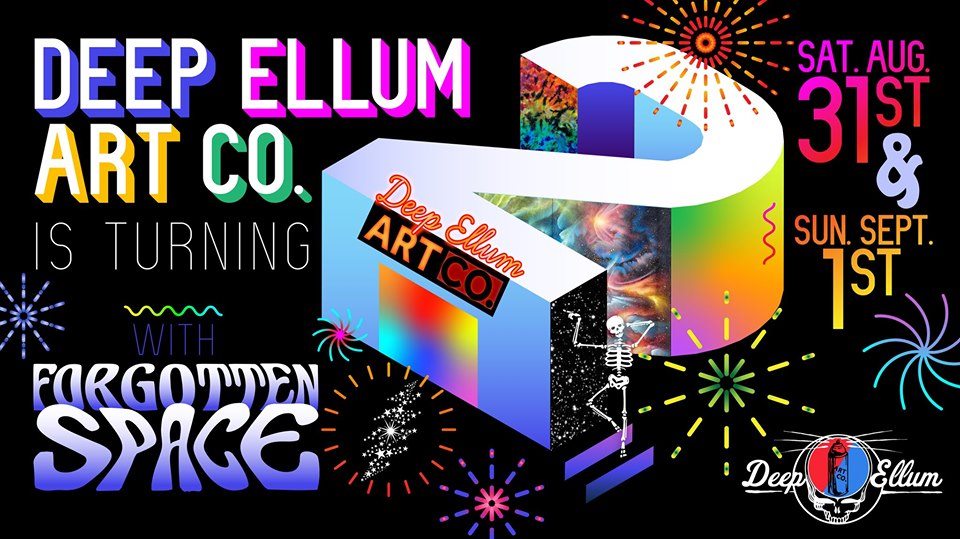 Deep Ellum Art Company Presents:
[ live music | art gallery | bar | art yard ]
http://DeepEllumArt.Co
Happy Birthday, Art Co!
What a long, strange trip it's been…
Saturday, AUGUST 31st
& Sunday SEPTEMBER 1
2 Nights w/ FORGOTTEN SPACE
[ A Tribute to the Grateful Dead ]
www.forgottenspace.net
Tickets on Sale now:
http://bit.ly/ArtCo-turns-2
—
Music. Art. Community.
The Creatives; The Dreamers; The Innovators.
The Appreciators; The Believers; The Lovers.
The Dedicated; The Devoted; The Extraordinary.
Thank you for being you 💞
—
Happy Birthday to our Facilitator of Fun,
John LaRue!
---