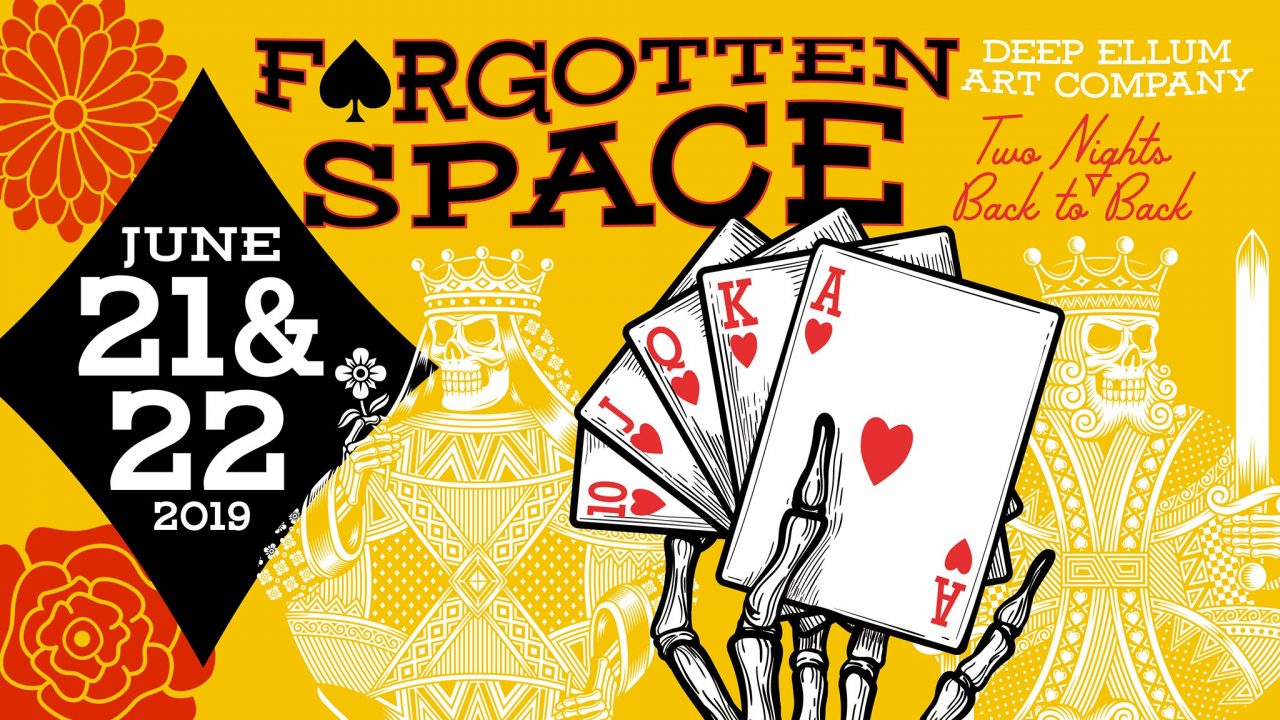 Deep Ellum Art Company Presents:
[ live music | art gallery | bar | art yard ]
http://DeepEllumArt.Co
Summer Nights w/
FORGOTTEN SPACE
A Tribute to the Grateful Dead
June 21 & 22, 2019
Tickets on Sale Now!
http://bit.ly/SummerNights-w-ForgottenSpace
—
FORGOTTEN SPACE is a Texas based Grateful Dead tribute band comprised of six diverse musicians with a deep understanding and respect for the rich and varied Grateful Dead songbook.
Formed in 2006, the band has continuously grown both in it's popularity and it's repertoire. All the while, they have meticulously bridged the gap between creating the sound and feel of the Grateful Dead experience and finding the balanced, tasteful space to express their own personal identities as musicians. Their clear penchant for fearless improvisation coupled with their appreciation of the story telling component of the Grateful Dead's material subsequently results in shows teeming with amazed and appreciative audiences.
Staying true to form, the instrumentation of two guitars, bass, keyboards, two drummers, and strong three and four part vocal harmonies creates an incredibly accurate representation of the real enchilada. Add to that a willingness to explore arrangements from all eras of the Dead's body of work (1965-1995), and you end up with an all out, explosive mixture of good vibes, endless dance party, and deep space musical exploration which engages Deadheads and non-Deadheads alike.
---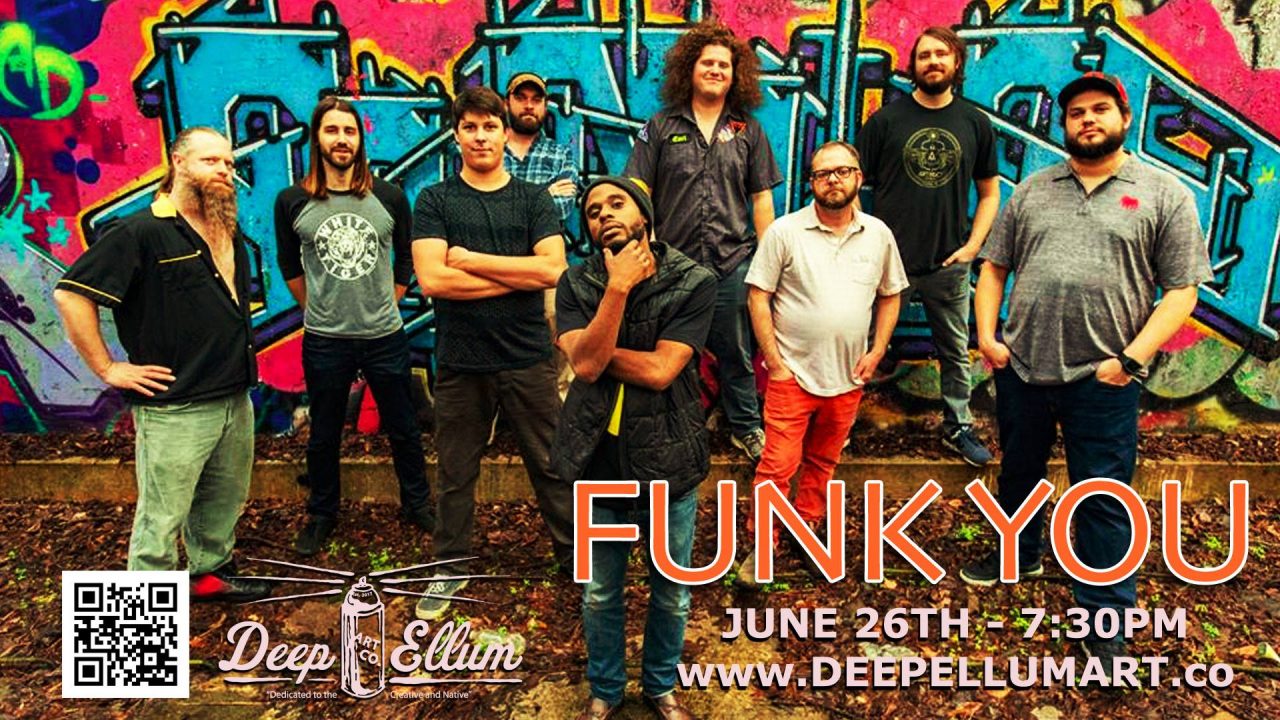 Deep Ellum Art Company Presents:
[ live music | art gallery | bar | backyard ]
http://DeepEllumArt.Co
Tickets on Sale Now!
http://bit.ly/FunkYou_6-26_DTX
—
Funk You (Augusta, GA)
[ progressive funk rock ]
www.funkyoumusic.com
Funk You humbly contributes to a music scene that has given them so much. The band steadfastly crafts and develops their sound while touring across the country, growing closer as a family of musicians. Focusing on the many styles that construct and compose the glorious genre of funk, these players artfully blend clean and powerful vocals with passionate musicianship. Funk You feels most at home on stage, their captivating live performances keep fans coming back time and time again. We look forward to sharing our music with you!
—
Chancy (Dallas, TX)
[ alt-rock | pop | indie ]
http://bit.ly/ChancyInTheWild
Forged from fire to breach the demons foyer and impeach inequity, Chancy is a rock band based in Dallas, Texas. Our mission is to spread love, peace, and joy through our music. Our sound is best described as an arcane and eclectic mix of chaotic, atmospheric and retro-modern soundscapes. It is worst described as Alt-Rock.
---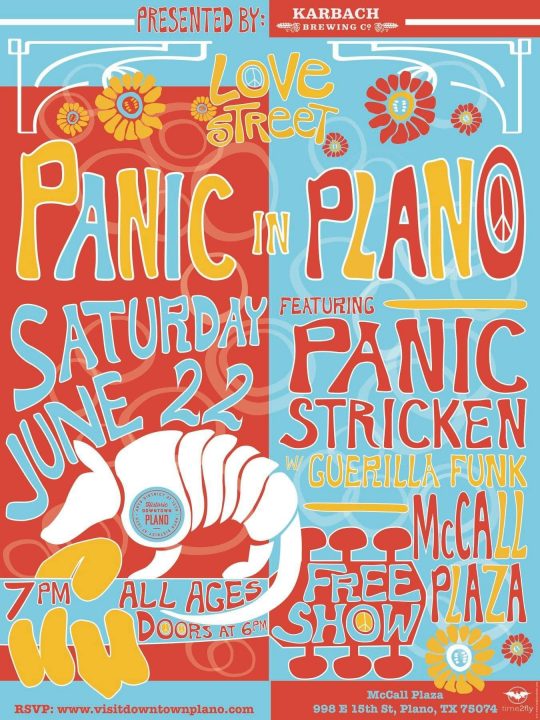 "Panic gripped my legs, you know, and it pulled me in." – Vacation, Michael Houser
DFW Heads engage! Panic will grip the legs of the historic downtown of Plano, TX and pull it in! Come support your local favorites Guerrilla Funk with members of TryMore MOJO & your favorite Widespread Panic tribute band, Panic Stricken, as they play not one, but TWO sets of WSMFP 🎶🔥🔥
There is NO COVER, it is outside, family friendly, and we will start playing at 7pm!
For those of you not in the know, Panic Stricken is a group of Austin, TX musicians that have been playing renditions of the soulful, eclectic, blend of psychedelic southern roots rock that is the Widespread Panic catalog. Widespread Panic is the legendary jam rock band from Athens, GA that has been rocking fans old and new for the past 30 years or so.
You will hear music that is influenced by the Stones, the Allman Brothers, the Grateful Dead, Van Morrison, Yes, Little Feat, Frank Zappa, and many more. It rocks, kicks ass, and gives you the feels all at once. You're gonna love it!
---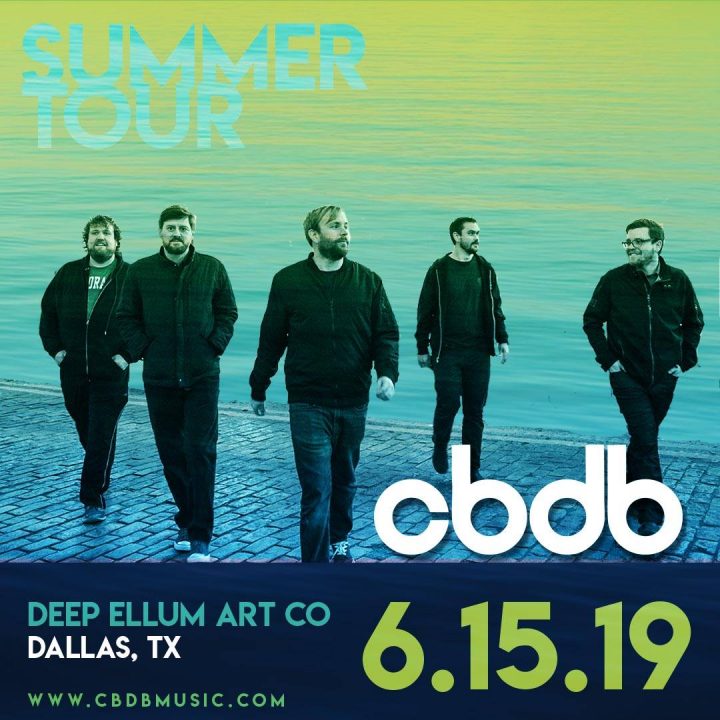 Deep Ellum Art Company Presents:
[ live music | art gallery | bar | backyard ]
http://DeepEllumArt.Co
CBDB (Tuscaloosa, AL)
[ joyfunk | progressive rock | jam ]
http://cbdbmusic.com
"Jamband of the Year" & "Studio Album of the Year" Reddit 2018
Saturday, June 15, 2019
Tickets on Sale Now!
http://bit.ly/CBDB_dtx6-15
—
CBDB is a progressive rock, jam-band from Alabama and their music is spreading from the southeast across the nation like wildfire. Defining a newfound, southern blend of joyous and progressive rock n roll, they channel a sonic mix of soulful vocals and virtuosic musicianship with smart, tasteful songwriting. On stage, each member of CBDB fluidly plays between complex composition and loose exploratory improvisation creating an incredible and unique live experience.
CBDB has played major festivals including Hulaween, Okeechobee, Sweetwater 420, Summer Camp, Electric Forest, Sloss, Aura, Backwoods, Euphoria, and The Werk Out. They've also shared the stage with the likes of Umphrey's McGee, Papadosio, Galactic, Kyle Hollingsworth Band, Perpetual Groove, The Wailers, Blues Traveler, and many more.
With their latest release, an impressive third full-length album titled 'Out of Line' – recorded at Zac Brown's legendary Southern Ground Nashville studio – CBDB is set to take the country by storm. Soaring monthly listeners and followers have further propelled their growth & continue to bring the band widespread attention, interest, and new fans daily. Dive into CBDB's eclectic catalogue of tunes today and catch them live on tour near you soon!
---
Live music every Wednesday night in Foundation Room for Live Music in the Lounge. Join us for cocktails and appetizers starting at 6pm then listen to the featured artist of the week. Happy Hour prices from open to close
---
Eminence Ensemble & TryMoreMOJO's 1 Year Anniversary | DEAC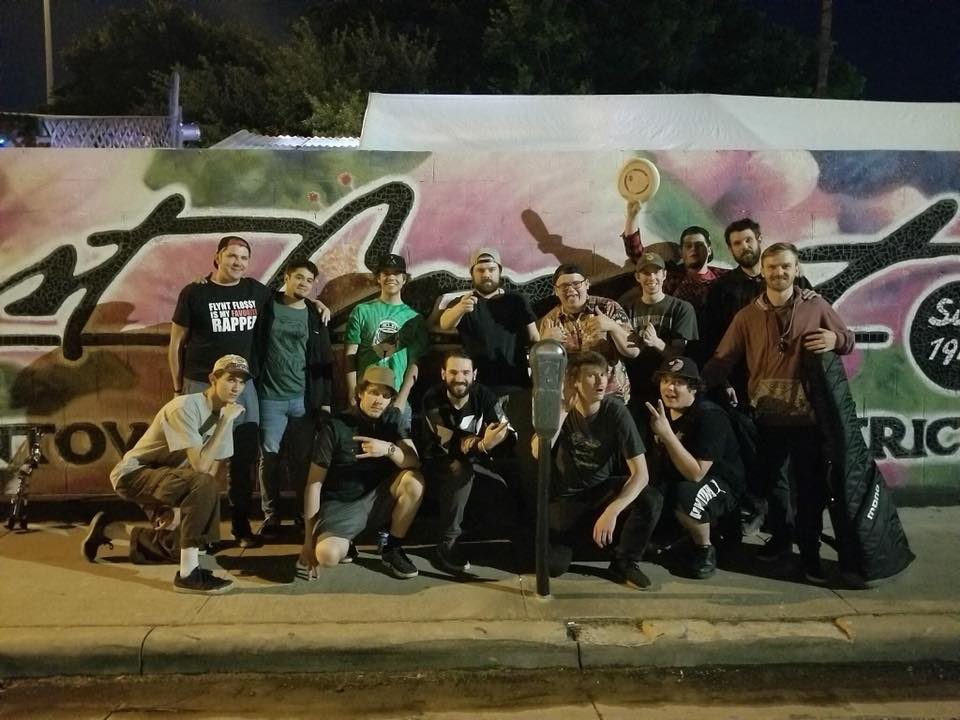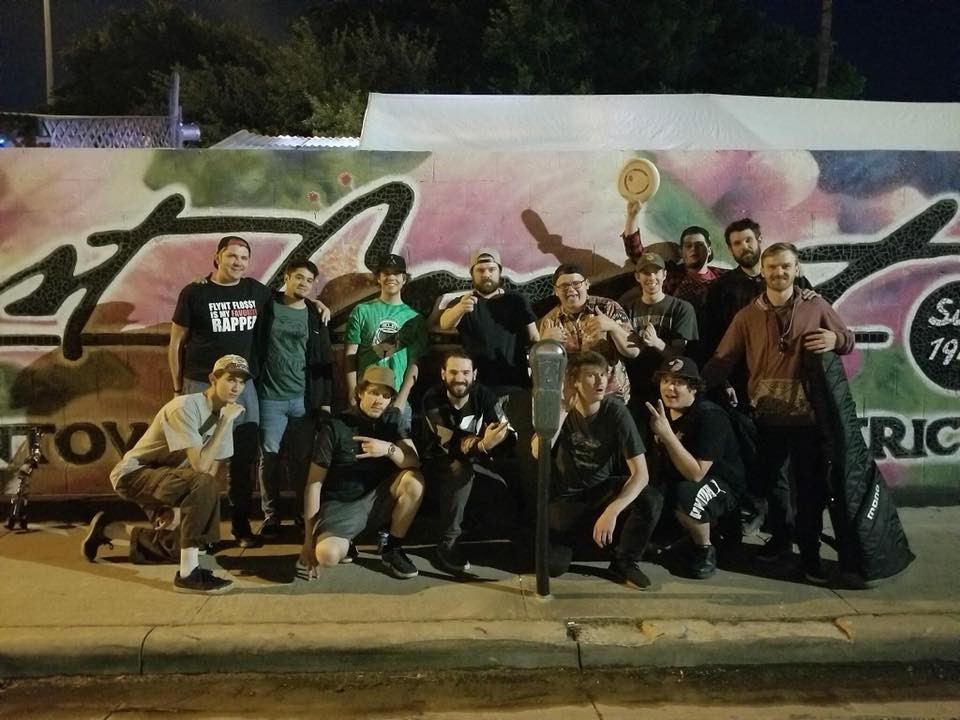 Deep Ellum Art Company & Time2Fly Music present:
TryMore MOJO's 1 YEAR ANNIVERSARY PARTY featuring their good friends, the one and only hEEt providers HEADLINING THE EVENING, Eminence Ensemble!!!
Come celebrate the amazing first year MOJO 2.0 has had thanks to the amazing Where It's At – Dallas Jamily!!
Tickets on Sale Now:
http://bit.ly/TryMore_MOJO-anniversary
feat. Eminence Ensemble
[ rock | fusion | soul ]
http://eminenceensemble.com
Eminence Ensemble is an impressive high energy sextet, whose music and live show is something you won't soon forget. Molding together influences from rock, fusion, and soul. Eminence Ensemble creates a modern musical coalescence that is sure to leave your jaw on the floor.
TryMore MOJO
[ Psychedelic | Spacefunk | Deep Groove ]
http://trymoremojo.com/
Seeking the highest of interstellar peaks, TryMoreMOJO aims to guide the listener on their mission through space with their blend of funky riffs, modular soundscapes, energetic vocals, and heavy grooves; inviting fans to contribute their energy in a give-and-take partnership between performer and listener.
An introspective look at funk and electronic music; MOJO offers funky riffs, spacey soundscapes, inviting vocals, and heavy grooves.
"MOJO an upcoming funk/electronic band are exactly what you need after a long week. Not only do they bring the grooves needed to wash away the stress of the week, the visuals provided are simply astounding. MOJO is like watching your own personal Pink Floyd, meets Rage Against the Machine, meets STS9, yes I went there. Do not miss these guys…" – DentonRadio.com
Goes well with:
TAUK, Lettuce, Spafford, Aqueous, Papadosio, Magic Beans, STS9, BIG Something, Umphrey's McGee, Emancipator Ensemble, Pigeons Playing Ping Pong, Earphunk
---