Yellow Brick Road to Dancefestopia – Dallas, Texas

Deep Ellum Art Company Presents:
Dancefestopia is hosting a touring series of events around the US which DJs are competing for a spot to play at the 2019 Dancefestopia.
15 Cities – 15 Winners!
LINEUP:
(In no particular order)
YIKES / goo!Dgud … pronounced ("goodi-good")
Time
DTNS
Just10
Grouch
G Baby
Hooks?
Disekt
Hookz
Tony Kastler
Kelsey Zingaro
Perry Wayne
DJ's / Producers:
If you've ever wanted to play at Dancefestopia this may be your chance!
To submit your music OR to get more information please visit: https://www.dancefestopia.com/roadtodancefestopia
Fans:
Come out and help us select an artist from your city to perform at Dancefestopia.
Craft Vendors, Flow Artist/Performers or Live Artists interested in participating at any of the Yellow Brick Road to Dancefestopia events please email noble@connectorpresents.com
For additional information about the Yellow Brick Road to Dancefestopia please visit:
https://www.dancefestopia.com/roadtodancefestopia or email noble@connectorpresents.com
---
The BoomBachs at Foundation Room Aug 7th

Time2Fly presents The BoomBachs at the Foundation Room in House of Blues Dallas. Come out to this free event; 8:30pm!
---
Aug. 9th Heartbyrne (Talking Heads Tribute) Live at Granada Theater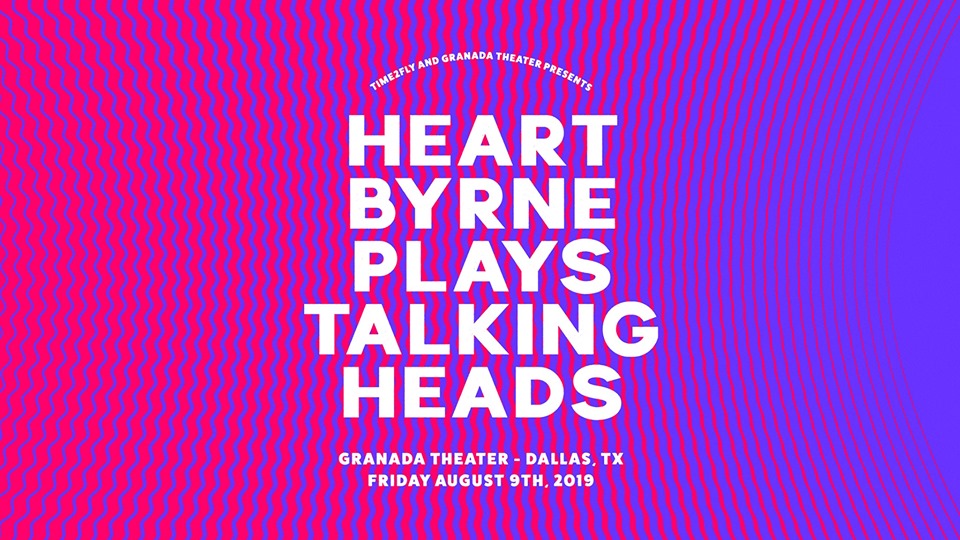 Goes Great With: The Talking Heads, David Byrne Heart Byrne
pays tribute to Talking Heads and David Byrne, who fused pop, funk, art rock, and African rhythms into perhaps the most adventurous, danceable and timeless music to emerge from the new wave movement. HeartByrne picks up the torch where the seminal concert film 'Stop Making Sense' left off, breathing new life into the classics and pushing the grooves into uncharted sonic territory. What began as an informal 'hoot night' has evolved into a must-see touring act featuring members of the Purple Bee Crew, some of Austin, TX's most talented musicians.http://heartbyrne.org
---
Heart Byrne After-Party w/ The Electrik Ants Aug. 9th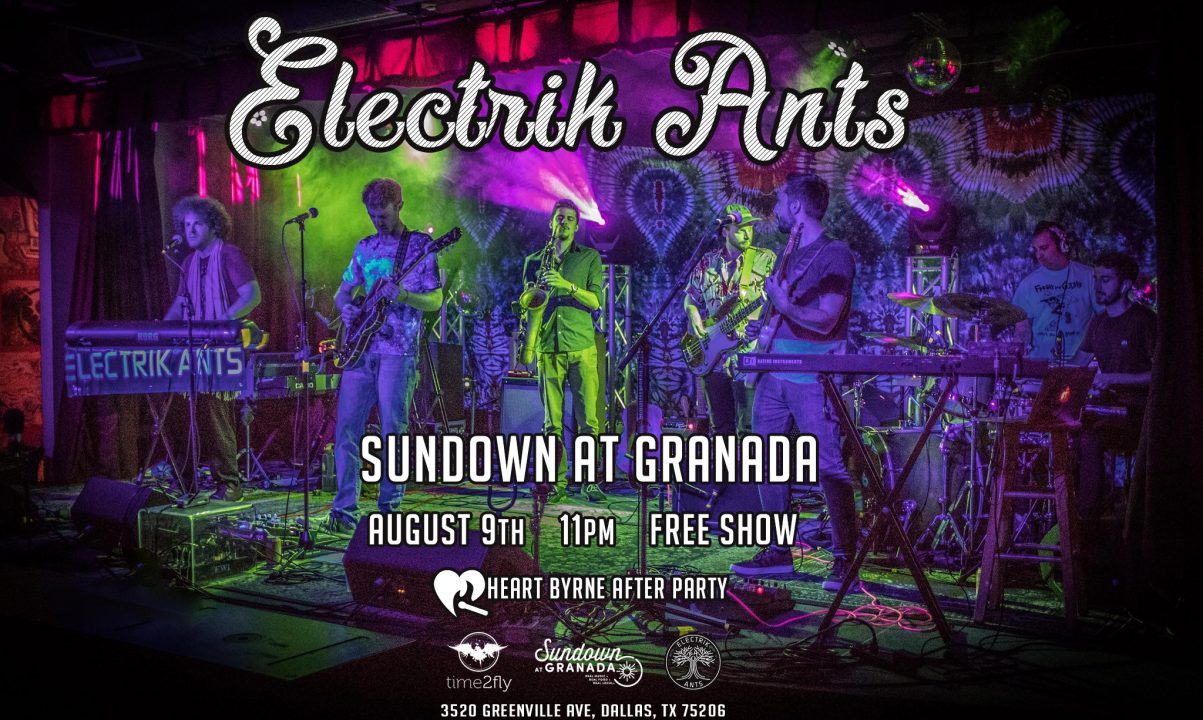 Time2Fly Music & Sundown at Granada present;
Friday, August 9th
(10:00 pm – 2:00 am)
feat. Electrik Ants
[ hip-hop | psychedelic | rock ]
http://electrikants.com
A genuine blend of hip hop, funk, psychedelic, and groove, unique and exciting. They are a seven-piece band with sax, DJ, drums, bass, and three members that rotate between rapping, singing, guitar, keys, synth, and percussion.
---
Flowmoon w/ Bass Physics and Artifakts | August 10th
Ignite Art Collective Presents: Flowmoon™
Performance Artists ✦ Live Music ✦ DJs
Open Fire Circle ✦ Vendors ✦ Art
Glass Blowers ✦ Graffiti ✦ & more!
Saturday, August 10, 2019
Deep Ellum Art Company
[ live music | art gallery | bar | patio ]
http://DeepEllumArt.Co
||| MUSIC |||
>>> Bass Physics – Denver, CO
Arja Adair, aka Bass Physics, is a Denver based musician/producer who has one objective in mind: to spread positive vibes through the power of music. His impassioned sound emulates a revolutionary style of electronic music which captures the audience on an emotional level while cultivating a live instrumental experience. With stylistic variations of electronic rock, soulful funk, hip-hop and future/melodic bass, Arja unceasingly executes a unique and captivating performance that leaves you wanting more.
http://www.bassphysics.com
https://soundcloud.com/bass-physics
>>> Artifakts – Milwaukee, WI
Artifakts is the musical undertaking of Wisconsin-born Garret Meyer that blurs the line between electronic, hip-hop and soul. An ever-evolving artist, Artifakts established his project in 2011 and has been able to break out of the confines of modern electronic music while also contributing to the project both sonically and visually. Landing noteworthy shows across the country with a wide array of both live and DJ sets, this producer has shown his belonging among the ranks of both seasoned beat makers and bands alike.
Since 2012 Artifakts has worked with a plethora of renown musicians, labels and producers both musically and in design to provide a unique catalog of music and art very much rooted in the indie-electronic community. While toting a discography frequently favorited by study/relax playlists and the more introspective listener, an Artifakts performance is anything but stringent in style, often showcasing genres from current EDM to classic funk grooves and anything in between.
www.ArtifaktsMusic.com
www.soundcloud.com/Artifakts
||| FEATURED FIRE |||
>>> Space Tribe – Houston, Tx
Space Tribe has been performing throughout Texas since 2008. Known for their unique approach to contemporary dance, fire performance, and flow arts, the group, under the direction of Maggie Lasher, has presented over 30 original choreographed creations, ranging from short festival works to evening-length theatrical presentations. Space Tribe is continually evolving the marriage of dance, theater, fire, flow, and circus arts to create innovative, engaging productions that push the boundaries of traditional dance and theater.
https://www.facebook.com/holdingspacedance/
>>> Stay tuned for more details!
---