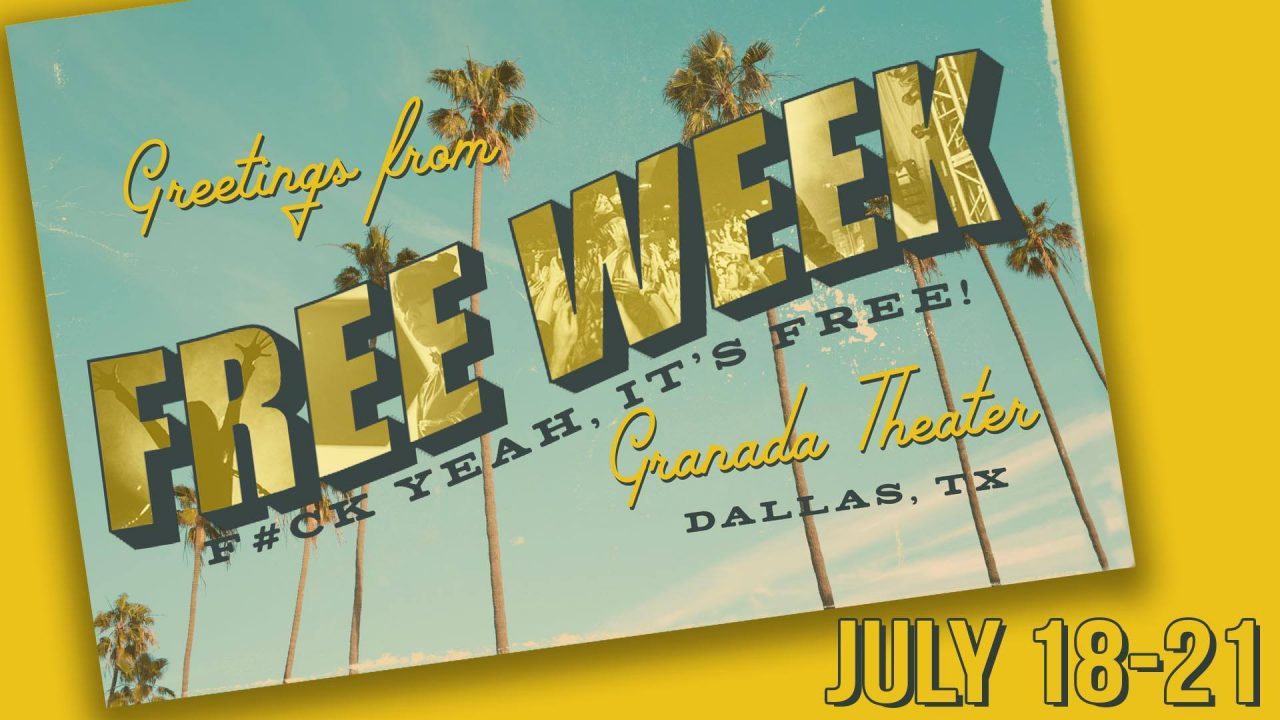 We're beyond excited to announce Free Week, our yearly 'thank you' to you, the fans, happening July 18th – July 21st.
Every single day we'll toast to the city we love with kickass shows from bands! All you gotta do is show up!
If you purchase a $5 ticket, you are guaranteed entry and your first drink is on us, the $20 tickets guarantee you a seat and a drink on us! No hidden fees, no service charges, nothing. It's a celebration devoted to you!
*SEATS ALSO AVAILABLE FOR PURCHASE*
Wednesday, July 18th: #FunkNight
Henry + The Invisibles
Spoonfed Tribe
Chilldren Of Indigo
Electrik Ants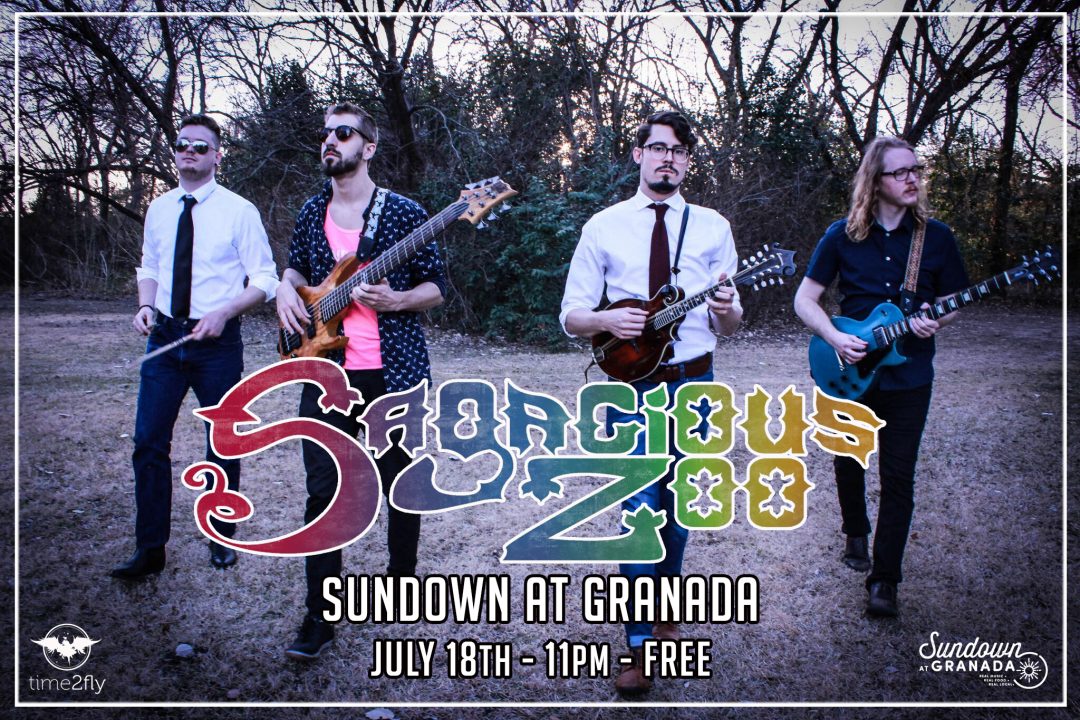 Sundown at Granada & Time2Fly Music Present:
[ real food. real music. real local. ]
Sagacious Zoo (Dallas, TX)
[ rock / folk / punk / jazz ]
https://soundcloud.com/sagacious-zoo
Dallas progressive indie rock pop band that will make your vegan juicer stand up and say hello!
Influences include: Punch Brothers, Snarky Puppy, At the Drive-In, of Montreal, Led Zeppelin, Yes, Pixies, The Last Bison, Bomb the Music Industry!, Neon Indian, Kings of Leon, Bright Eyes, Alabama Shakes, Radiohead, Fleet Foxes, Modest Mouse
– No Cover –
Catch a full evening of quality jams on Greenville on Wednesday, July 18!
The *official* after-party for Funk Night of Free Week at Granada Theater feat. Henry + The Invisibles, Spoonfed Tribe, Chilldren Of Indigo, & Electrik Ants
www.sundownatgranada.com
www.time2flymusic.com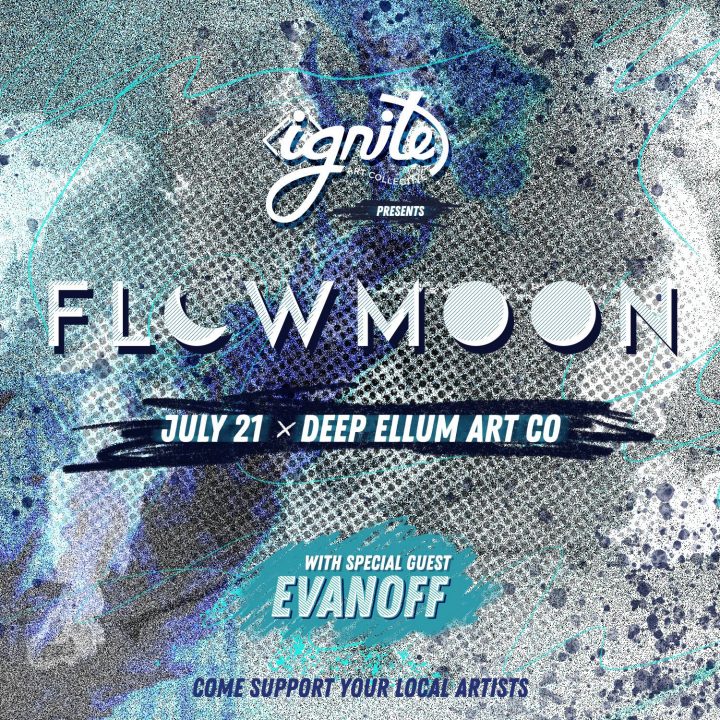 Ignite Art Collective Presents: FLOWMOON
Performance Artists | Live Music | DJs | Vendors
– Art | Glass Blowing | Open Fire Circle | & More –
Saturday, July 21
(7 pm – 2 am)
@ Deep Ellum Art Company
[ music venue | art gallery | backyard | bar ]
http://DeepEllumArt.Co
TICKETS ON SALE NOW:
http://bit.ly/Flowmoon_July
.:: MUSIC ::.
Evanoff (Denver, CO)
[ dream rock | jam | groove ]
www.evanoffmusic.com
Containing both heavy rock and soft melodic styles, the groups most stand out feature is their ability to capture the crowd's attention while creating heartfelt tension accompanied by groovy dance beats that release unimaginable amounts of energy. There is an energetic joy and purification that comes from seeing an Evanoff show…..
Ryan Viser (Shreveport, LA)
[ electro | funk | live trumpet ]
www.ryanviser.com
Ryan Viser, an American trumpet player and electronic music producer, has stirred up a frenzy and is gaining a rapid following amongst music fans since forming in 2013. Combining his aggressive trumpet playing with his hard hitting original productions, Ryan is developing a reputation for lighting up a crowd every time he picks up the horn.
.::DJs::.
Auzen
DAR
DJ Fryguy
DJ Haunt3r
DJ Ricky B
Metaphysic 基本原理
∞×ouroboros×∞
Stik
.::FEATURED FIRE PERFORMERS::.
M.D.S.O. (MENTAL DEXTERITY SPECIAL OPERATIONS) is a collective of performers & instructors of movement/flow/fire/circus artists, from Houston.
.::FEATURED ARTIST::.
Russian artist, Leona Perez, comes from a small town of hard working people with a practical mindset who, unfortunately, look down upon the idea of pursuing life as a professional artist. Though this was an obvious challenge, it did not keep Leona from her art lessons and her dream of a career in the arts. She graduated from an Economic University, and in 2015 decided to move to Dallas to fully dive into her life as an artist. She created Soul Sisters Art and has been showing her art ever since.
Leona created Soul Sisters Art because she feels the Universe gave her this talent to show its power. "When I paint, I listen to my heart and I feel it in my hands, I lose control of my mind, and I let my soul do whatever she feels like." This fluid, free method, paired with mostly abstract technique, has created a unique style that is easily recognizable. Even so, she does not limit herself to one set method of painting, and loves exploring new techniques. Her philosophy is, if she's inspired, she creates it. She believes this keeps her art honest.
Leona understands she has one life and she must follow her soul to make the right choices. Day after day, she shares more of her soul, and hopes to bring peace and inspiration into our world through her pieces.
.::LIVE GLASS BLOWING::.
Conscious Mind Glass, Ghostdance_Glass, and Great Glass Empire
.::FOOD::.
Munchies Food Truck and Bao Stop (Tommy Nattrass)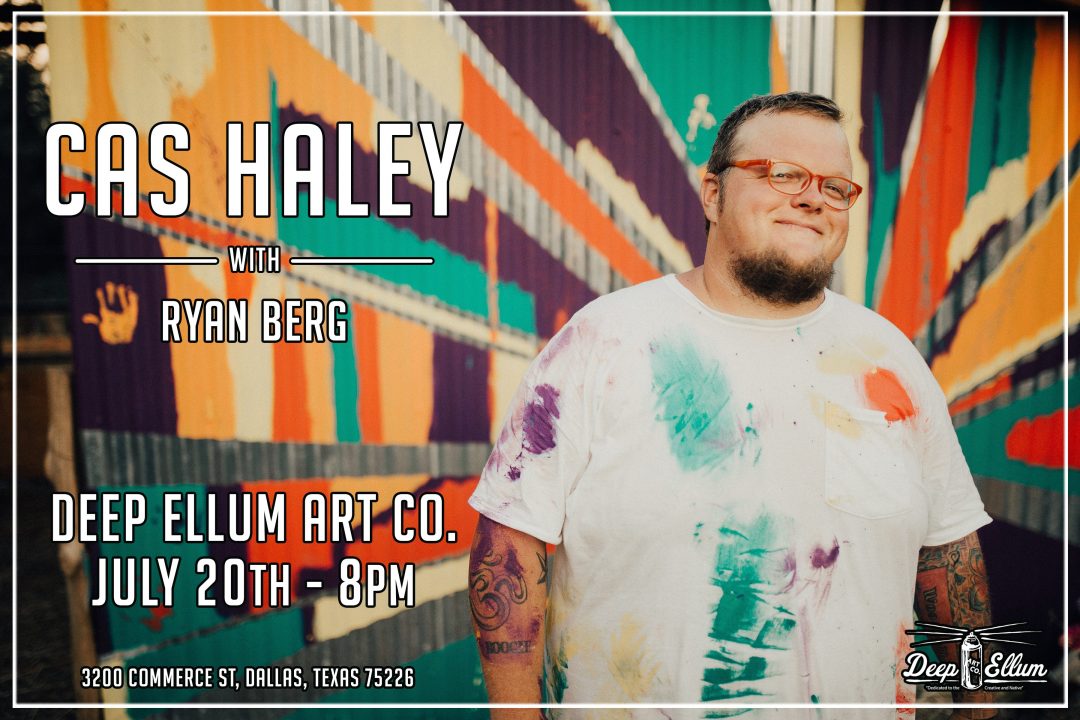 Deep Ellum Art Company Presents:
[ live music / art gallery / backyard / bar ]
>>> 4:00 pm: BAR OPENS
>>> 8:00 pm: BOX OFFICE
>>> 9:00 pm: MUSIC STARTS
Cas Haley
[ reggae / soul / blues ]
www.cashaley.com
Sometimes blessings come disguised as roadblocks. Such is the case of More Music More Family, the new release from soulful singer-songwriter Cas Haley. The Texas-based artist was successfully recording, touring and building a fanbase when he was sidelined by an accident that hampered his ability to sing. The idea for More Music More Family came about during treatment, as Haley reflected on how to pursue his career in a way the included his family and better represented his lifestyle.
Crowdfunded through a Pledge Music campaign and recorded over a month at Steelgrass Farm in Kauai, Hawaii, More Music More Family was co-produced and co-written by Andrew Terrett, aka Tubby Love. Its tracks address the universality of life lessons with positivity and uplifting melodies. The album borrows the best of Haley's previous efforts, drawing on influences of reg- gae, soul, blues and rock. It captures an organic, live-record feeling with high-quality sound.
+ Ryan Berg
[ blues / jazz / acoustic ]
www.ryanbergdtx.com
Ryan Berg & The Velvet Ears are an acoustic driven Blues/Jazz band from Dallas Texas. The project began when singer-songwriter Ryan Berg moved back to his hometown from San Marcos, Texas. Shortly after, Ryan began playing duos around the metroplex with lead guitarist, Glen Fleischman throughout 2014 when they met drummer, Charles Alexander. Since then, The Velvet Ears expanded it's perimeters by collaborating with local artists like Nick Snyder, Patrick Smith, Matt McClellan, Kirk Hampton, as well as Austin, Texas band, The Mammoths.
>>> Tickets on Sale Now!
>>> $15 ADV / $20 DOS
>>> http://bit.ly/CasHaley_ArtCo
DRINK SPECIAL:
$5 wells until 8:00 pm
PARKING:
Street parking available on Commerce (front) & Murray (side). Lot parking is available on Canton (back) across the street in the Equipment and Maintenance Services building after 6pm. We do not recommend parking in the business lot on Murray.
http://DeepEllumArt.Co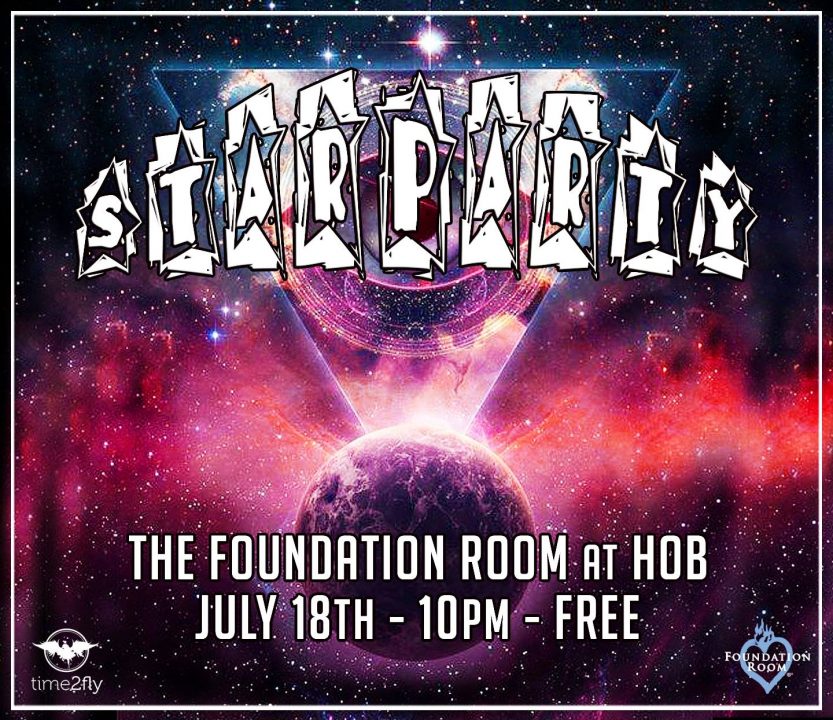 Live music every Wednesday night in Foundation Room lounge – this week featuring STARPARTY!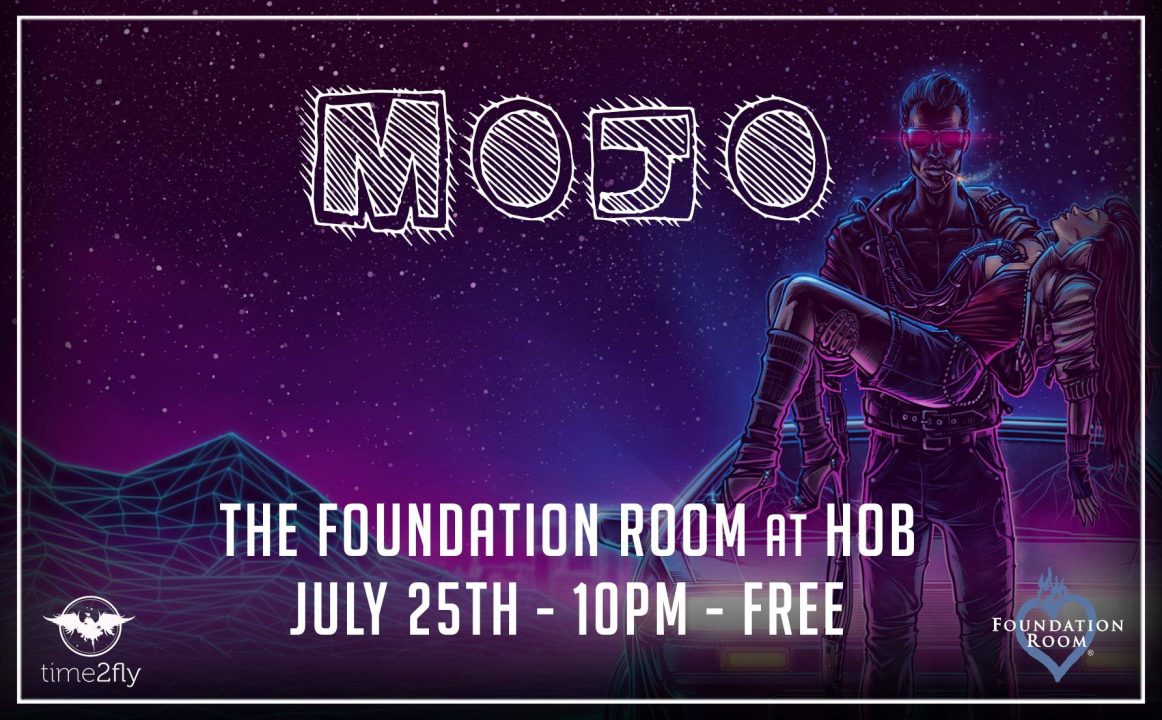 MOJO
[ funk / jamtronica / hip-hop / psychedelic ]
http://trymoremojo.com/
Seeking the highest of intergalactic peaks.
An introspective look at funk and electronic music; MOJO offers funky riffs, spacey soundscapes, inviting vocals, and heavy grooves.
"MOJO an upcoming funk/electronic band are exactly what you need after a long week. Not only do they bring the grooves needed to wash away the stress of the week, the visuals provided are simply astounding. MOJO is like watching your own personal Pink Floyd, meets Rage Against the Machine, meets STS9, yes I went there. Do not miss these guys…" – DentonRadio.com
Goes well with:
The Werks, Papadosio, Umphrey's McGee, STS9, Lettuce, Spafford, Pigeons Playing Ping Pong, Earphunk, Tauk, Tycho, Zoogma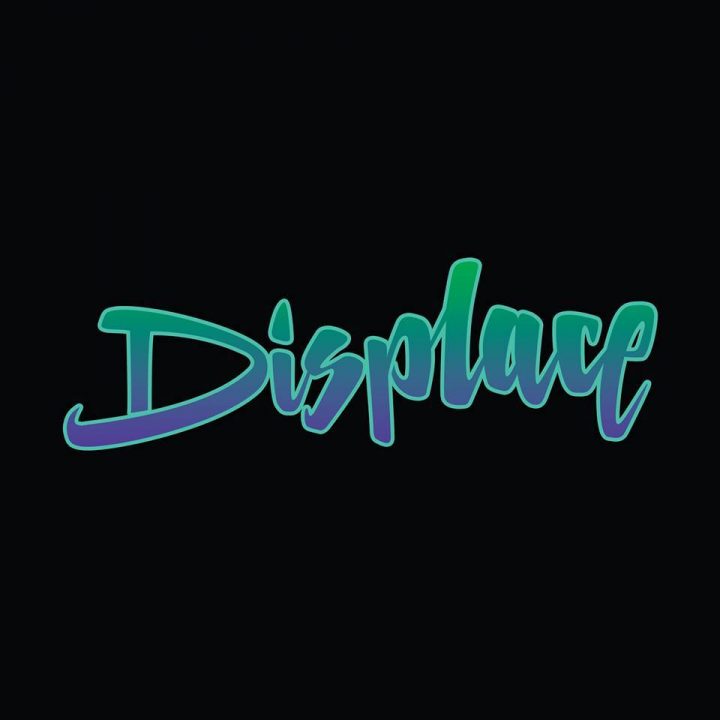 Displace is a saxophone-driven funk fusion ensemble based in Tampa, Florida known for their energetic performances, improvisation prowess, and wildly diverse sonic palette. The Floridian four-piece effectively utilizes their extensive training in a variety of musical backgrounds to produce a truly eclectic blend of infectious pop melodies, complex jazz progressions, and danceable funk grooves.
This summer, Displace will be touring to promote the release of the first single "Luvlee Woman" from their third studio album, available on Spotify, Apple Music, and iTunes.