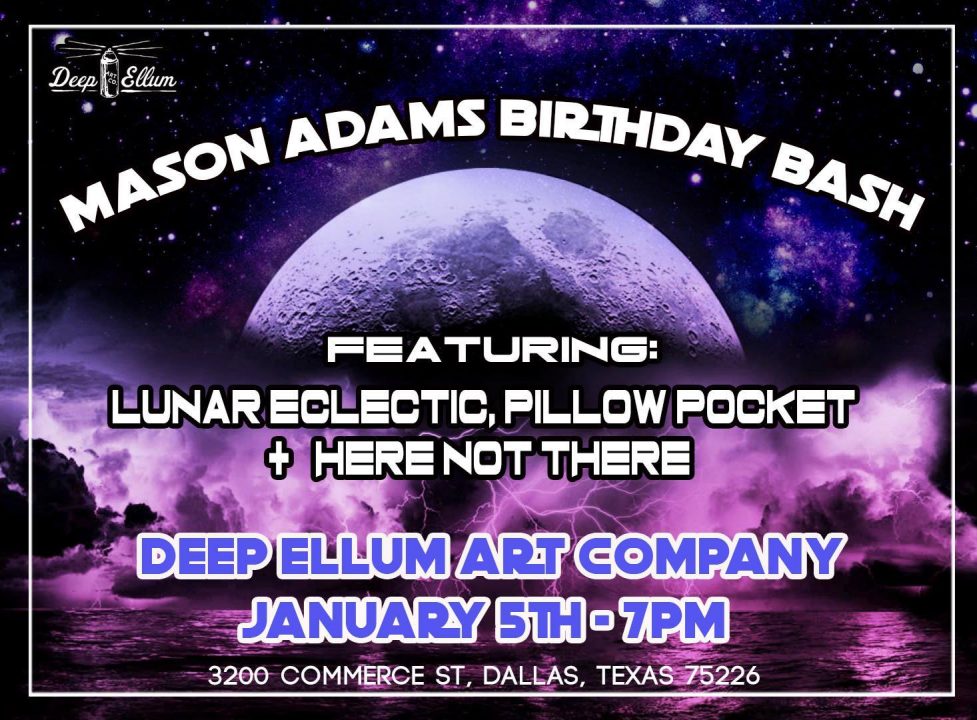 Deep Ellum Art Company Presents:
[ live music / art yard / food trucks ]
::Mason Adams' Birthday Bash::
Lunar Eclectic (11pm – 1240pm) with DJ set 1245pm – 145am.
[ Jam / Rock / Folk ]
+ Pillow Pocket (915pm – 1030pm)
[ Phunk Phusion ]
Pillow Pocket is a phunky jam-based group out of the DFW that creates original material as well as interprets covers.
+ Here Not There (8pm – 9pm)
[ Improv / Blues / Jazz ]
Here Not There is a improvisational music group based out of Dallas TX. Our goal is to develop new music through the art of spontaneous jamming.
$5 Pre-sale Tickets available (First 25 only)
$8 ADV // $10 DOS
—————————————————————————————————————————————————-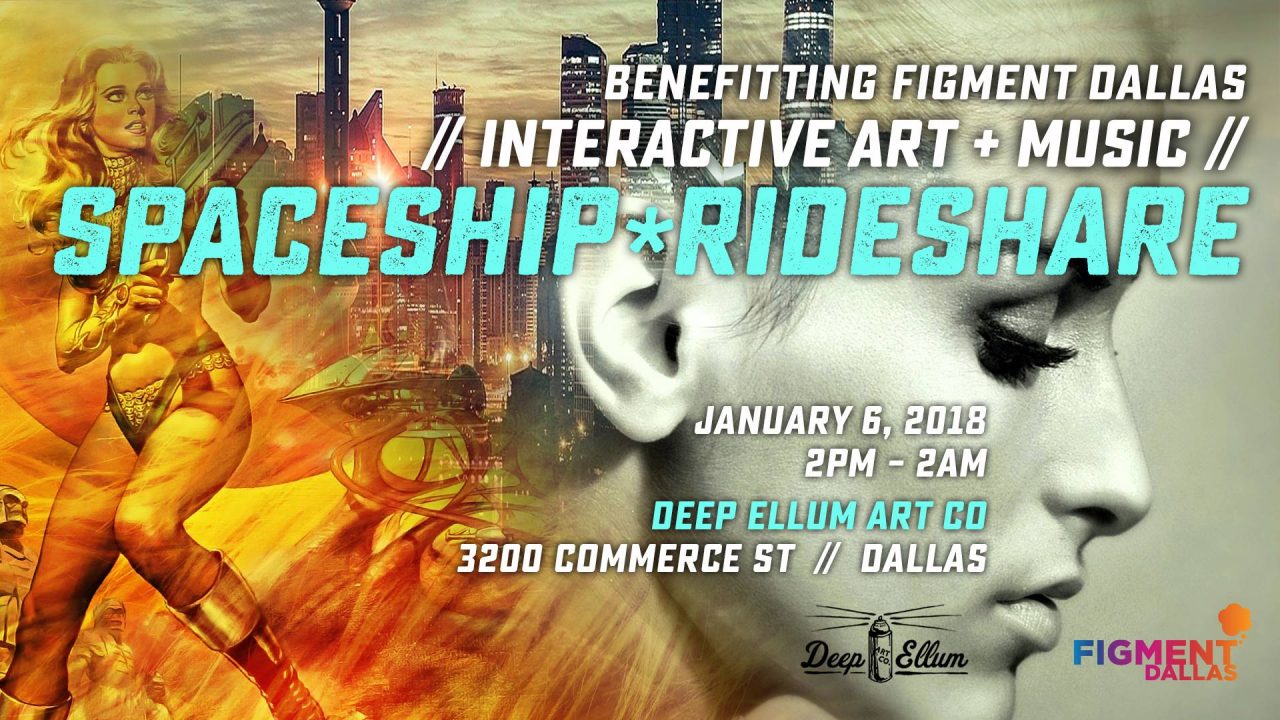 Need a ride? Come blast off with us on an interactive art and musical journey on Saturday, January 6th!
Your 12 hour ride includes:
✓Immersive Interactive Local Art (Participate!)
✓Top-shelf Musical Talent Across 2 Stages
✓Space-Age Deco, Glo & Skilltoy friendly
✓Food Trucks by SoCal-Tacos & more
✓Plus so much more…
*Retro-Future-Space* Themed Costumes Encouraged, but not required.
~OUTDOOR STAGE~
–Fropsi (Mind the HeadSpace, TheGuild.camp)
-Cyberina Flux (Rocket Radio)
–Punktronica Live (w/ keytar)
-Hieronymous Superfly
–Luis Reyes (Motif Dallas, Nantli Music Ent.)
-Life Coach (Live Chiptunes Set)
–Swirve (jazz combo w/ fx Mad Swirl)
-Pecan Tree (Blues Combo, Mad Swirl)
~PARTICIPATORY ART & WORKSHOPS~
>Interactive Painting Area by Clay Austin
>Art Workshop by Andy Don Emmons
>LED Tinker Workshop by Matt Stevenson
>Acroyoga workshop by Kyle Gerst & Friends
>Sound-Reactive Cymantix Laser Spirograph by Taylor Taylor Taylor
>Inflatable Immersive Environment by Elpmis, Simple Civilian
>Interactive Space Dome by Randy, collab with Lighting by Scott Stanley& Electric Sheep Artificial Intelligence interface controls by Jim Glampa.
>Skill-Toy Spinning Workshop by RJ of Rollinsticks
>Skill-Toy Making Workshop by Tommy Raz
>Live Bodypainting by Misty Amber Moore & Tanja van Haasen
>Art Installation by Shadowplay Visual Art & Design
>Performance Art by Tara Baker
>"Color your World" cone responses by Heather Simpson
>Live painting by Levi Hollandsworth
>Lighted sculpture by WayWard and @Brett Jones
>"Cow Goddess Convertible" by Cigi Tipton
>"Astrobus" by Rocket & Gypsy (Dina & Robert)
>"Bustacio the Bus" by Mad Maxine (Brandi Lakey Rafael)
>"Jambulance" by Kent & Suzie
>Limited-Edition Live Screen Printing by Tom Cochran
~INDOOR STAGE~
–Littlz (Diamond Deep Dallas)
-Space Chase (The Disco Initiative, theGuild.camp)
–Michael Todd (Love Rich, Panther City Productions)
–Sammy Samuelson (Tree House Collective, International Bank 808)
–John Walker (Harmonius Discord, Dub Assembly, Myhouse Yourhouse)
–CRod-Dallas Chris Rodriguez (w/ live sax Eclectic Souls Project)
–Samma Lone – Official (Uptown Boogie, Audiophile Deep, Multipass)
–I Am Prometheus (Disco Initiative, TheGuild.camp)
-LEVEL6 interactive visuals (The Sixth Level)
Event Photography by the one and only, @Dave Rabbitt LeClair!
[This is a fundraiser for FIGMENT Dallas. Visit our website at http://dallas.figmentproject.org/ for more information]
spaceship-RIDESHARE
– $15 if in costume, $20 without costume, $5 for kids under age 12
– liftoff happens on Saturday January 6 from 2pm – 2am
– at Deep Ellum Art Co. 3200 Commerce https://deepellumart.co/