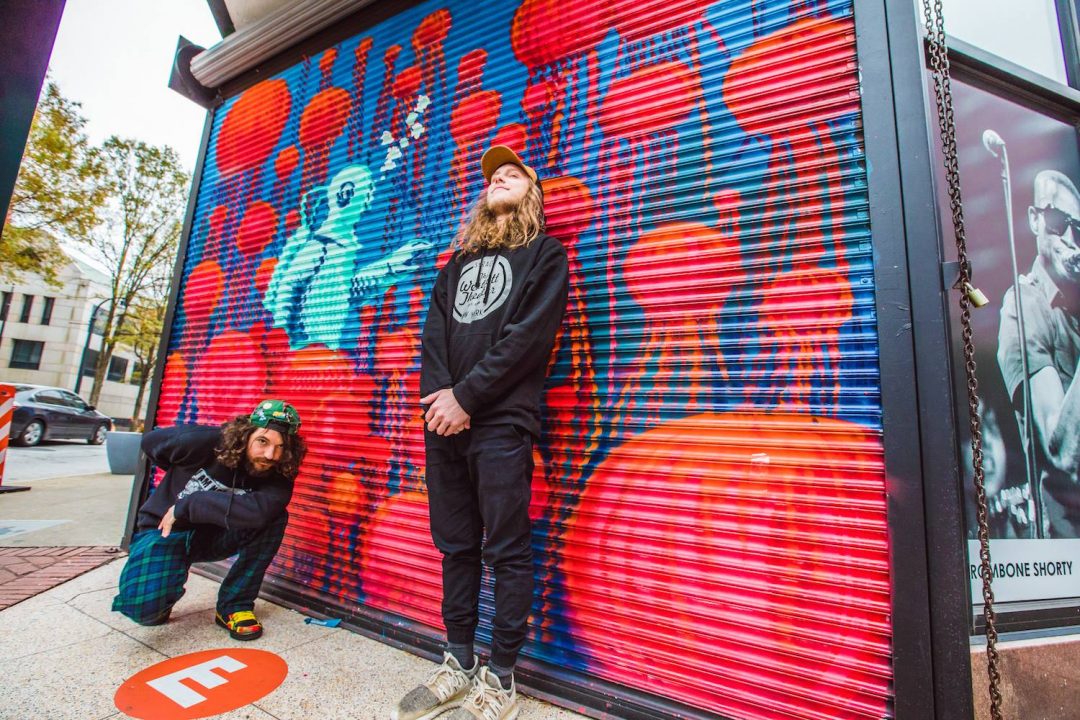 Heard Presents: Boogie T. & SQUNTO at Deep Ellum Art Company with support from BOARCROK!
Tickets: http://bit.ly/BoogieTSQUNTODTX
Doors @ 8 PM
All ages
Boogie T and SQUNTO are some of the dubstep's newest names, breaking necks and throwing down epic bass beats. Both recently toured with bass legend Snails and lit it up! Now Boogie T and SQUNTO Strike Back across the US. Don't miss out on these filthy dubstep artists in DTX!#DubstepHadItComing
Boogie T: https://soundcloud.com/subcarbon/boogie-t-x-dirt-monkey-beef?in=subcarbon%2Fsets%2Fboogie-t-sould-out-full-length-ep
SQUNTO: https://soundcloud.com/squnto/squnto-sayim-out-now-on-crowsnest
BOARCROK: https://soundcloud.com/boarcrok/boarcrok-for-the-freaks-original-mix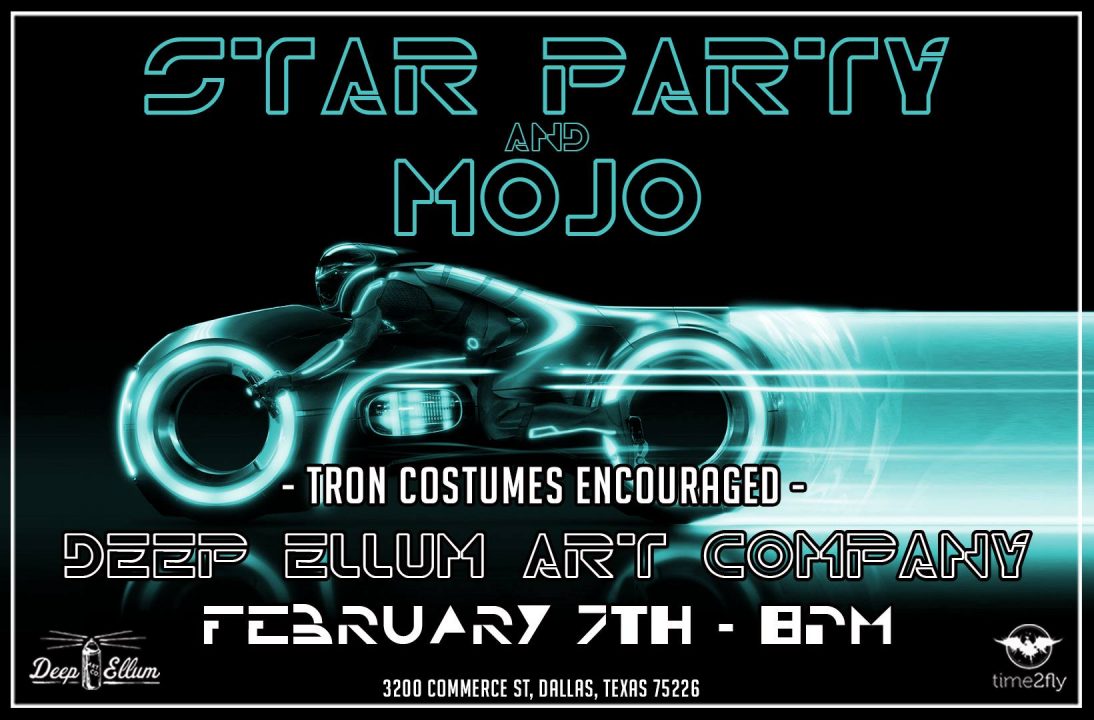 Deep Ellum Art Company Presents:
[ live music / art gallery & yard / food trucks]
TRON THEMED
STARPARTY
[ disco / pop / rock ]
Dance Music From Another Galaxy!
"Most of STARPARTY's members have been playing music virtually their entire lives. Steinberg, who had been doing covers of electronic-pop duo Daft Punk on his own, was approached by a member of another band who was interested in doing the same thing. When that band member passed away unexpectedly, the remaining group still wanted to carry out that idea: a Daft Punk cover band with some individuality of their own."

MOJO – Modular Johnson
[ jamtronica / future funk / hip-hop ]
An introspective look at funk and electronic music; MOJO offers funky riffs, spacey soundscapes, inviting vocals, and heavy grooves.
"MOJO an upcoming funk/electronic band are exactly what you need after a long week. Not only do they bring the grooves needed to wash away the stress of the week, the visuals provided are simply astounding. MOJO is like watching your own personal Pink Floyd, meets Rage Against the Machine, meets STS9, yes I went there. Do not miss these guys…" –DentonRadio.com
$8 ADV // $10 DOS
Tickets on Sale Now!
http://bit.ly/STARPARTYdtx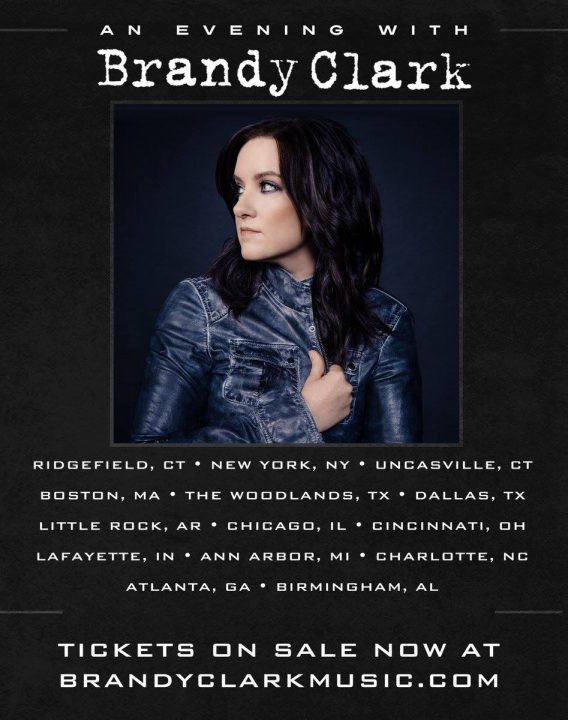 An Evening with Brandy Clark & Rick Brantley at Deep Ellum Art Company| Doors: 8pm | Show: 9pm
General Admission: $25 / VIP Table (4 seats): $125
"Ain't we all the stars playing the leading part in our own soap opera?" Brandy Clark belts out that question to kick off Big Day in a Small Town, positing the premise of not just the opening track ("Soap Opera"), but all 10 songs that follow it. The towns that anchor Clark's new album may be small enough to warrant only a single blinking light, but the lives lived in them are anything but… and neither are the hopes and dreams that rise from their backroads and bedrooms.
When you grow up in a small town, oftentimes, your dreams are all you have. Whether it's to become a football star or a father, a homecoming queen or a hairdresser, your dreams might be the only thing that keep you going. For Clark, the dream she harbored in her small hometown of Morton, Washington, was to be a country singer. Sure, once she moved to Nashville, she had successful cuts as a songwriter [The Band Perry's "Better Dig Two," Miranda Lambert's "Mama's Broken Heart," and Kacey Musgraves' "Follow Your Arrow" which won the CMA Song of the Year Award in 2014], but being an artist in her own right was a dream she had stopped dreaming until three years ago when her first album, the stunning 12 Stories, debuted.
At the time, it was a passion project, more than anything… a p
assion project that went on to become a GRAMMY- and CMA-nominated release that topped a myriad of "Best Albums of 2013" lists; earn her opening slots on tours with Eric Church, Jennifer Nettles, and Alan Jackson; land her performances onThe Ellen De
Generes Show , Good Morning America, The Late Show with David Letterman, and a much-talked about collaboration with Dwight Yoakam on the 2015 GRAMMY Awards in recognition of her nomination in the all-genre Best New Artist category; and win her a Warner Bros. Records deal. Now, as she gears up for her sophomore set, the alternately feisty and poignant Big Day in a Small Town, Clark has much higher hopes.
"When I made 12 Stories, I think my dreams were a lot more realistic, in that I didn't expect a lot to happen… then it did," she says. "This time, my dreams are very much what they were when I was going to Vince Gill and Patty Loveless concerts and decided I was going to move to Nashville. Right now, my dreams are as big as when I was naïve enough to really dream them."
Produced by Jay Joyce [Little Big Town, Eric Church], Big Day in a Small Town tells the stories of the football star, the father, the homecoming queen, and the hairdresser because those are the stories and people that Clark grew up knowing. "All these songs, there's some little truth in them, somewhere, that resonates with me or that is about me," she confesses. Explaining the genesis of "Soap Opera," she offers, "When I would get worried about what people thought of me or what was going on with me, my mom would always say, 'You know, we're all the star of our daytime drama. We're just bit players in someone else's. Nobody cares that much about what's going on with you. They'll only care until there's something juicier going on with somebody else two weeks later.'"