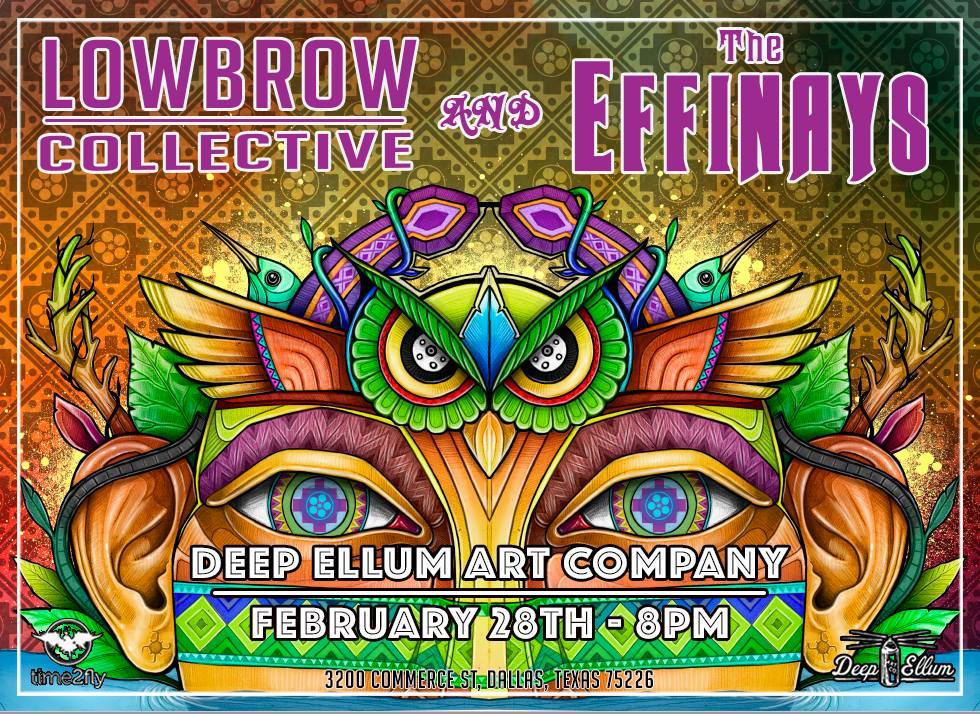 Deep Ellum Art Company Presents:
[ live music / art gallery / back yard / bar ]
Come show us your moves at Latin Night featuring live dance music!
>>> 4pm: BAR OPENS
>>> 8pm: BOX OFFICE OPENS
>>> 9pm: MUSIC STARTS
LowBrow Collective
[ cumbia / chicha / psychedelic ]

LowBrow Collective is a Cumbia group focusing on Peruvian Chicha and various styles found in Latin America rendering them with an American tinge.
+ The Effinays
[ latin / reggae / hip-hop ]
The Effinays is a funk/rock/reggae band from Dallas, TX. The band formed in 2007 and originally performed as an instrumental unit throughout the Dallas/Ft. Worth area. In 2011, the band revamped the entire line up, except for one of the founding members and morphed in to the comedic, old school funk, classic rock, reggae with flashes of Latin grooves band that one could clearly sense that they enjoy what they do.
The band has performed alongside Grammy Award winning artist such as Snoop Dogg (Lion), Grupo Fantasma and Ozomatli
Each member of The Effinays hails from different musical upbringings that they blend together effortlessly as one unit.
Tickets on Sale Now!
$8 ADV // $12 DOS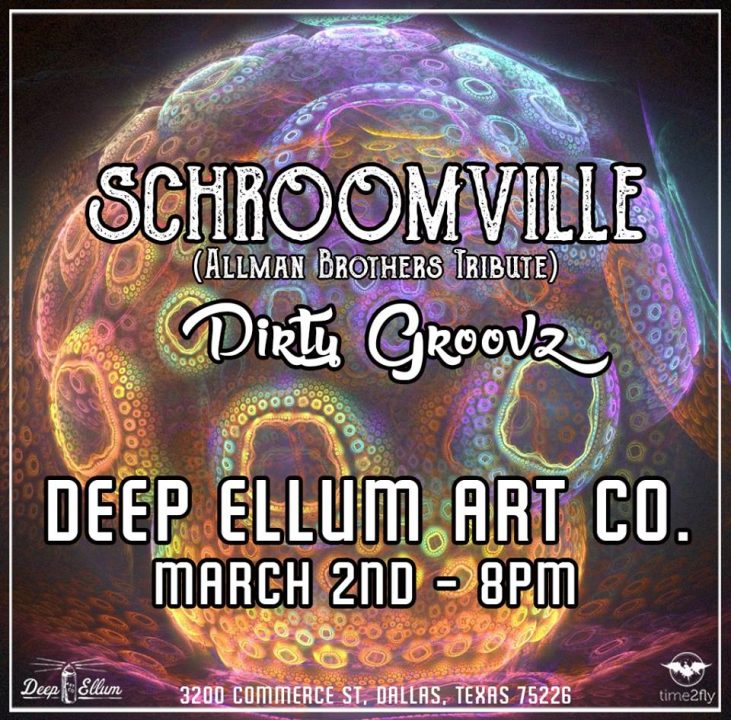 Deep Ellum Art Company presents:
[ live music / art gallery / back yard / bar ]
Dirty Groovz (11pm)
[ house / down tempo / nu funk ]
Dirty Groovz is a DJ & Musician collaborative that focus on music genres of Down Tempo, Drum & Bass, House & Rare Groove.
Depending on the venue, they also play genres including Latin, 70's/80's/90s and of course current music.
Dirty Groovz is a group that desire to provide a different feel to music not normally heard or rarely heard on commercial radio waves.
Schroomville-A Tribute to The Allman Brothers Band (8pm)
[ rock / blues / jam ]
Schroomville – A Tribute to The Allman Brothers Band was formed to play the tunes of this great band and create a concert experience based on one of our favorite bands. From the early days with Gregg Allman on Hammond B3, Duane Allman and Dickey Betts on guitars, through the mid '70s after Duane and Bassist Barry Oakley died. Adding Chuck Leavell on piano, and continuing to todays' lineup with Warren Haynes and drummer Butch Trucks' nephew Derek Trucks on guitars.
Schroomville represents all of the Allman Brothers music. Twin lead guitars, Hammond B3 organ, soulful vocals, and bass and drums pumping the groove is what Schroomville is all about as we do our level best to recreate the sound and experience of the Allman Brothers Band.
Tickets on Sale Now!
$8 ADV // $12 DOS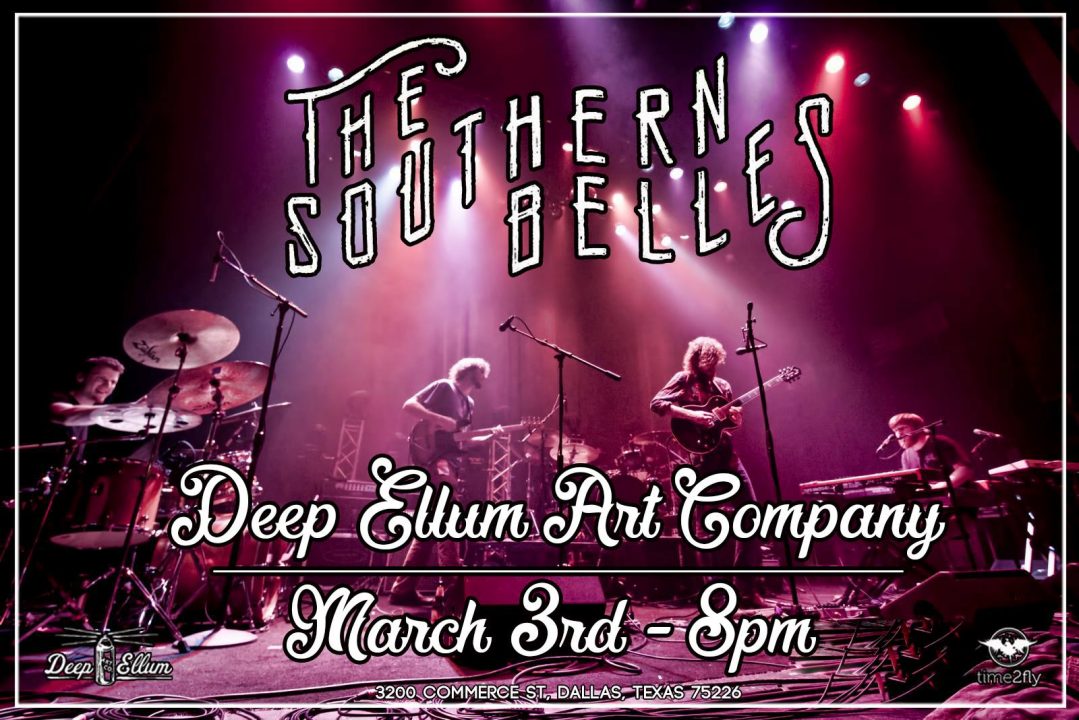 Deep Ellum Art Company Presents:
[ live music / art gallery / back yard / bar ]
The Southern Belles (11pm)
[ psychedelic / american / rock & roll ]
www.thesouthernbellesmusic.com
The Southern Belles are Adrian Ciucci (guitar/vocals), Tommy Booker (keys/vocals), Aaron Zarrow (drums/vocals) and Andrew Carper (bass/ vocals). Playing a high-octane mix of funky southern psychedelic Rock & Roll, the Belles perform hundreds of shows and festivals each year. Their ability to instinctively communicate with one another was apparent right from the start, but as they've continued to play together this cultured ability has grown exponentially.
The Southern Belles road-tested sound has earned them a devout following, with fans traveling far and wide to catch the show. With their new album in process, to be released in Spring of 2015, the Southern Belles are picking up steam and gaining national notoriety for their original compositions and song craft. Their songs are both fun and moving, with lyrical stories evoking familiar emotions and complex musical journeys. Wherever the Southern Belles are, they are sure to bring the party with them.
Sagacious Zoo (10pm)
[ folk / punk / jazz ]
http://sagaciouszoo.com/
An accessible pallette of rock, folk, punk and jazz, formed by friends on a lifelong creative pursuit.
sa·ga·cious
/səˈɡāSHəs/
adjective
having or showing keen mental discernment and good judgment; shrewd.
zoo
/zoo/
noun
an establishment that maintains a collection of wild animals, typically in a park or gardens, for study, conservation, or display to the public.
Tory Sound (9pm)
[ pop / rock / indie ]
Tory Sound is a Jangle Pop – Idie Rock/Party band out of Dallas, Texas. Experience the creativity and the stories behind the creation of Tory Sound and dance the night away.
Tickets on Sale Now!
http://bit.ly/southernbellesDTX
$8 ADV // $12 DOS