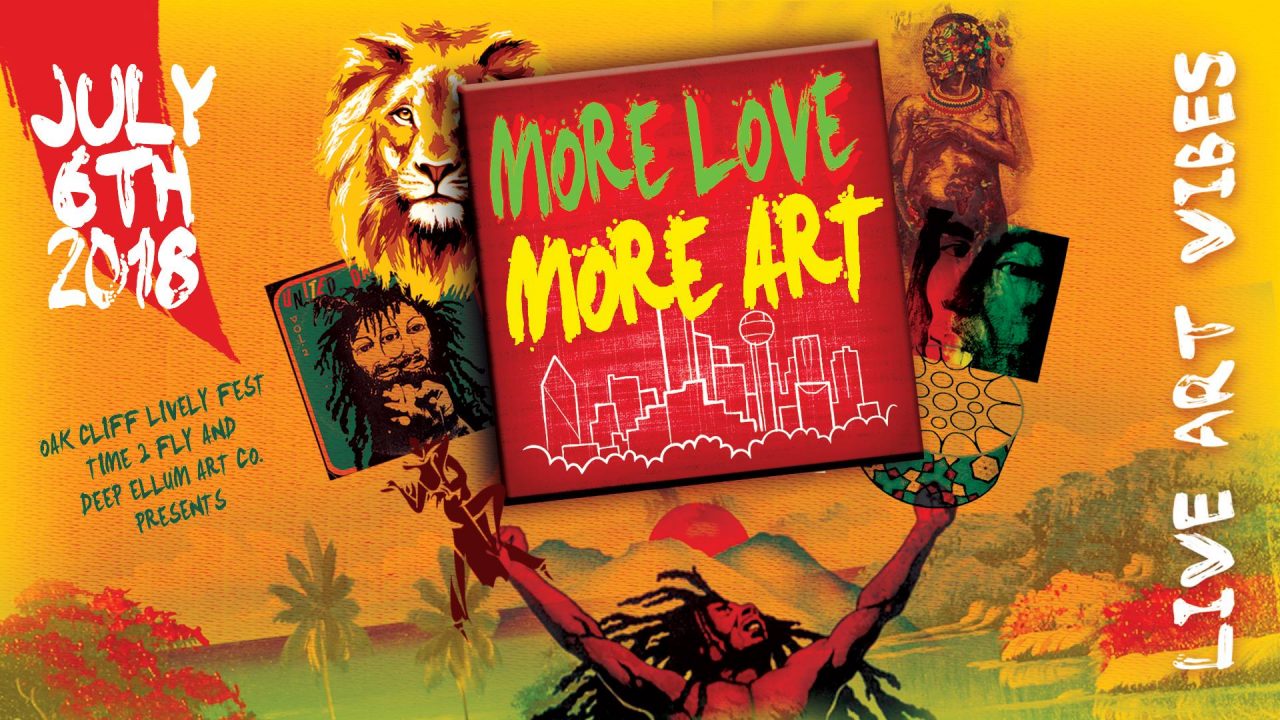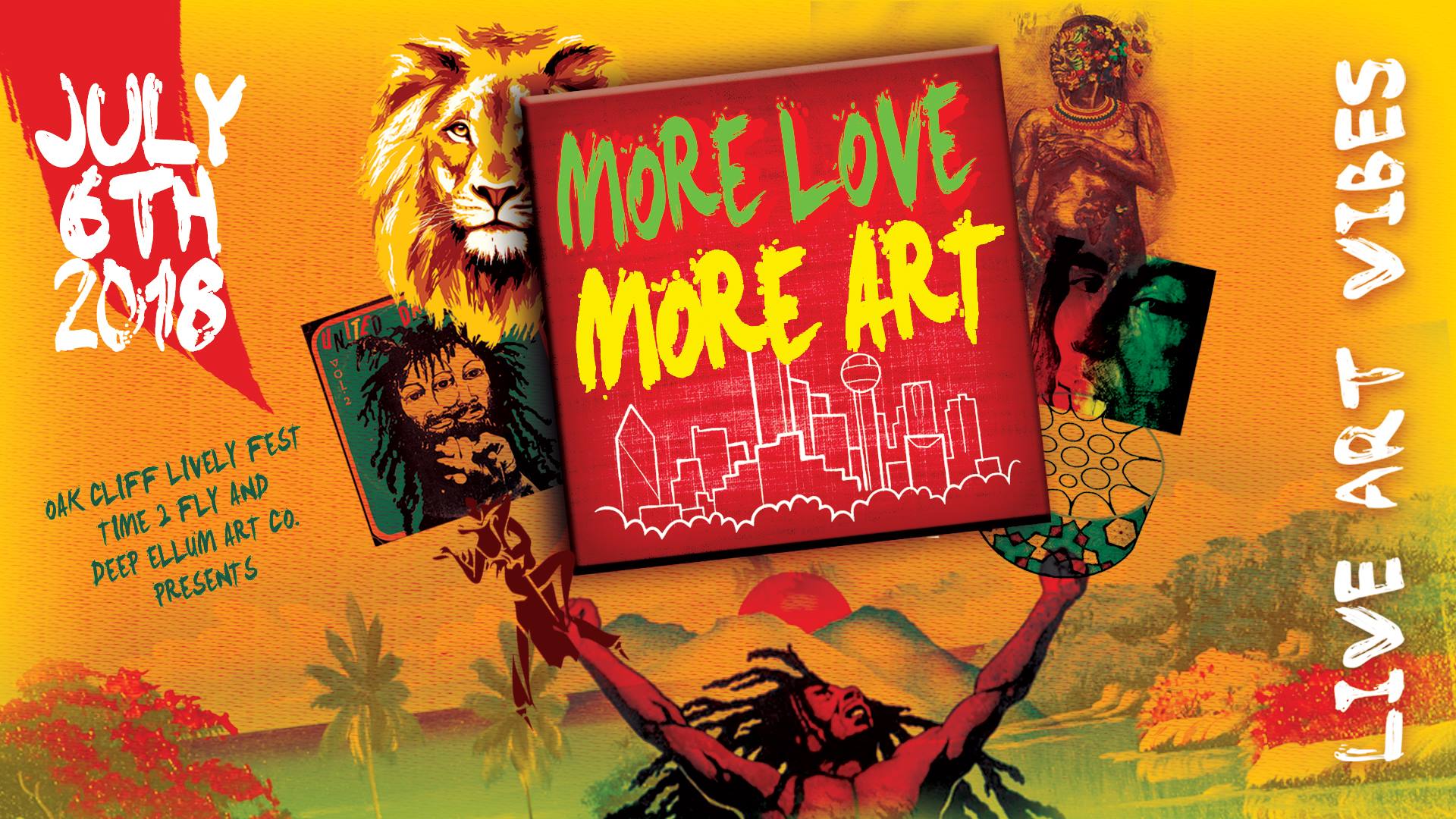 Oak Cliff Lively Fest | Silent Partners | Deep Ellum Art Company | Time2fly Music
Present….
MORE LOVE MORE ART!!
Featuring LIVE ART VIBES and Gallery Works from some of Dallas Best!
—-including Live Performances by—-
LION HEIGHTS
LEROY SHAKESPEARE
DEM ROOTS
AMBUSH REGGAE BAND
—-plus—-
AFFGAAD
DJ TWIN 1 on the controls
ITAL Provided by Vegan Vibrationz
—Admission—
Pre-Sale Tickets $10 & $15 @ the door!
Starting at 6PM til 2AM
ROOTS REGGAE + ART = POSITIVE VIBRATIONS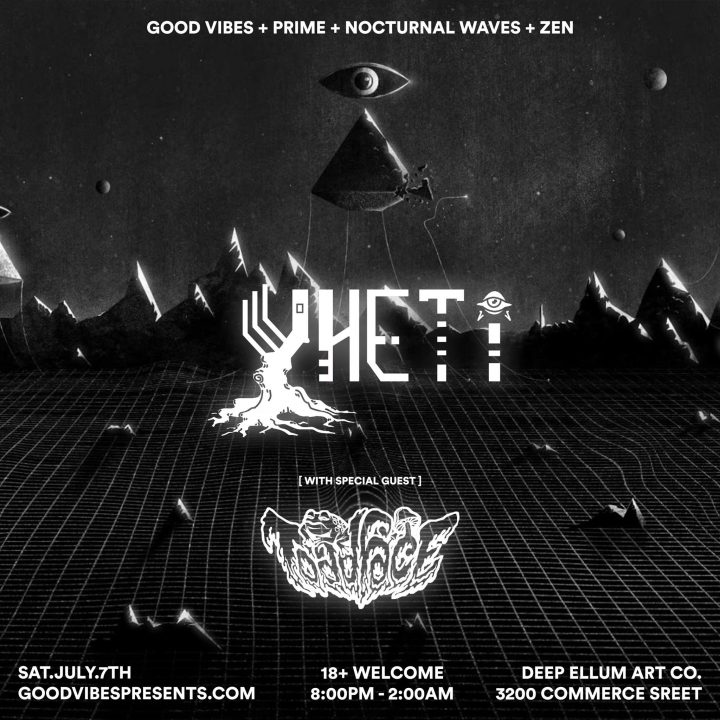 PRIME + Good Vibes Presents + Nocturnal Waves Present: Yheti & Toadface
Saturday, July 7th, 2018 | 8:00PM – 2:00AM
Address:
Deep Ellum Art Co.
3200 Commerce St, Dallas, TX 75226
https://deepellumart.co/
Ages: 18+ to enter | 21+ to drink
Tickets: All sales final | No refunds
Connect:
Website: https://goodvibespresents.com/
Facebook: https://facebook.com/goodvibespresents
Twitter: https://twitter.com/goodvibesprsnts
Instagram: https://www.instagram.com/goodvibespresents/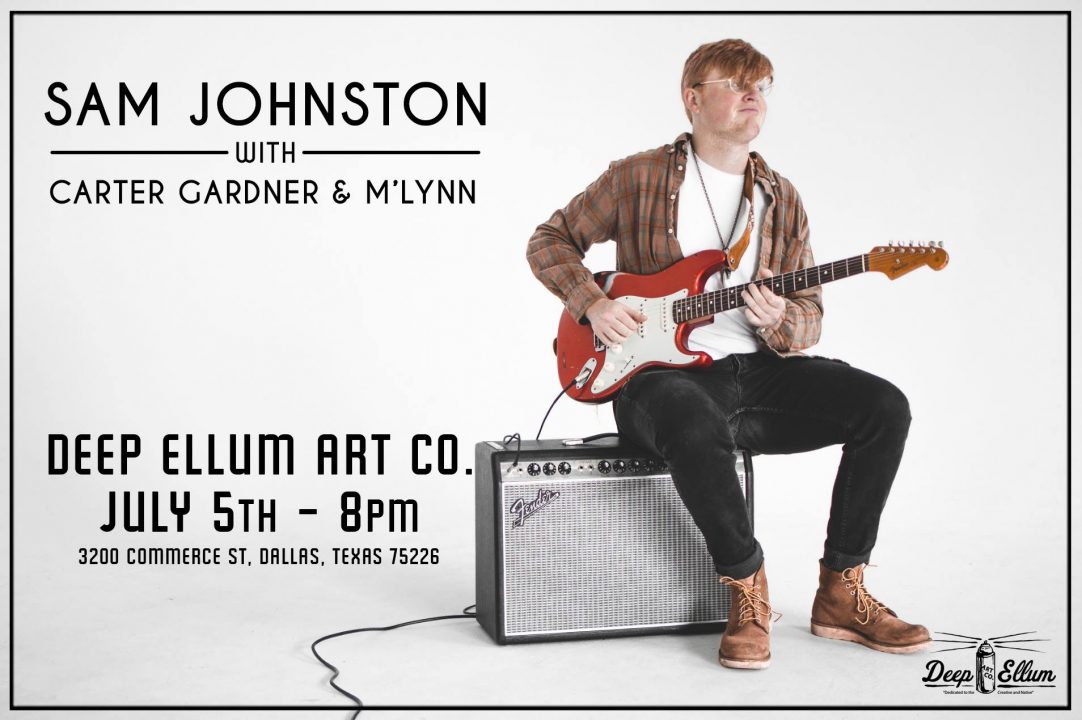 An Evening of Blues Music
on Thursday, July 5
@ Deep Ellum Art Company
[ live music / art gallery / backyard / bar ]
http://DeepEllumArt.Co
feat. Sam Johnston
Nashville, TN
[ blues | singer | songwriter ]
http://samjohnstonmusic.com
Sam Johnston is a singer/guitar player born and raised in Dallas, Texas. Drawing his influences from people like John Mayer, Gary Clark Jr., Tedeschi Trucks Band, Jimi Hendrix, and even D'Angelo captivated him. The lyrics, the guitar playing, the big booming sound. Seeing how these artists moved him really inspired Sam to play that same role in other people's lives. Music saved him, and Sam's main goal is to one day save others with his own music as a recording artist.
w/ Carter Gardner
Austin, TX
[ folk | singer | songwriter ]
http://bit.ly/CarterGardner
Inspired by the likes of Wesley Schultz, Matt Vazquez, Shakey Graves, and other folk songwriters, Carter Gardner began writing music at a young age.
For years Carter played alone in his room, until one night, when a friend overheard a song. This friend, Scott, asked Carter if he had ever shared his music with other people. Before that night, sharing his music is never something Carter had considered. Eventually, Scott convinced him to play a song, and Carter has been playing for folks ever since.
& M'Lynn
Dallas, TX
[ soul | singer | pianist ]
http://mlynnmusic.com
Influenced at first by Carole King, Linda Rondstat, and Stevie Wonder, M'Lynn's style and sound got her into the prestigious Booker T. Washington High School for the Visual and Performing arts. She performed in Jazz and R&B ensembles which further created her Soul- Pop sound.
>> Tickets on Sale Now!
>> http://bit.ly/SamJohnston_DTX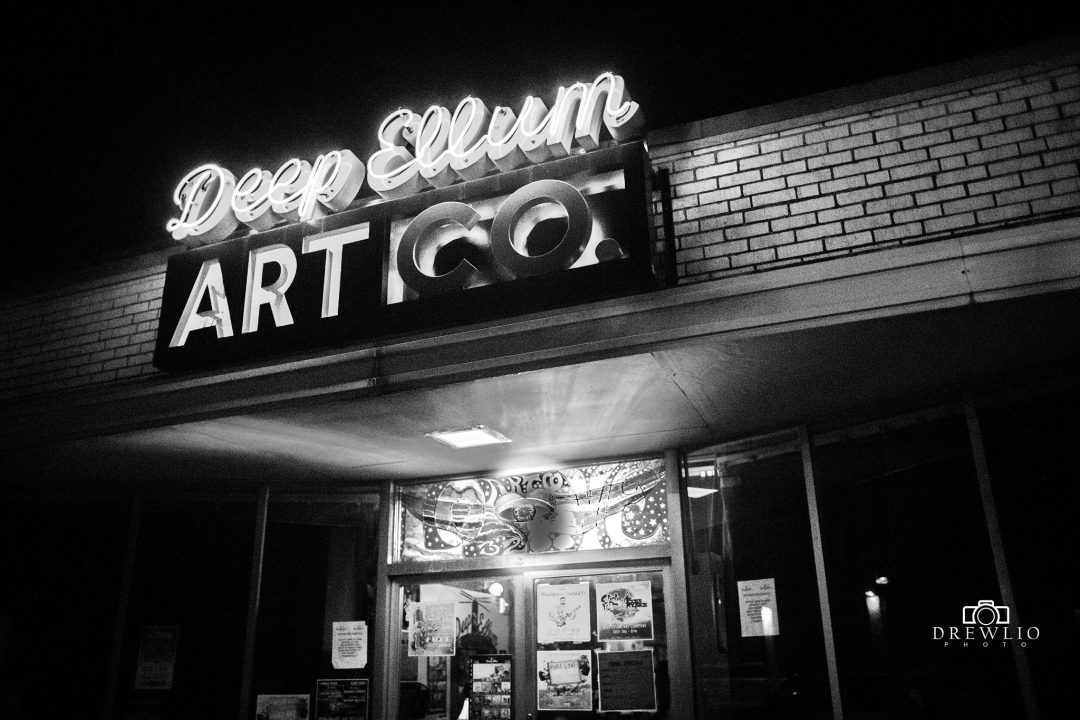 Open Mic/ Open Jam at DEEP ELLUM ART CO. every Monday. This awesome music venue blends the very best art and music that Deep Ellum has to offer.
This is NOT the typical open mic. We have as many people hanging and checking out the scene-and it is for sure a scene on Monday nights.
All Ages! Not just for singer-songwriters. If you are a half a band or an entire band, or just a bass player, come down! Meet your future band mates. Audition your new player on stage! This is the spot!
We encourage all players, not just singer-songwriters. Come down with your ax or bass, maybe even sticks…? Jam with some songwriters…who knows, maybe you'll be the next big thing!
Solo acts-meet some people and get a backing band on stage with you on the spot!
No pre-sign ups. We are trying to create a cohesive and artistically pleasing show. Plus, we want you to hang out!. Show up and find your host and you will get to play.
This week our featured artist is Herringbone. Their Influences range from "old country" such as Merle Haggard, to "jam rock" like the Grateful Dead, all the way to today's best "contemporary" music like John Mayer.
https://www.facebook.com/HerringboneBand/
7:00 Sign-up list opens
7:15 Haerringbone
8:00 Open Mic
Jams may ensue.
Time2Fly Music & Velvet Productions Present The Crown Town Get Down at Heist Brewery
$10 Presale
$15 DOS
Doors 1pm
Music 2pm
The Queen's Guard
HIPGNOSTIC
Coddle Creek
Bobby's Jorts
The Hawthornes
Josh Daniel & Friends
Sunny Ledfurd
Menastree
Kris Atom
School of Rock Charlotte
Open Soul Project
The Business People
DSR
JaggerMouth
Radio Lola
Goodfoot Down
Shadow &
Keyza Soulsay