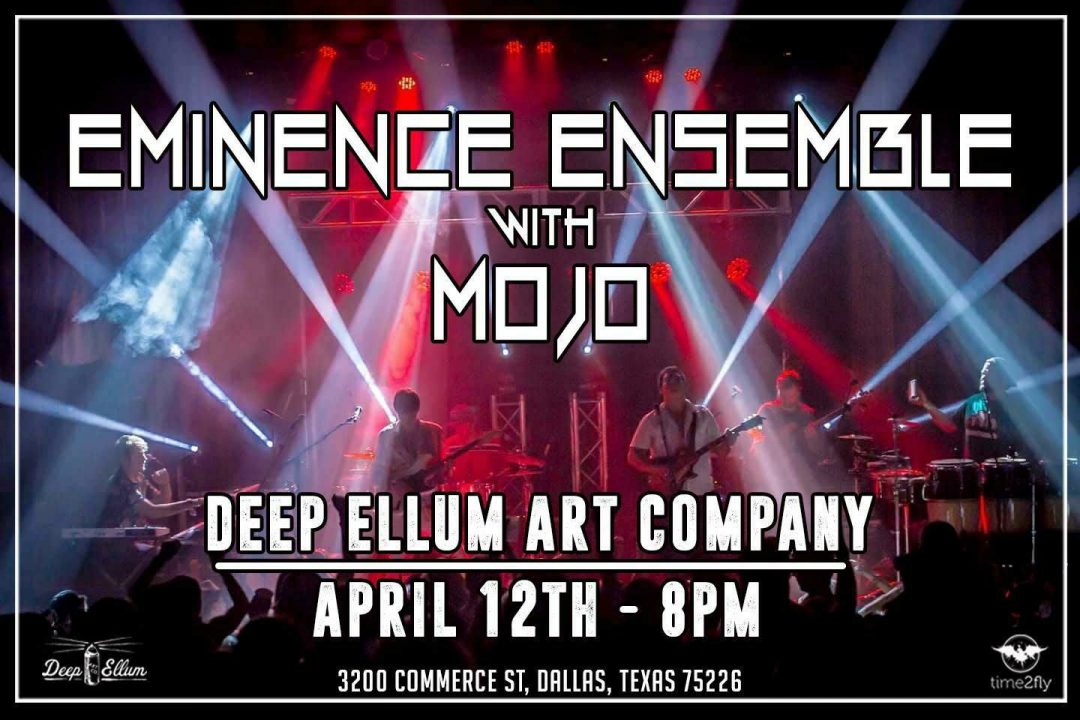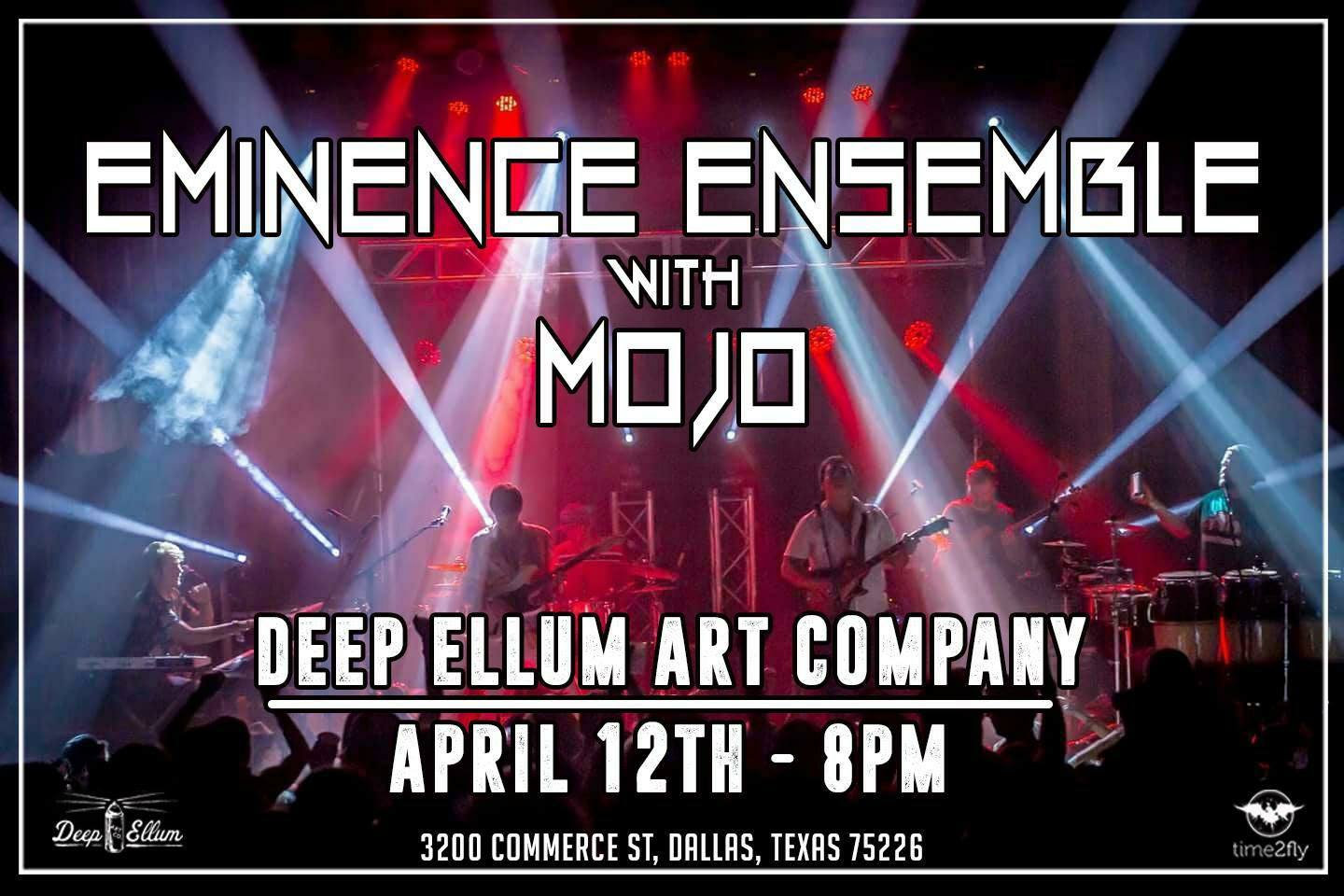 Deep Ellum Art Company
[ live music / art gallery / backyard / bar ]
>>> 1pm: BAR / BACKYARD OPENS
>>> 8pm: BOX OFFICE
>>> 9pm: MUSIC STARTS
Eminence Ensemble (Boulder, CO)
[ Rock / Fusion / jam ]
www.eminenceensemble.com
Eminence Ensemble is an impressive high energy sextet, whose music and live show is something you won't soon forget. Molding together influences from rock, fusion, and soul. Eminence Ensemble creates a modern musical coalescence that is sure to leave your jaw on the floor.
+ MOJO – Modular Johnson (Dallas, TX)
[ jamtronica / funk / hip-hop / rock ]
www.trymoremojo.com
An introspective look at funk and electronic music; MOJO offers funky riffs, spacey soundscapes, inviting vocals, and heavy grooves.
Influences:
Umphrey's McGee, STS9, Lettuce, Spafford, Papadosio, Pigeons Playing Ping Pong, Earphunk, Tauk, Tycho, The Meters, Zoogma
>>> Tickets on Sale Now!
>>> $10 ADV / $15 DOS
>>> Limited amount of ($5) Early Bird tickets available
>>> http://bit.ly/EminenceEnsembleDTX
PARKING:
Street parking available on Commerce (front) & Murray (side). Lot parking is available on Canton (back) across the street in the Equipment and Maintenance Services building after 6pm. We do not recommend parking in the business lot on Murray.
DRINK SPECIAL:
1/2 off Wine on Draft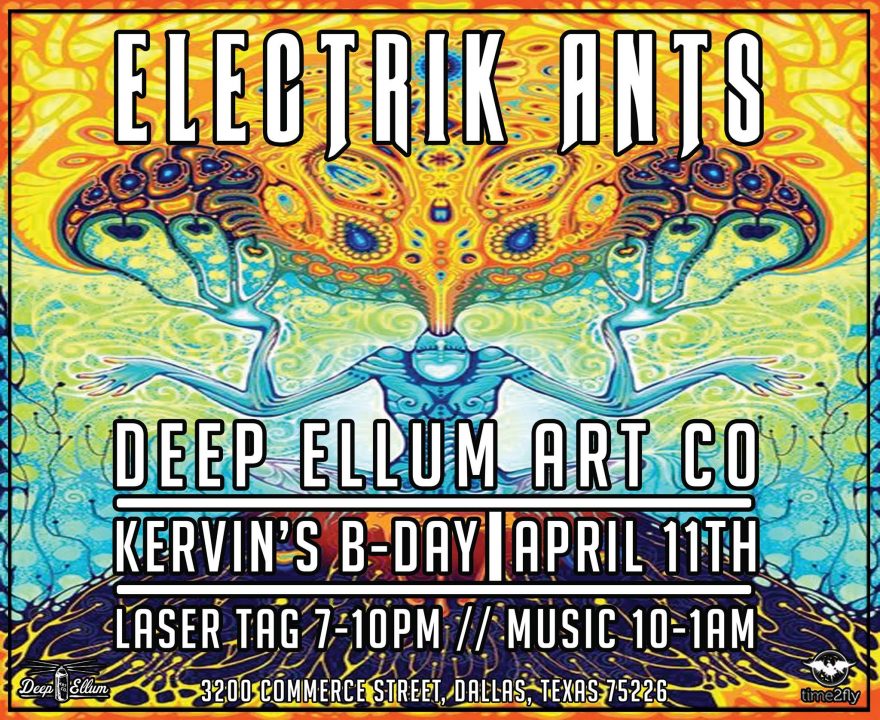 Deep Ellum Art Company Presents:
[ live music / art gallery / backyard / bar ]
>>> 4pm: BAR OPENS
>>> 6:30pm: TEAM SIGN UP
>>> 7pm: LASER TAG BEGINS
>>> 9pm: BOX OFFICE
>>> 10pm: MUSIC STARTS
Join us in celebration for Michael Kervin's trip around the sun! Nothing but love for Art Co's stud of a talent buyer & pioneer in the Dallas Jamily scene!
Fun-tivities include:
>>> 7pm – 10pm: Unlimited LASER TAG in the Backyard <<<
[ $10 @ the door ]
>>> Live music afterwards from Electrik Ants (10pm – 1am) <<<
[ rock / hip-hop / trip-hop ]
http://electrikants.com/
Electrik Ants thrives in the vibe of the music and commits to follow where it leads. It could be a soulful groove topped with rap, a soaring guitar line, a synthesizer solo, or a DJ breakbeat that finds its way into a psychedelic dungeon.
A seven-piece band with sax, DJ, drums, bass, and three members that rotate between rapping, singing, guitar, keys, synth, and percussion, The Ants are allowed great freedom in performing and writing; A freedom that is explored and expressed with deep emotional and technical dedication. There simply isn't a live or recorded band as ambitious, capable, or unique as Electrik Ants.
>>> Tickets on Sale Now for Electrik Ants!
>>> $7 ADV / $10 DOS
>>> http://bit.ly/HappyBirthdayKervin
PARKING:
Street parking available on Commerce (front) & Murray (side). Lot parking is available on Canton (back) across the street in the Equipment and Maintenance Services building after 6pm. We do not recommend parking in the business lot on Murray.
DRINK SPECIALS:
1/2 off "Craft on Draft" Cocktails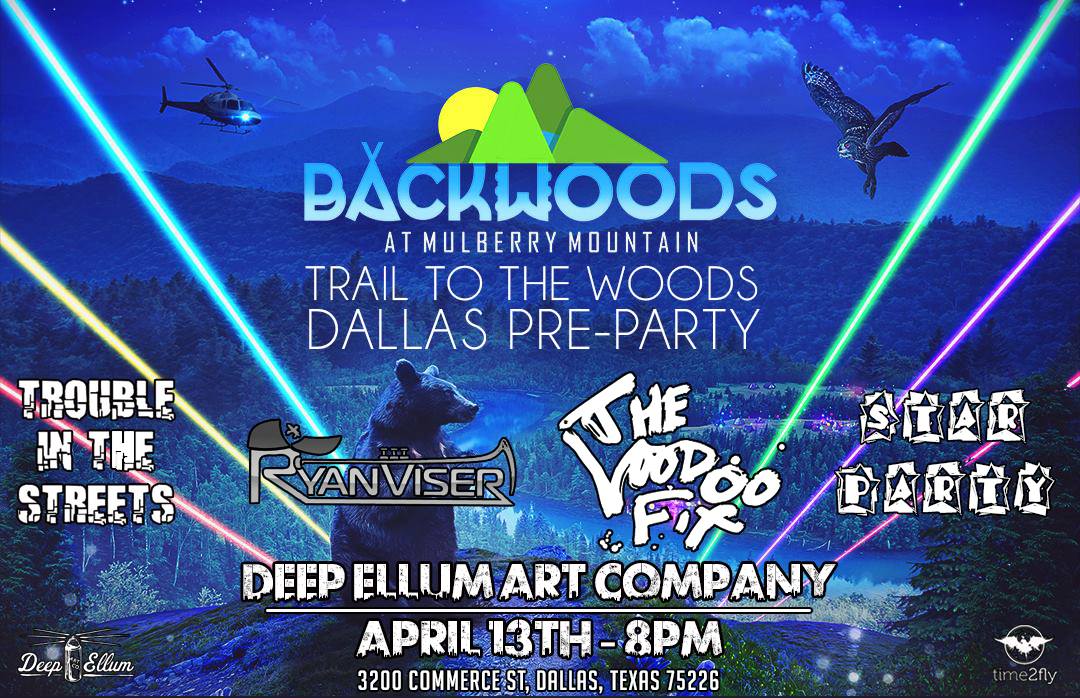 Deep Ellum Art Company Presents:
[ live music / art gallery / back yard / bar ]
>>> 4pm: BAR OPENS
>>> 8pm: BOX OFFICE
>>> 9pm: MUSIC STARTS
Dallas: Come celebrate the road to Backwoods at Mulberry Mountain 2018 at the Art Co on Friday, April 14! Let's gear up for an epic Jamily field trip to the Ozarks! Live music featuring:
* Trouble in The Streets (Austin, TX)
www.troubleinthestreets.com
[ electro tribe ]
Hailing from Austin, TX and playing their very own unique style dubbed as "Electro Tribe", Trouble in The Streets has quickly moved up the local and vibrant musical culture surrounding them.
Mixing a blend of influences from World, to Hip-Hop, Electronic, and R&B, Trouble in The Streets continues to leave a big musical impression everywhere they play.
Influences include: Queen, Rage Against the Machine, Fela Kuti, Beastie Boys, Nina Simone, Pink Floyd, Betty Davis & more!
* Ryan Viser (Shreveport, LA)
http://www.ryanviser.com/
[ electro / funk / livetronica ]
Ryan Viser, an American trumpet player and electronic music producer, has stirred up a frenzy and is gaining a rapid following amongst music fans since forming in 2013. Combining his aggressive trumpet playing with his hard hitting original productions, Ryan is developing a reputation for lighting up a crowd every time he picks up the horn.
In 2014, his track "Steppin Up", won the Management's Choice Award in The Untz Challenge V, giving Ryan the opportunity to shine on the stages of 6 major music festivals including Electric Forest, Wakarusa, Sonic Bloom, and Summer Camp.
With album releases in 2015, 2016, and 2017, Ryan is continuing to hone his sound and focus on a new style of brass infused bass music.
* The Voodoo Fix (Nashville, TN)
www.thevoodoofix.com
[ rock & roll ]
Formed in the south-side of Los Angeles, The Voodoo Fix are a larger than life rock band that blends genres of rock, funk, and southern soul into one seamless sound.
Grateful to call Nashville home, The Voodoo Fix brought an element of rock and funk to the local scene with well attended shows at some of Music City's most popular venues.
The Voodoo Fix puts it all on the table leaving crowds ecstatic, energized, and hungry for more of the high-powered, soul-sustaining rock they provide night after night. The Voodoo Fix lives for their audience and makes music "for the express purpose of making people feel good."
* STARPARTY (Denton, TX)
http://youtube.com/user/starpartytube/videos
[ pop / disco / rock ]
Dance music from another galaxy!
"Most of STARPARTY's members have been playing music virtually their entire lives. Steinberg, who had been doing covers of electronic-pop duo Daft Punk on his own, was approached by a member of another band who was interested in doing the same thing. When that band member passed away unexpectedly, the remaining group still wanted to carry out that idea: a Daft Punk cover band with some individuality of their own."
Tickets on Sale Now
$10 ADV // $15 DOS
http://bit.ly/BackwoodsDallas
Limited amount of $7 Early Bird tickets available!
PARKING:
Street parking available on Commerce (front) & Murray (side). Lot parking is available on Canton (back) across the street in the Equipment and Maintenance Services building after 6pm. We do not recommend parking in the business lot on Murray.
DRINK SPECIALS:
$5 wells until 8pm
http://DeepEllumArt.Co/
www.Time2FlyMusic.com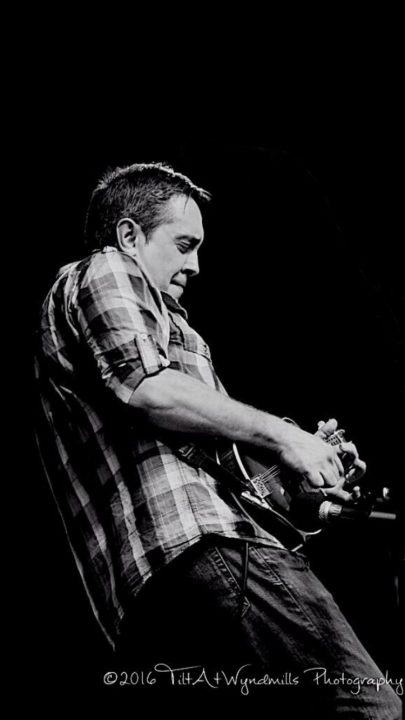 Time2Fly Music Presents – Jeff Austin Band with special guests Grandpa's Cough Medicine

Doors 8
Show 9
$15 presale
$20 DOS
Mandolinist Jeff Austin is unstoppable. He is celebrated for his fleet fingers and penchant for improvisation on stage, but those qualities also speak volumes about how he chooses to live. Austin has cultivated his natural musical abilities and allowed himself to be driven by his boldest instincts. In this way, he has been able to build positive, exciting momentum around his life's greatest passion.
In 1998, while working at a bar called the Verve in Nederland, Colorado, Austin met Adam Aijala and Ben Kaufmann, with whom he and Dave Johnston would form the Yonder Mountain String Band.
"My time with Yonder has taught me what is possible," Austin says. "It has shown me that if you work hard at it and you believe in it and there's a part of you that's meant to do it, it will happen. It's clichéd, but it's true."
It is with this history at his back that Jeff Austin will step out into the spotlight as a solo act. "My ideal sound is between Phish, My Morning Jacket, and Zac Brown Band." Austin plans to continue songwriting for his solo project but might be weaving in a bit of mainstream, in the style of his John Scott Sherrill/Shawn Camp co-write "Fiddlin' Around," featured on Dierks Bentley's 2010 bluegrass album Up on the Ridge. "I love writing a three-minute song with a hook that would grab a five-hundred-pound marlin as much as I like writing something that goes, 'okay, after the bridge, it's going to open up and just go wide.'"
Indeed, "wide" is what Jeff Austin is all about. He wants new and different, complex and interesting. He wants everything the music world has to offer, and he's willing to work hard to get it.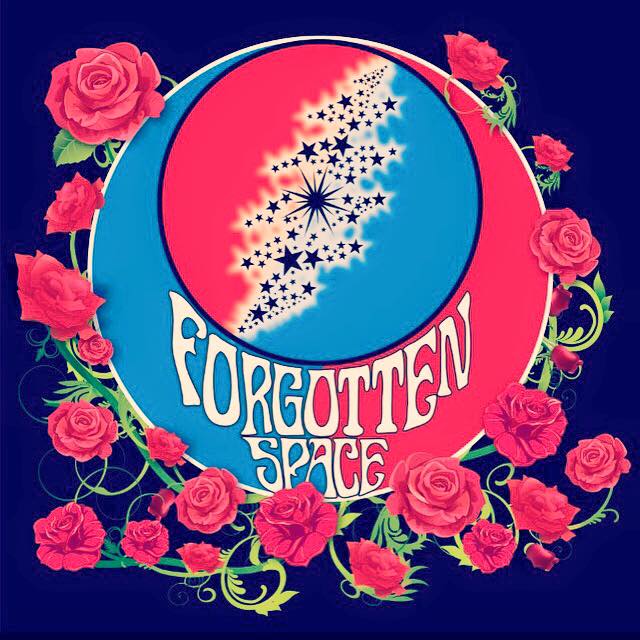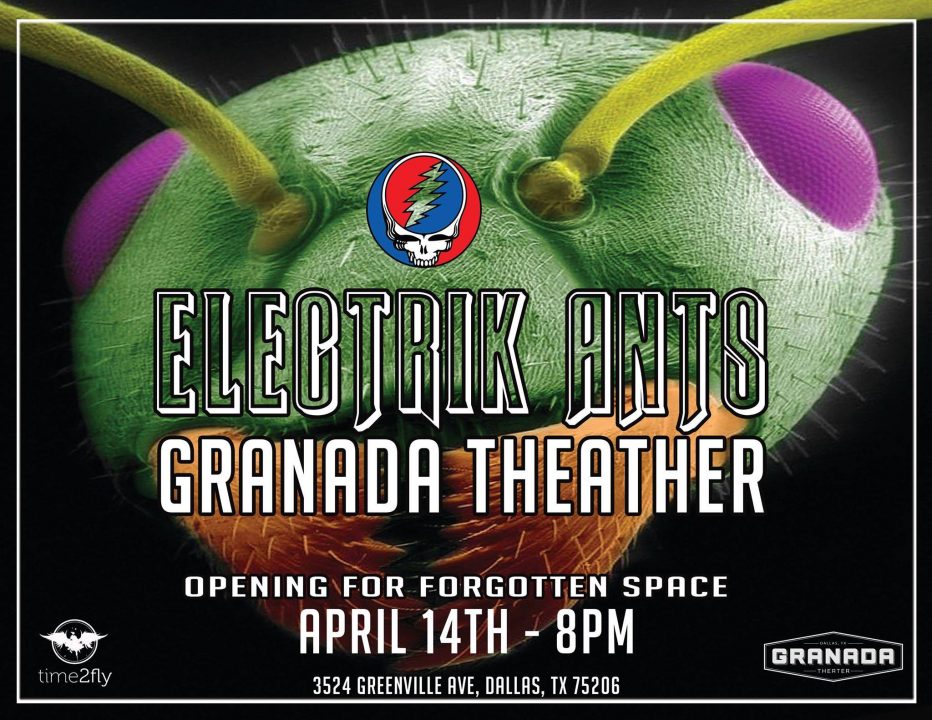 Calling all DEADHEADS!
Come celebrate the music of The Grateful Dead with FORGOTTEN SPACE at the historic Granada Theater April 14th with openers Electrik Ants!
Get your psychedelia fix on and jam with us to the inspired and experimental sounds of FORGOTTEN SPACE!
7pm: Doors
8pm: Show
Sundown at Granada & Time2Fly Music presents:
[ real food. real music. real local. ]
Moving Matter (Austin, TX)
[ rock / psychedelic / livetronica ]
www.movingmatter.com
Moving Matter, is an enigmatic Austin, TX-based rock and jam outfit. Their latest release, "Live at Grego's" is a 2-disc showcase of the band's raw, live power, unmatched improvisation, and noteworthy songwriting abilities.
Since relocating to the musical mecca of Austin from Ft. Collins, CO in 2003, the band has steadily progressed, continuing to hone its high-energy sound, and frequently garnering praise and comparisons to such acts as Sound Tribe Sector 9, Phish, and Particle. Bassist Chris Holland (deep pocket grooves) and guitarist Josh Pearson (soaring leads) share most of the song-writing duties, while drummer Dan Mcgreevy captains the ship with his rock-steady beats. Bozarth on keys has rounded out the sound with lush synth textures and screaming hammond organ.
Moving Matter's previous LP, "Infrablue" revealed the crafty songwriting and studio prowess that the band had found in recent years, but it is undoubtedly late at night, under the lights and in the smoky bars where Moving Matter creates its magic. Swimming the uncharted waters of live improvisation, the band has a knack for creating powerful music that is undeniably in tune with the present moment and teeming with the energy of those who bear witness from the audience. At their club gigs, its not uncommon to see the band rock into the wee hours, long past last call, as crowds refuse to let the party end and bar managers get sucked into whirling sounds and good vibes of the band.
Moving Matter has shared the stage with such artists as The Disco Biscuits, The Roots, Thievery Corporation, Sound Tribe Sector Nine, Tea Leaf Green, Little Feat, Particle, Tony Furtado, Brothers Past, and Big Head Todd & the Monsters. MM has rocked the stages of The Fox Theatre in Boulder, Antone's and the infamous Stubb's BBQ in Austin, the Granada Theater in Dallas, and Wakarusa Music Festival in Kansas.
NO COVER!
2 SETS – MUSIC UNTIL 2AM
www.sundownatgranada.com