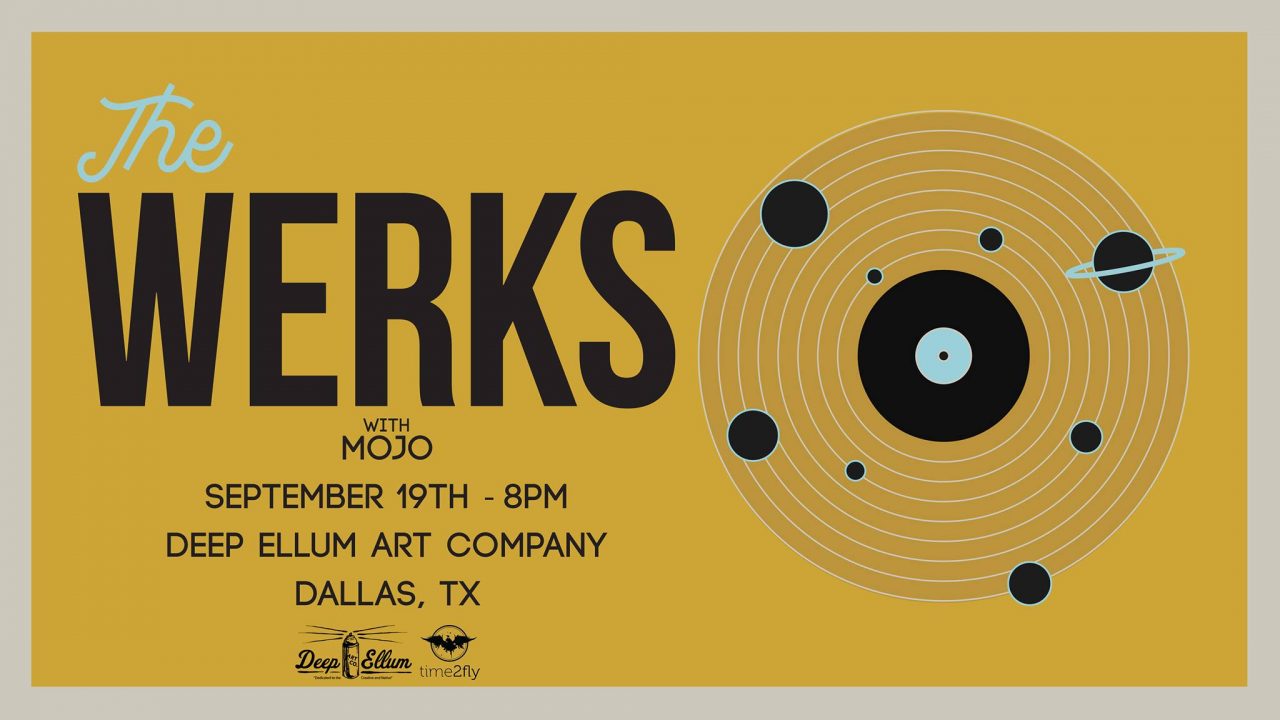 Deep Ellum Art Company Presents:
[ live music / art gallery / backyard / bar ]
http://DeepEllumArt.Co
>> 4:00 pm: BAR OPENS
PARKING:
Street parking available on Commerce (front) & Murray (side). Lot parking is available on Canton (back) across the street in the Equipment and Maintenance Services building after 6pm. We do not recommend parking in the business lot on Murray.
HAPPY HOUR:
1/2 off Signature Cocktails on Draft
>> 7:00 pm: BOX OFFICE
Tickets on Sale Now!
$10 ADV / $15 DOS
http://bit.ly/TheWerks_dtx
>> 8:30 pm: MUSIC STARTS
feat. The Werks
[ psychedelic | jam | rock ]
www.thewerksmusic.com
"Formed in 2007, The Werks are quickly emerging as a national jam band powerhouse. As a result of their eclectic individual influences, The Werks produce a dance party that can be appreciated by a majority of musical tastes. Fusing the psychedelic shredding guitar and screaming organ of jam and classic rock with funk slap bass, synthesizers, and modern dance beats, The Werks create their own style of music entitled "Psychedelic Dance Rock". Their unique style of performing is affected and manipulated by the energy of the audience, guaranteeing that each show will be different and memorable."
+ MOJO -trymoremojo
[ funk / jamtronica / hip-hop / progressive rock ]
http://trymoremojo.com/
Seeking the highest of intergalactic peaks, we're just a few funky fellas trynna make you dance.
An introspective look at funk and electronic music; MOJO offers funky riffs, spacey soundscapes, inviting vocals, and heavy grooves.
"MOJO an upcoming funk/electronic band are exactly what you need after a long week. Not only do they bring the grooves needed to wash away the stress of the week, the visuals provided are simply astounding. MOJO is like watching your own personal Pink Floyd, meets Rage Against the Machine, meets STS9, yes I went there. Do not miss these guys…" – DentonRadio.com
Goes well with:
The Werks, Papadosio, Umphrey's McGee, STS9, Lettuce, Spafford, Pigeons Playing Ping Pong, Earphunk, Tauk, Tycho, Zoogma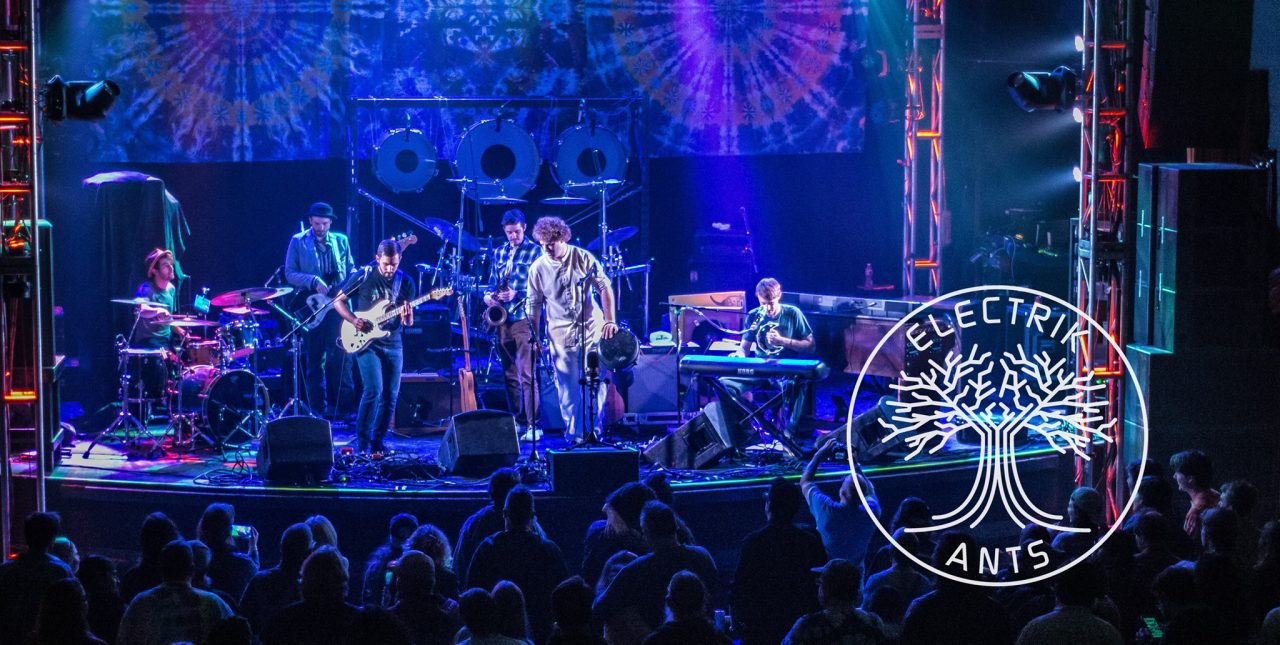 Gov't Mule Afterparty in Foundation Room
ft. Electrik Ants!
Ages 21+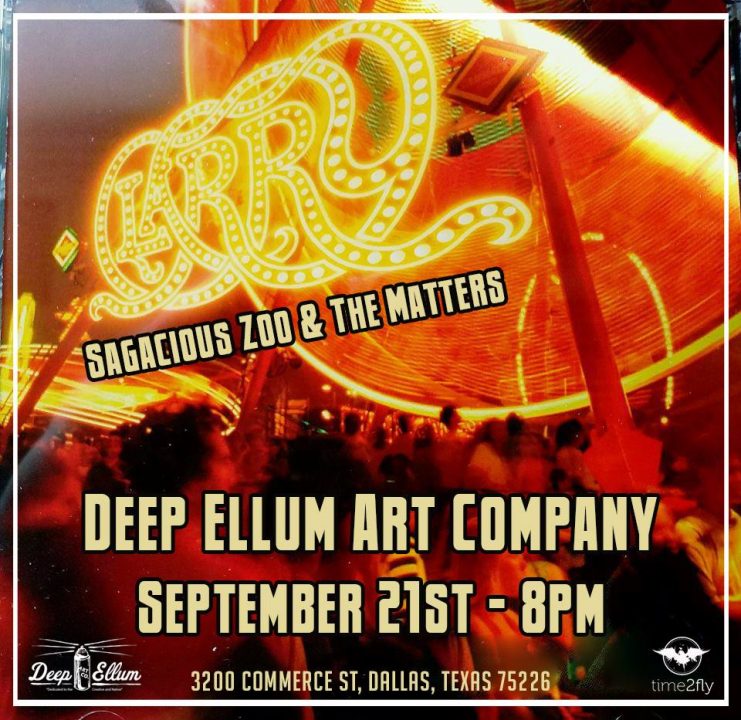 Deep Ellum Art Company Presents:
[ live music / art gallery / backyard / bar ]
http://DeepEllumArt.Co
LARRY is a Southern Rock & Roll Jam Band from Austin, Texas. With over 10 years of touring experience, Larry has played with such bands as Umphrey's McGee, Leftover Salmon, Galactic.
>> 4:00 pm: BAR OPENS
HAPPY HOUR:
$5 Wells until 7:00 pm
>> 7:00 pm: BOX OFFICE
Tickets on Sale Now!
$10 ADV / $15 DOS
http://bit.ly/LARRY_dtx
>> 8:00 pm: Sagacious Zoo
Main Stage
Dallas progressive indie rock pop band that will make your vegan juicer stand up and say hello – An accessible palette of rock, folk, punk and jazz, formed by friends on a lifelong creative pursuit.
>> 9:00 pm: The Matters
*Fire Cracker Set*
Outdoor Pavilion
With the mystic of Zeppelin, paired with the energy of The Red Hot Chili Peppers, The Matters challenge their audiences to a fight to the death every night while conducting a stage show that is both chaotic and seductive.
>> 10:00 pm: LARRY
Main Stage
(Set 1)
The family of fans kept growing and growing and through die-hard fan support and a large grassroots following, LARRY have built a relationship of love, music, and good friends that seems as infectious as it is fun.
>> 11:30 pm: The Matters
Outdoor Pavilion – Set Break
>> 12:00 pm: LARRY
Main Stage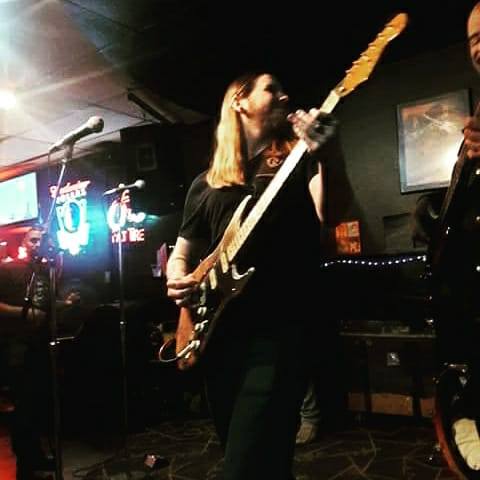 Deep Ellum Art Company Presents:
[ live music | art gallery | bar | patio ]
http://DeepEllumArt.Co
Thursday, September 30
HAPPY HOUR: 1/2 off Wine
Taylor Newman Band
http://bit.ly/TaylorNewman_reverb
[ rock | blues ]
Dallas based Blues/Rock band including Taylor Newman (guitar and vocals) Tim Nielley (bass) and Clint Hooks (Drums).
+ Ryan Berg
http://www.ryanbergdtx.com
[ singer – songwriter ]
Ryan Berg is an acoustic driven Blues/Jazz performer from Dallas Texas..
$5 Tickets on Sale Now!
http://bit.ly/TaylorNewman_RyanBerg