Backwoods at Mulberry Mountain returns for 2019 with new summer time dates! Warmer weather means more summer fun like cooling off in the streams and rivers high in the the Ozark National Forest.
New stage designs, more jam and bluegrass, and the bass heavy electronic you've come to wobble to will help make this the best festival yet. We've increase the amount of art in the Nirvana Woodlands this year and brought back some of the original stage designers and builders from 2015 and 2016.
More upgraded camping with electric and water will be available this year and vendor row will be adjusted to line the main concrete path in one long "Shakedown Street."
New experiences await you on the Mountain this coming summer…
TryMoreMOJO performing at 6:00pm Saturday at the Globe Theater
You Have a Place Here. The Mountain is Calling. ♥
---

The Nadis Warriors, Desert Dwellers, Random Rab, Mr. Bill, Android Jones, Bluetech, BogTroTTeR, Allen Aucoin of The Disco Biscuits as DrFameus, Josh Pearson and more!
RE:BIRTH (www.rebirthaustin.com)
2 DAY & SINGLE DAY at rebirthaustin.com
Special hotel rates at https://bit.ly/2Jkdff1
Re:Evolution Media, LLC Presents: In Conjunction w/ Art Seen Alliance, Heard Presents and The Hippie House
Re:Birth is a Special 2-Day Festival in the heart of Downtown Austin at Empire Control Room & Garage & Parish featuring special performances by:
Fri. 5/31 Parish
Sat. 6/1 Empire Control Room & Garage
Featuring:
Live Art from Android Jones on 6/1 ONLY!
Live Visionary Floral Sculptor:
Anthony Flowers Ward
:: SCHEDULE ::
🎉 OFFICIAL PRE PARTY at Parish 5/31 🎊
Mr.Bill
BogTroTTeR
Living Light
DrFameus (Allen Aucoin of The Disco Biscuits)
RE:BIRTH – 6/1 | Empire Control Room & Garage
The Nadis Warriors REUNION w/ Special Guests:
Allen Aucoin of The Disco Biscuits and Josh Pearson
Desert Dwellers
Random Rab
Bluetech
Mantoid
Uncle Duane's Band
Doesme
CREATE CULTURE + The Hippie House Art Gallery
Miguel Michael Angel | Shamanic Invocation
Live Performances by: 💃
Bunny Starlight
Ishani Ishaya
Lotus Gray
John Gray
Tonia Drymon
Live Painters:
Austin Sepulveda
Angela Meeks
Chelsea Schulz
Byron Aldridge
Chris Hughes
Christian Rodriguez
Dixon Gregory Stovall
Elaine Alonzo
Chance Roberts
Jon Imeson
Tourmaline Todd Shepherd
William Allan Ross
Elliott Rogers
Zander Lampkin
Tyler Ristow
Todd Bot
Immersive Art:
Edge of Imagination Station
…and much much more!
Very limited tickets!
---
Wednesday Night Live! ft. Mahagonie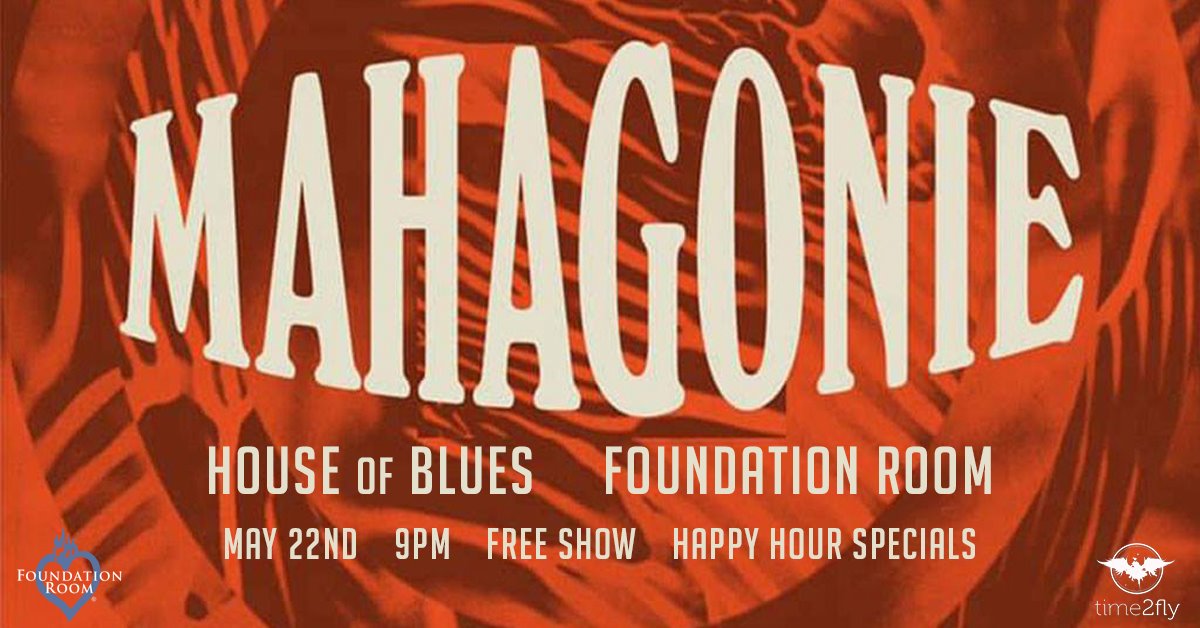 Live music every Wednesday in the Foundation Room lounge! This week we are featuring Mahagonie
---
Bandolero (A Texas Grateful Dead Experience) at Gas Monkey Bar N' Grill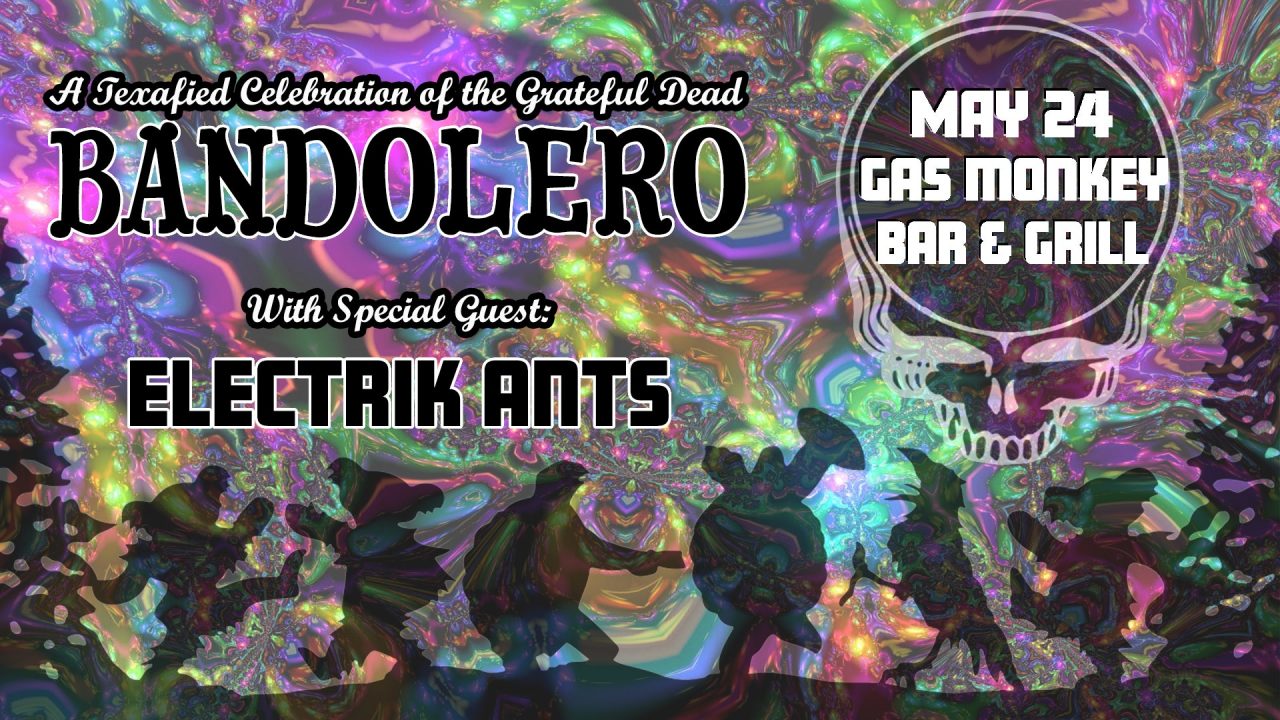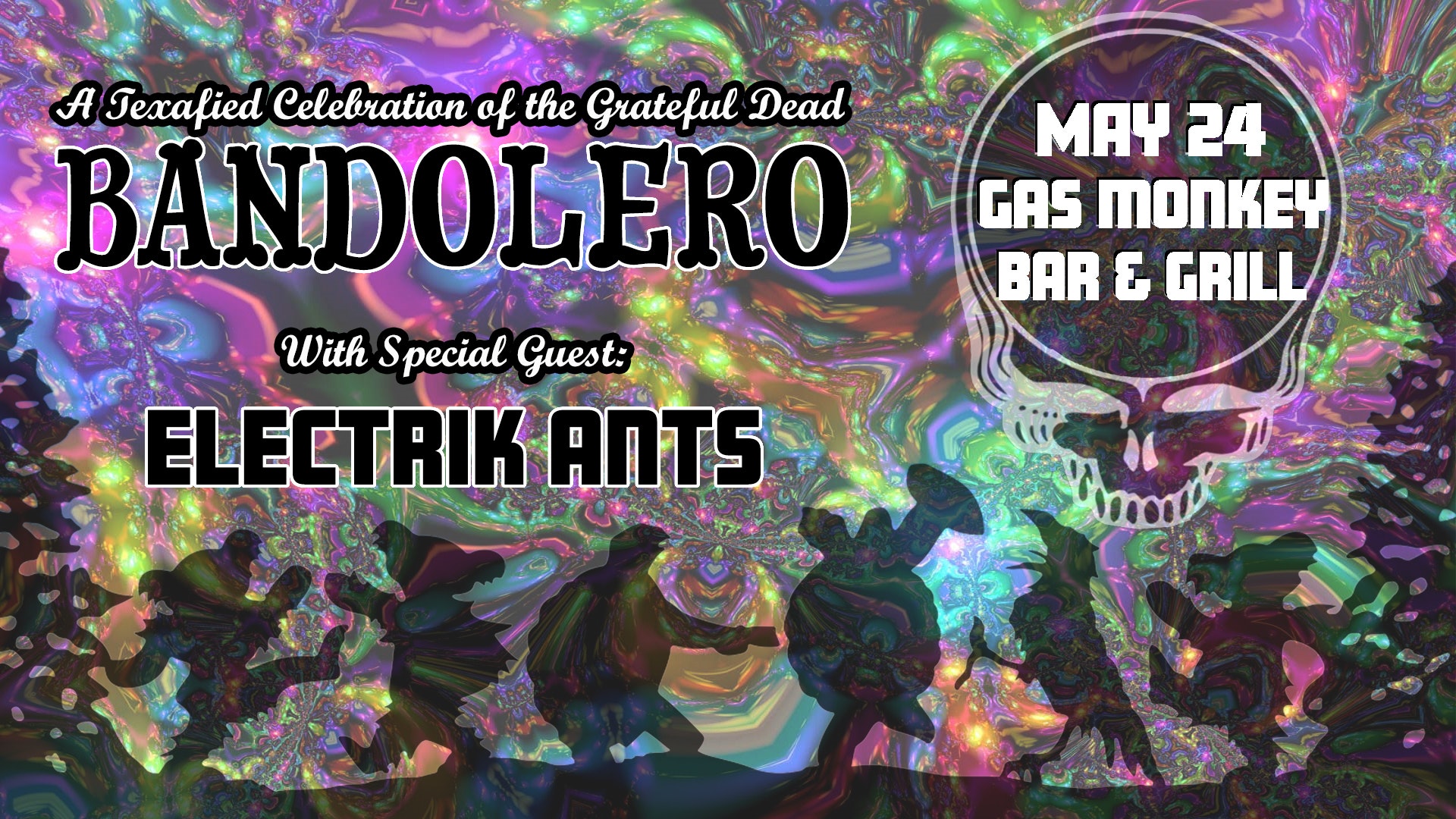 -Bandolero-
is a Texafied celebration of the Grateful Dead and kindred spirits.
Paul Corliss (lead vocals) and Tom Relihan (guitar) began shaping what would eventually become Bandolero the way many bands get their start — sweating out songs in the garage. Today Bandolero includes Corliss, Tom Relihan, Michael Relihan (bass), Rick Sukkar (guitar) and Brad Fletcher (drums).
Bandolero has grown from humble beginnings in North Dallas to become one of Dallas-Fort Worth's favorite Grateful Dead-influenced rock bands — one with a distinctive Texas twist. Known for high-energy live performances that offer a unique interpretation of the Dead's catalogue, Bandolero plays across DFW to growing audiences that embrace a new presentation of a familiar voice.
-Electrik Ants-
is a septet blending rock, hip hop, funk, and psychedelic. As if Gorillaz, Red Hot Chili Peppers, Lettuce, and Pink Floyd all hopped in a rocket ship. Sax, DJ, drums, bass, and three members that rotate between rapping, singing, guitar, keys, synth, and percussion – an adventure of vibe and sound.
---
Rosebud: A Jerry Garcia Band Tribute | May 23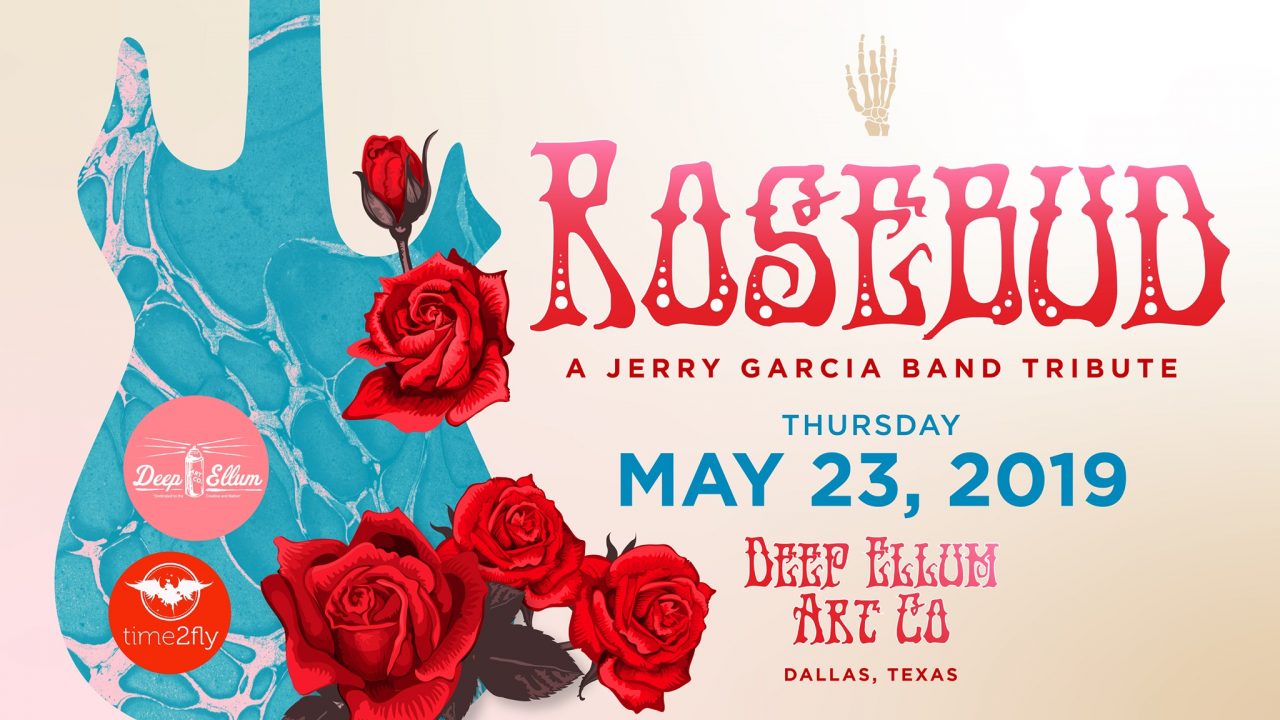 Rosebud: A Jerry Garcia Band Tribute
[ rock | blues | folk | country | jazz ]
May 23, 2019 ★ (8:00 PM – 11:00 PM)
@ Deep Ellum Art Company
[ live music | art gallery | bar | backyard ]
http://DeepEllumArt.Co
Tickets on Sale Now!
http://bit.ly/Rosebud_5-23
—
To celebrate the music of the Jerry Garcia Band, Dallas, Texas' own "ROSEBUD: A Jerry Garcia Band Tribute" brings together the talents of some familiar faces from Grateful Dead tribute FORGOTTEN SPACE. The mission is simple: Celebrate and honor the music of the Jerry Garcia Band in a super fun setting by covering favorite classics and deep cuts from all eras of JGB's existence, while exploring the improvisational soloing and deep grooves of this amazing body of work.
---
Cas Haley w/ Chase Makai (Medicine For the People) & Chris Holt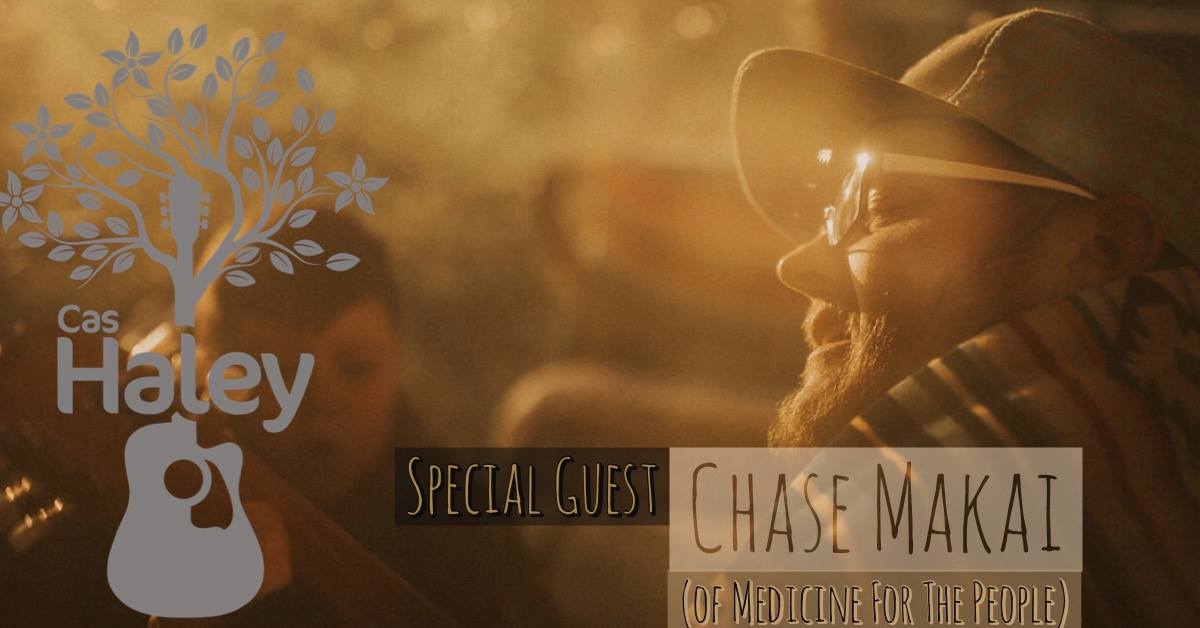 Deep Ellum Art Company Presents:
[ live music | art gallery | bar | backyard ]
http://DeepEllumArt.Co
Cas Haley
Album Release Party
May, 24, 2019
Dallas, TX
w/ Chase Makai
(of Medicine For the People)
& Chris Holt
Tickets on Sale Now!
http://bit.ly/CasHaley-ChaseMakai
—
Cas Haley (Paris, TX)
[ rock | reggae | blues ]
http://www.cashaley.com
In 2018, with four albums under his belt and thousands of shows behind him, Texas singer-songwriter-guitarist Cas Haley was dividing his time between touring and spending time with his wife and kids on his Texas farm. He'd grown up immersed in ska/punk/skateboard culture and the classic reggae-pop of bands like UB40 and Sublime.
He'd long since absorbed the hard-knock lessons of his runner-up finish on an early season of America's Got Talent. He'd worked with indie reggae label Easy Star Records, made other fruitful collaborations, and shared stages with the likes of UB40, Nahko and Medicine for the People, and Trevor Hall. All along, he'd gone his own independent way, building an enviable career on the road and in the studio.
Then came the jolt. His wife, Cassy, had a dangerous form of breast cancer. Surgery and chemo were in the cards. Suddenly life seemed a much darker place.
But writing together with Cassy, who was discovering a new strain of creativity as a songwriter, proved to be a big part of the family's journey back to health. The lyrics to "Open Eyes," which became the new album's lead single, popped into Cas's head while they
were driving to a follow-up appointment after Cassy's surgery: "Confusion laid its claim on me/Open eyes but still can't see." The aptly named new album Lessons and Blessings comes out June 21, 2019 on Jimmy Buffett's label Mailboat Records.
Lessons and Blessings features collaborations with Mihali Savoulidis (Twiddle), bluesman Seth Walker, and Josh Heinrichs. Cas and his band are slated to perform at major festivals
this summer and fall, including the Electric Forest Festival in Michigan, the Shakori Hills GrassRoots Festival, Shangri-La, Galactic Get Down, Project Earth, VIBE HIGH, and the MO
ROOTS Music and Arts Festival.
+ Chase Makai Music (of Medicine For The People)
[ alternative | rock | indie ]
https://www.makaitribe.com
& Christopher Holt
[ rock | singer-songwriter | acoustic ]
http://slacktastic.tumblr.com
---
Trail to the Woods: TryMoreMOJO & FLUFF at Strangebrew 5/24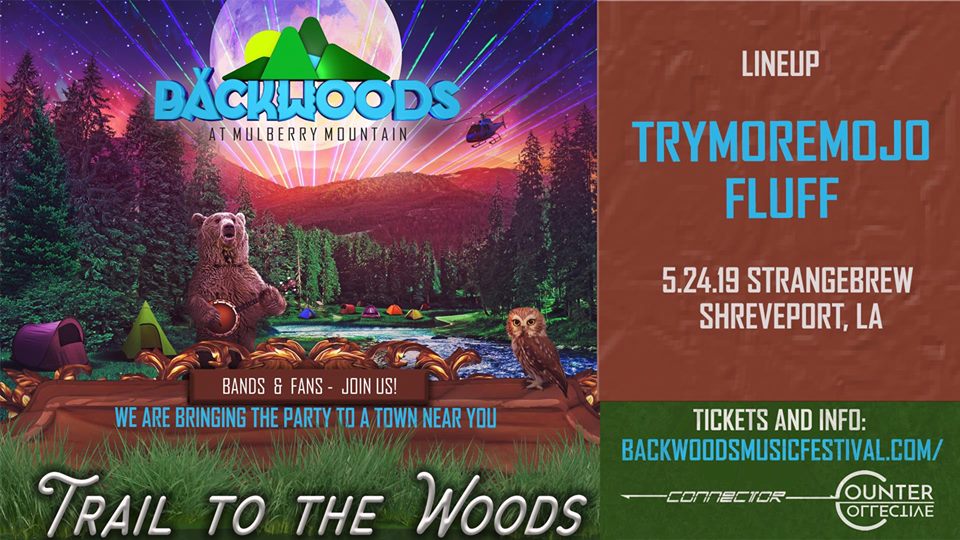 The OFFICIAL Backwoods at Mulberry Mountain 2019 pre-party!
FLUFF returns to Shreveport with very special friends TryMoreMOJO, from Dallas, Texas. We have been very busy creating new sonic adventures for y'all and the home town will get a special dosage of it. This is the weekend before BACKWOODS MUSIC FESTIVAL on Mulberry Mountain so come preparty with us and get excited. Come out early for our friends in TryMoreMOJO who shred!!!
https://soundcloud.com/fluffc8/sets/flow-state
https://fanlink.to/MFR0006?fbclid=IwAR3eyHfoIg-hdOKmeot4qJ6tGMu4H-Dm6V0whQ5-CF8x6FURjXcDLlsPA_A
TryMore MOJO
[ Psychedelic | Spacefunk | Deep Groove ]
http://trymoremojo.com/
Seeking the highest of interstellar peaks, TryMoreMOJO aims to guide the listener on their mission through space with their blend of funky riffs, modular soundscapes, energetic vocals, and heavy grooves; inviting fans to contribute their energy in a give-and-take partnership between performer and listener.
An introspective look at funk and electronic music; MOJO offers funky riffs, spacey soundscapes, inviting vocals, and heavy grooves.
"MOJO an upcoming funk/electronic band are exactly what you need after a long week. Not only do they bring the grooves needed to wash away the stress of the week, the visuals provided are simply astounding. MOJO is like watching your own personal Pink Floyd, meets Rage Against the Machine, meets STS9, yes I went there. Do not miss these guys…" – DentonRadio.com
Goes well with:
TAUK, Lettuce, Spafford, Aqueous, Papadosio, Magic Beans, STS9, BIG Something, Umphrey's McGee, Emancipator Ensemble, Pigeons Playing Ping Pong, Earphunk
---
40oz To Freedom (Sublime Tribute)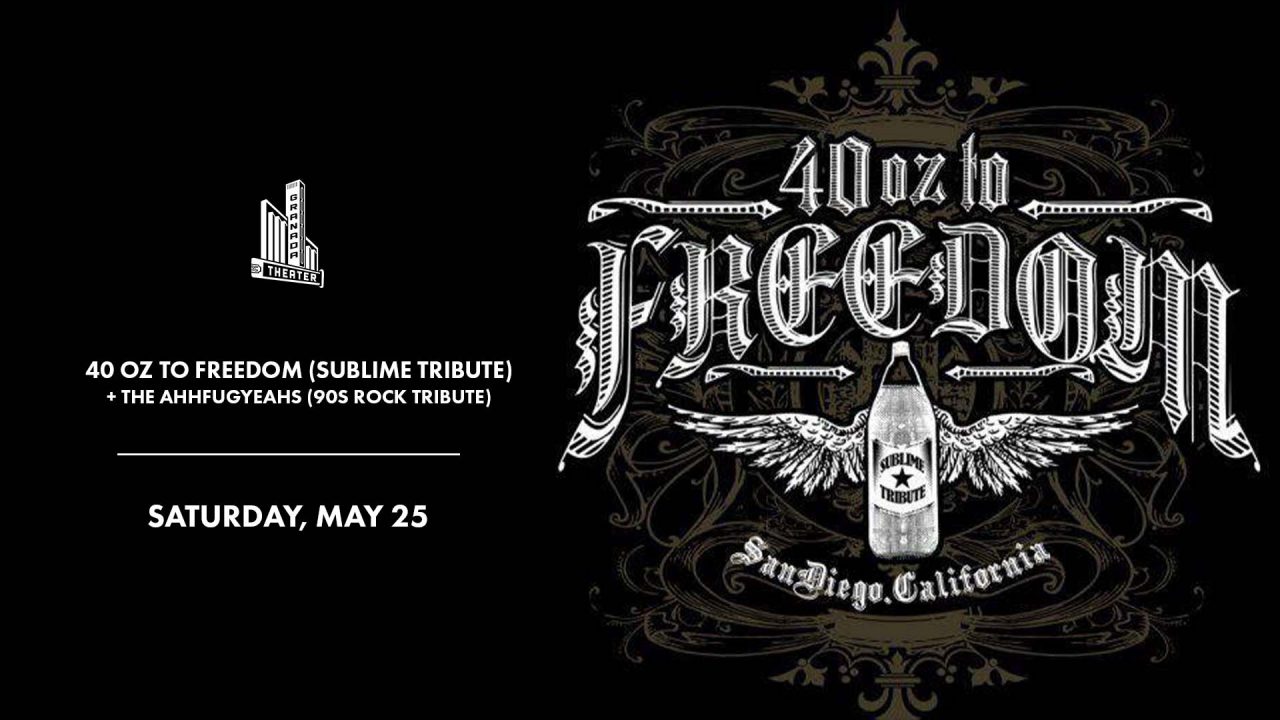 Tickets available at:
https://www.prekindle.com/promo/id/97934110446063748?fbclid=IwAR0Q4tXa_nWZsdb0lp7lHEcm3jP8JY2JZHUW1W6zsQFvglPH4VIOq7P6dOA
Goes Great With: Sublime, Rage Against The Machine, Alice In Chains
---
Jon Stickley Trio at Deep Ellum Art Company | May 25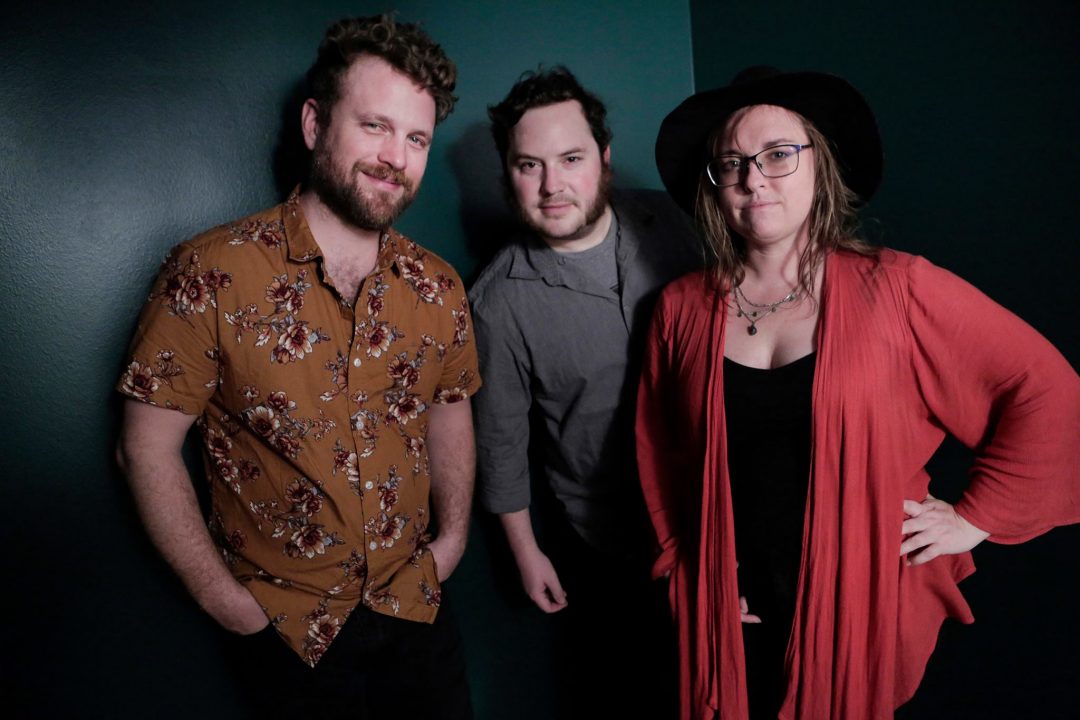 Deep Ellum Art Company Presents:
[ live music | art gallery | bar | backyard ]
http://DeepEllumArt.Co
Jon Stickley Trio
[ electro-harmonic jazz grass ]
www.jonstickley.com
Tickets on Sale 4/2 @ 12 PM!
http://bit.ly/JonStickleyTrio-DTX
—
"It's not your father's acoustic-guitar music—although Stickley's pop showed him his first chords when he was 12 years old. Instead, Stickley's Martin churns out a mixture of bluegrass, Chuck Berry, metal, prog, grunge, and assorted other genres—all thoroughly integrated into a personal style," writes Guitar Player Magazine.
Premier Guitar says, "Stickley's trio… is not a traditional bluegrass group by any means… they are just nimble and ambitious enough to navigate EDM-style breakbeats as effortlessly as the old timey standard 'Blackberry Blossom.'"
"Stickley is a super-resourceful acoustic guitarist who uses the instrument in many surprising ways and whose timing is just flawless. Fiddler Lyndsay Pruett puts deep thought into her flowing solos, plus she adds little flourishes and sudden stops that elevate the music," proclaims Nashville's Music City Roots' Craig Havighurst.
Jon Stickley Trio announces a change in lineup beginning in January 2018 with new drummer, Hunter Deacon, who is both classically trained and boasts heavy jazz influences. Hailing from the ever-hip Knoxville, Tennessee, Hunter studied with drummer Keith Brown and received a BM in Studio Music and Jazz from the University of Tennessee. Deacon then went on to complete a six month residency at a jazz club in Hangzhou, China where he performed seven nights a week. Since his return, he's played with Scott Miller and the Commonwealth, toured the country with Sam Lewis, and performs with guitarist Mike Baggetta.
Stickley says about the seemingly sudden lineup change "we're really excited to add Hunter's vibe to the mix, his creativity and willingness to experiment were two things that drew us to him, and Lyndsay and I were quickly surprised and inspired by what he'll bring to the table."
With inspiration ranging from from Green Day to Duran Duran to Tony Rice to Nirvana, Grateful Dead, David Grisman and beyond, the Trio is making waves with their unique sound. Along with releasing two full length albums and one EP in the past few years, the Trio has zig-zagged the nation, playing over 120 dates in 2017 alone. They are road tested and band geek approved!
---