Thursday, September 27th, we welcome Pigeons Playing Ping Pong to the historic Granada Theater stage. Pigeons Playing Ping Pong bring end-of-the-world enthusiasm, infectious electro-funk grooves, undeniable live energy, and contagious smiles to their high-energy psychedelic funk shows. Kitchen Dwellers will be opening up the stage.
Goes Great With: Galactic, Moe., Lettuce, Umphrey's McGee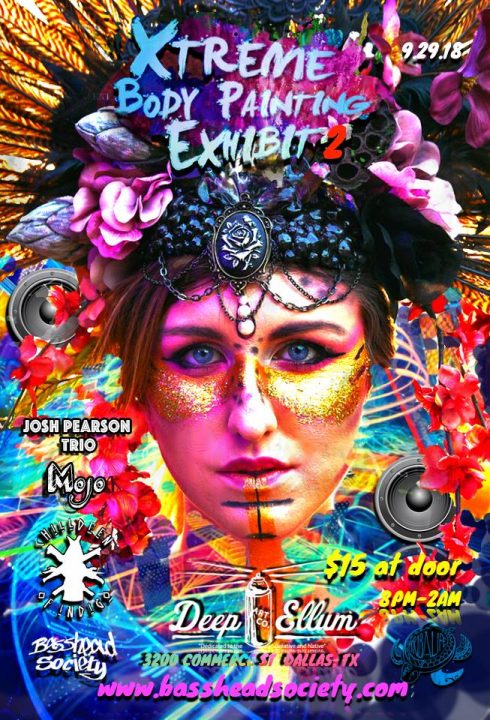 Basshead Society
www.BassheadSociety.com
TribalifeArt | Stein Design Presents:
XTREME Body Painting Music & Art Exhibition 2
Saturday, September
( 8:00 PM – 2:00 AM )
@ Deep Ellum Art Company
Tickets on Sale Now!
http://bit.ly/XtremeBodyPaint2
We are bringing you the biggest and best of Body Painting that DFW has to offer! And we are going XTREME!!!! Full body painting including prosthetics, props, and MORE!!! They'll be totally transforming themselves by using their bodies as the canvas! This show will be something beautiful so make sure to come by and enjoy the LIVE art and LIVE music entertainment, brought to you by Basshead Society!
DJ timeslots:
INSIDE
8:00pm – 9:00pm Bre'Beatz
9:00pm – 10:00pm Chris "Sickone" Jungle
10:00pm – 11:00pm Aaron Hensley
11:00pm – 12:00am Miss Haze
12:00am – 1:00am Mojo (Live Band)
1:00am – 2:00am Chilldren of Indigo (Live Band)
OUTSIDE
8:00pm – 9:00pm Qu35t
9:00pm – 10:00pm Ricky B.
10:00pm – 11:00pm RNZO
11:00pm – 12:00am DJ A$ult
12:00am – 1:00am Josh Pearson (Live Band)
Special Live Performances by:
* MOJO -trymoremojo
[ jamtronica | space-funk | psych ]
http://trymoreMOJO.com
Seeking the highest of intergalactic peaks, we're just a few funky fellas trynna make you dance.
An introspective look at funk and electronic music; MOJO offers funky riffs, spacey soundscapes, inviting vocals, and heavy grooves.
"MOJO an upcoming funk/electronic band are exactly what you need after a long week. Not only do they bring the grooves needed to wash away the stress of the week, the visuals provided are simply astounding. MOJO is like watching your own personal Pink Floyd, meets Rage Against the Machine, meets STS9, yes I went there. Do not miss these guys…" – DentonRadio.com
Goes well with:
The Werks, Papadosio, Spafford, STS9, Lettuce, Pigeons Playing Ping Pong, Umphrey's McGee, Earphunk, Tauk, Tycho, Zoogma
* Chilldren Of Indigo
[ funk | rock | soul ]
http://ChilldrenOfIndigo.com
Conscious lyrics and psychedelic noises are the bread and butter of Indigo yet the main staple of this quintet is their union of vintage vibes with modern sounds. This self proclaimed future-hop band is out to bring the rock revolution to your city for years to come.
* Josh Pearson (trio)
[ improv | jam | rock ]
http://joshpearson.org
Josh Pearson strives to change the world, one note at a time with his pop jam style music. His catchy pop songs, reminiscent of John Mayer & Eric Clapton, lend way to funky, jazzy improvisation heavily influenced by his love for Phish & the Grateful Dead.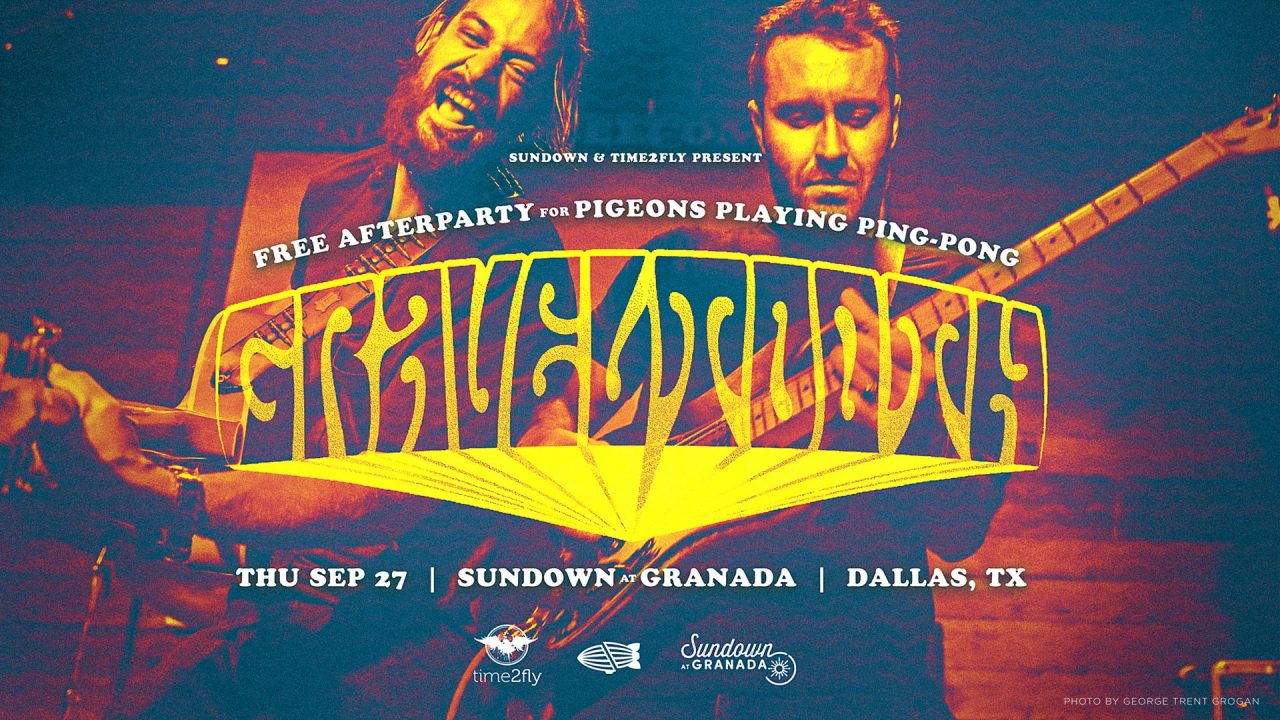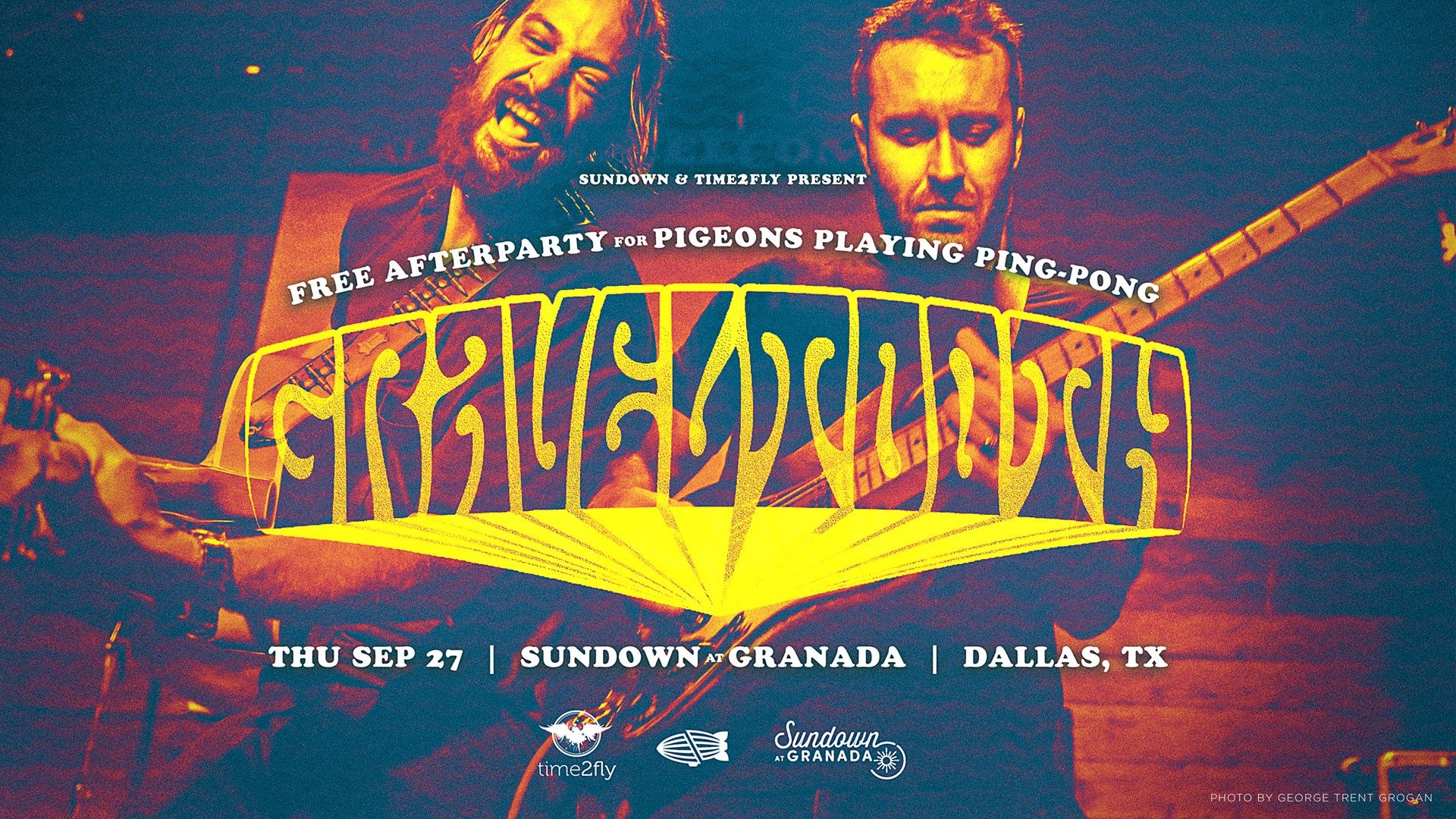 Granada Theater & Time2Fly Music Present:
2 sets of Graveltooth!
Set 1 – 10:00 – 11:00
Set 2 – 12:00-1:30 (PIGEONS AFTER PARTY!)
Graveltooth [Rock / Funk / Blues / Psych ]
Graveltooth hails from Hudson Bend, TX. Their sound takes an old school, down and dirty approach to rock and roll, with heartfelt lyrics and soulful grooves that often venture into psychedelic terrain. Experienced live, the band has a knack of conjuring that rebellious spirit in all of us, transporting the listener back to a long-lost era. It's only rock-n-roll, but GravelTooth reminds us why we like it.
With their debut full-length album Can't Slow Down, Graveltooth has managed to capture lightning in a bottle as they balanced their talent as songwriters alongside the instrumental prowess and free-wheeling delivery that has made them such an explosive live act. Chris "Frenchie" Smith, the Grammy-nominated Austin-based producer known for his work with acts like Built to Spill, The Toadies, Jet, Meat Puppets and a slew of local favorites, was the perfect pick to help Graveltooth harness their energy in the studio. The result is a powerhouse rock & roll album with a unique ebb and flow and a sort of humanity that ties all the songs together.
Band Members:
Curtis Pierce: Guitar, Vox
Cameron Cummings: Guitar, Vox
Dustin Bozarth: Keys, Vox
Evan Bozarth: Bass, Vox
Keith Laudieri: Drums, Vox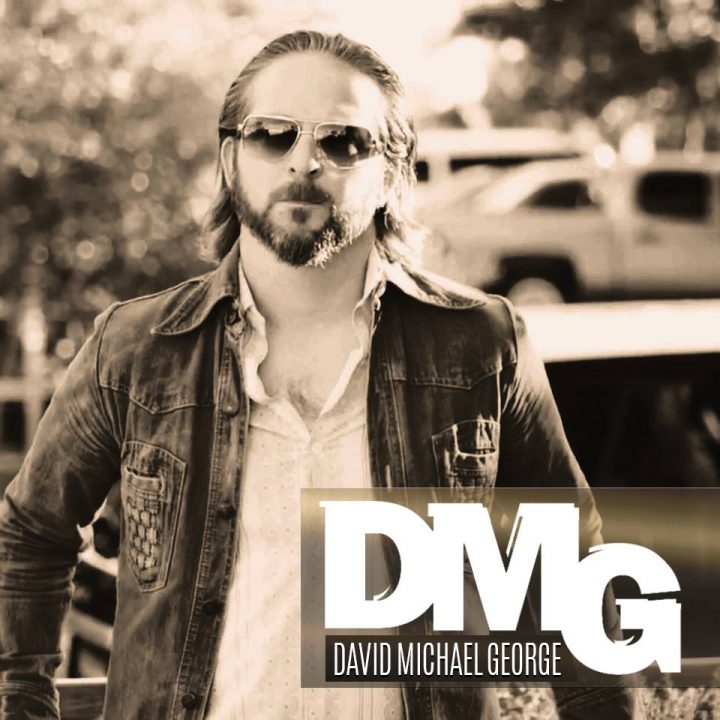 Live music every Wednesday night in Foundation Room lounge. This week we are featuring David Michael George!
Free entry. Show 9pm to midnight.
Free pizza at set break with $3 Rebel IPAs.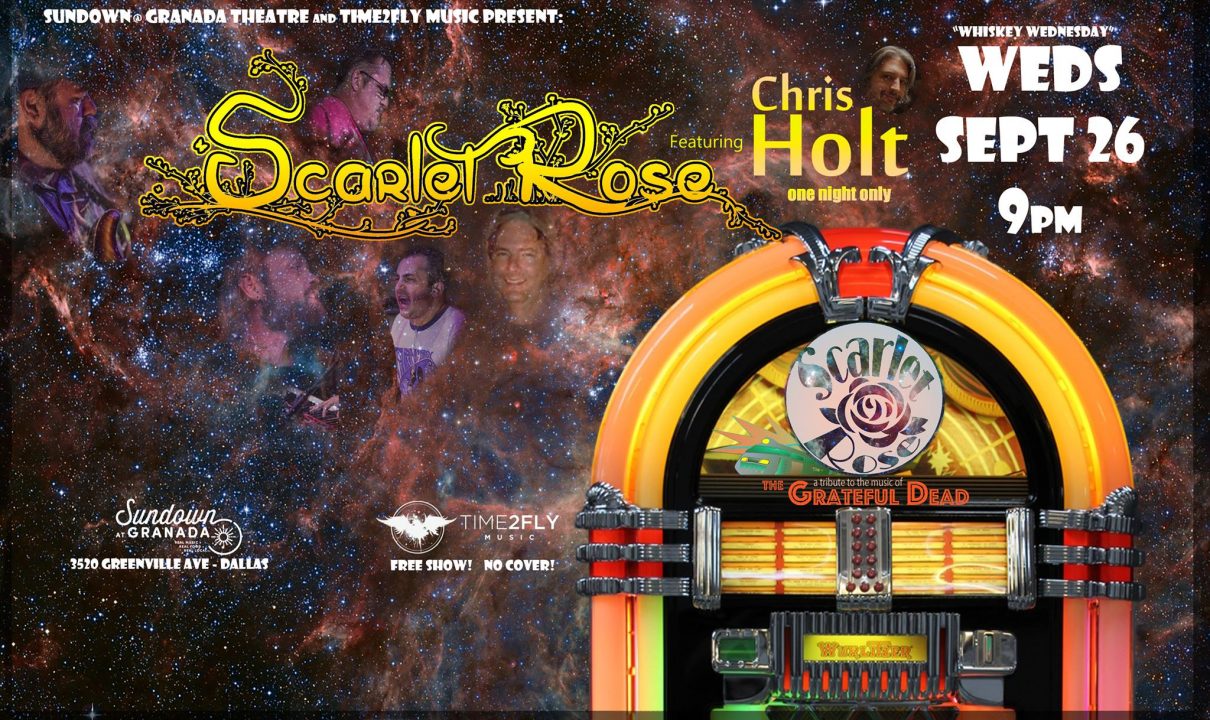 Time2Fly Music and Sundown at Granada present:
Scarlet Rose
.:: Celebrating the Music of the Grateful Dead ::.
feat. 2 Sets by Scarlet Rose!
Whiskey Wednesday featuring 1/2 off whiskey!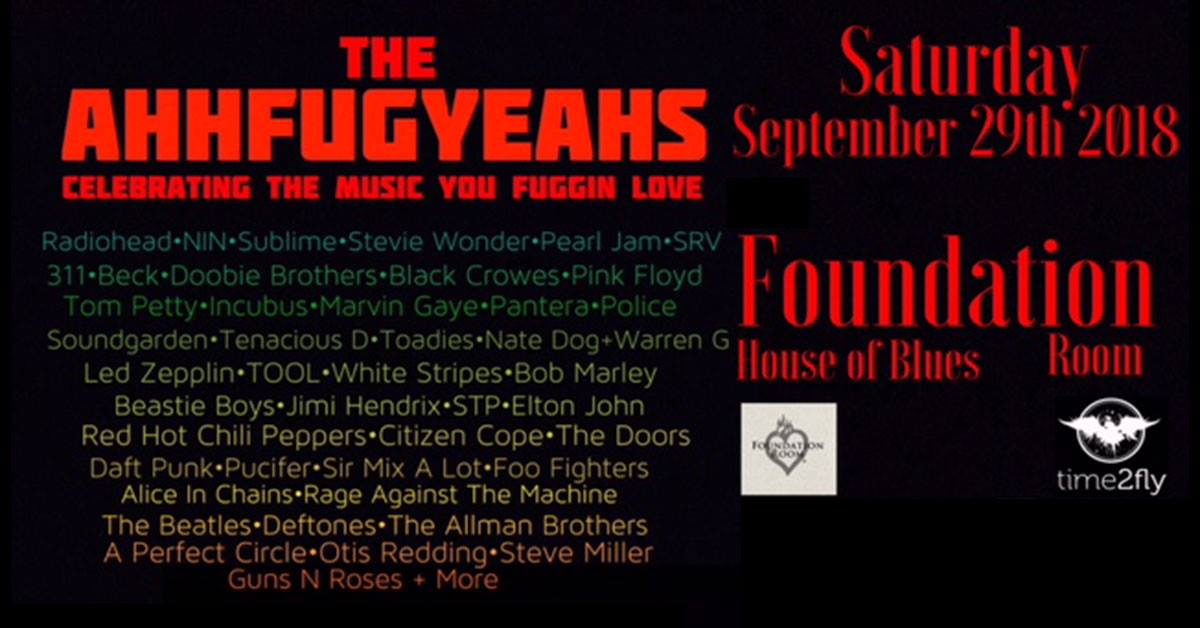 Live Nation Dallas & Time2Fly Music Presents:
Saturday Night Show
@ Foundation Room
House of Blues Dallas
(9:00 pm – 12:00 am)
No Cover – 21 +
The AhhFugYeah's!
An all star lineup of musicians from the DFW area celebrating decades of familiar tunes!
Just to name a few … Tool , Pink Floyd, RATM, Sublime, Led Zeppelin,Nine Inch Nails ,Otis Redding, Citizen Cope, Radiohead,RHCP, Beastie Boys, Alice In Chains, Tom Petty, Incubus, Foo Fighters, Doobie Brothers, Bob Marley,Marvin Gaye,Marshall Tucker , The Beatles, Daft Punk, Nate Dogg Warren G, Stevie Wonder, Pearl Jam, Deftones, White Stripes, Elton John , The Doors, Jimi Hendrix, Pantera, Guns & Roses, Stevie Ray Vaughn, Stone Temple Pilots, Soundgarden, Allman Brothers, Steve Miller Band, Tenacious D, and Many more!!!