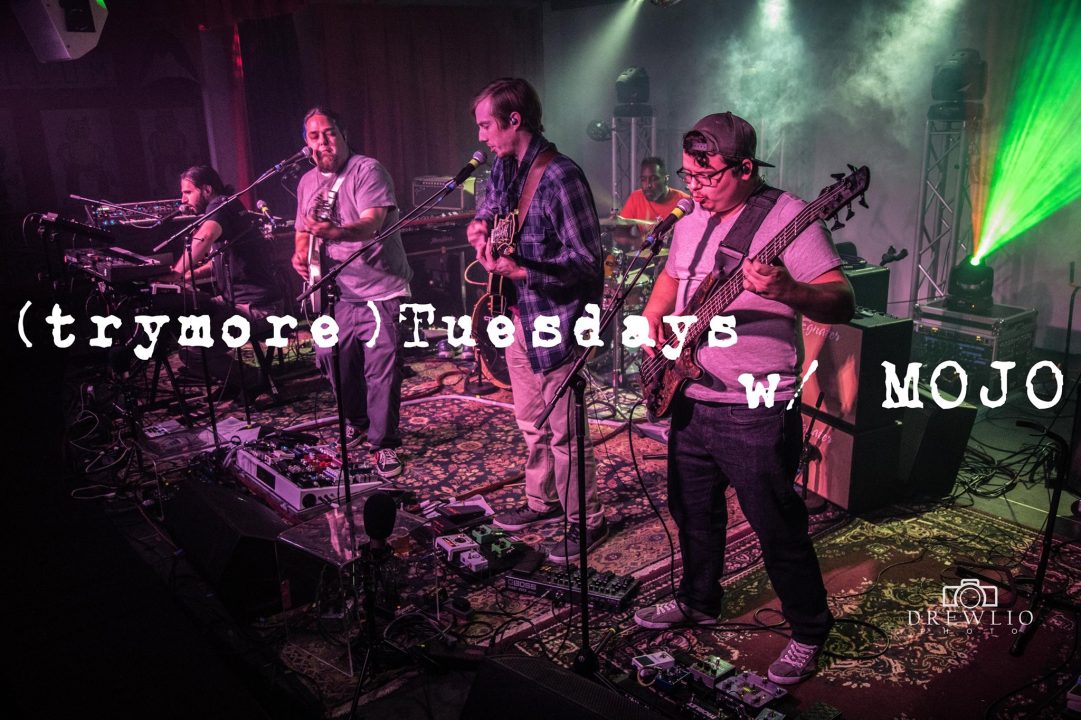 Deep Ellum Art Company Presents:
[ live music | art gallery | bar | patio ]
http://DeepEllumArt.
– No Cover –
** full Pillow Pocket ** you'll have to come and see for yourselves
I'm
The Other Side of the Pillow (Members of Pillow Pocket & Friends)
Members of Pillow Pocket are teaming up with some local friends to keep the vibe going this Tuesday night. We'll be playing all your favorite songs from bands such as The Grateful Dead, Sublime, and Jimi Hendrix to name a few. Come hang and jam with us if you play an instrument!
Funk / Rock and Roll / Blues / Jam Band Stuff
——-
MOJO -trymoremojo
[ jamtronica | space-funk | dance rock ]
http://trymoreMOJO.com
Seeking the highest of intergalactic peaks, we're just a few funky fellas trynna make you dance.
An introspective look at funk and electronic music; MOJO offers funky riffs, spacey soundscapes, inviting vocals, and heavy grooves.
"MOJO an upcoming funk/electronic band are exactly what you need after a long week. Not only do they bring the grooves needed to wash away the stress of the week, the visuals provided are simply astounding. MOJO is like watching your own personal Pink Floyd, meets Rage Against the Machine, meets STS9, yes I went there. Do not miss these guys…" – DentonRadio.com
Goes well with:
BIG Something, Spafford, Papadosio, STS9, Lettuce, Pigeons Playing Ping Pong, The Werks, Umphrey's McGee, Earphunk, Tauk, Tycho, Zoogma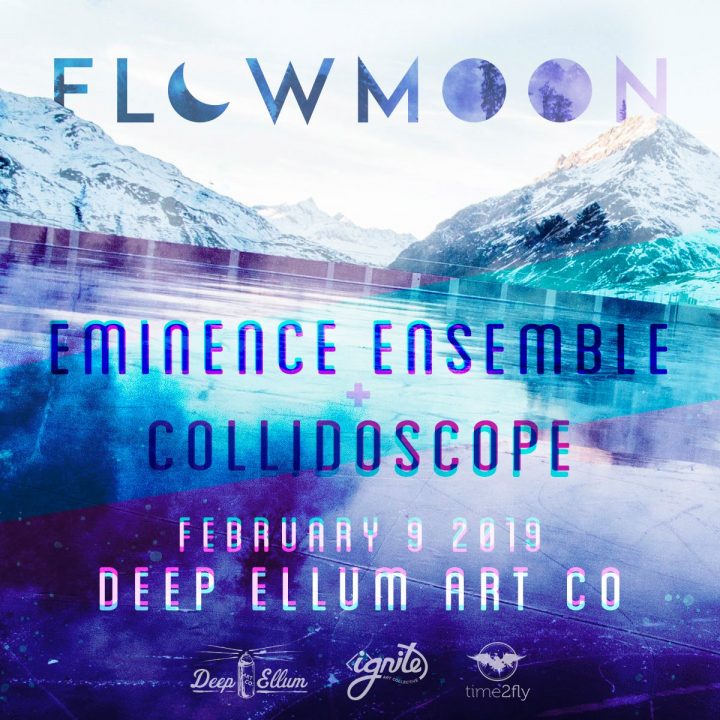 Ignite Art Collective Presents: Flowmoon™
Performance Artists ✦ Live Music ✦ DJs
Open Fire Circle ✦ Vendors ✦ Art
Glass Blowers ✦ Graffiti ✦ & more!
Saturday, February 9, 2019
@ Deep Ellum Art Company
[ live music | art gallery | bar | patio ]
http://DeepEllumArt.Co
Tickets on now!
http://bit.ly/February-Flowmoon
—
feat. Eminence Ensemble
[ rock | fusion | soul ]
http://eminenceensemble.com
Eminence Ensemble is an impressive high energy sextet, whose music and live show is something you won't soon forget. Molding together influences from rock, fusion, and soul. Eminence Ensemble creates a modern musical coalescence that is sure to leave your jaw on the floor.
+ Collidoscope
[ electro | funk | bass ]
http://collidoscope-music.com
Funktronic Jam trio from the soul of Denver.
Artists We Also Like: GRiZ, The Floozies, Sunsquabi, Pretty Lights, Funk Hunters, STS9, Lotus, The Motet, Lettuce, The Werks, Late Night Radio, Opiuo, String Cheese Incident, Vulfpeck, French Kiwi Juice
||| FEATURED ARTIST |||
Tiffany Diamond is a career dancer / choreographer of 25 years. Her craft has taken her across the globe. She has entertained audiences in Paris, Nice, Beirut, Helsinki, Munich, New York and Las Vegas just to name a few. In 2010 Tiffany decided to expand her horizons and take to the skies.Combining her love of Aerial and Grounded Dance, she creates pieces that light up a room
and it can sometimes seem as though she's performing just for you.
Follow her on Instagram and Facebook @tiffanydiamondart
||| FEATURED FIRE |||
FEATURED FIRE: Mr. and Mrs. Daddy (aka Juli Hoop Applewhaite and Chesthair Extraordinaire )
Mr. and Mrs. Daddy have been dropping props for 8 years now. Their love for each other and their props has led them to exploring the world of partner flow. They are excited to be returning to Flowmoon™ once again, this time to also teach the passion that brought them together.
Catch their workshop, Partner Dragon Staff Workshop with Chester and Juli, right before Flowmoon!
You will get a chance to dive into the world of partner flow and explore intermediate dragon concepts made for two.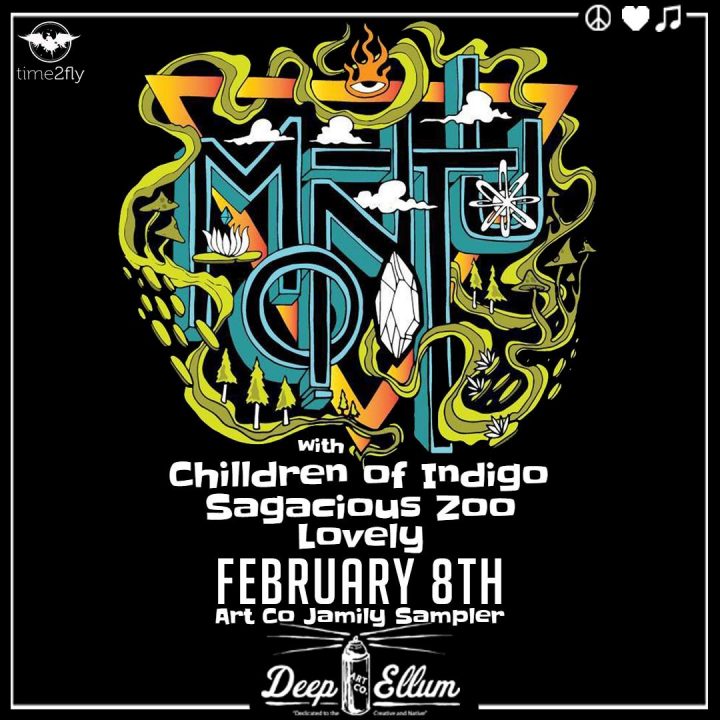 Deep Ellum Art Company Presents:
[ live music | art gallery | bar | patio ]
http://DeepEllumArt.Co
Art Co Jamily Sampler
Friday, February 8, 2019
Tickets on Sale Now!
http://bit.ly/MONTU-artCo-2-8
—
feat. MONTU
[ jamtronica | funk | prog rock ]
http://montumusic.com
"MONTU is an Oklahoma-based jamtronica act that's been consistently building a name for itself in the Midwest and beyond. Based out of Norman, Oklahoma, the electronic-infused four-piece frequently takes their show on the road, having played from coast-to-coast at a number of festivals and clubs in addition to opening for the likes of scene favorites such as Umphrey's McGee, The Disco Biscuits, Lotus, EOTO, Papadosio, The Floozies, and more. The group seamlessly fuses funk, jazz, rock, and R&B, all with the underpinning of electronic music, to create a unique sound that is wholly their own, and fans who have gotten a chance to catch the up-and-comers are left eager to hear more." – Ming Lee Newcomb, LiveForLiveMusic.com
+ Chilldren Of Indigo
[ soul | hip-hop | rock ]
http://chilldrenofindigo.com
Chilldren of Indigo is a Dallas-based band that blends elements of rock, funk, & hip hop sprinkled with blues. Their music is their love, passion, & dream.
+ Sagacious Zoo
[ folk | punk | rock ]
http://sagaciouszoo.com
Dallas progressive indie rock pop band that will make your vegan juicer stand up and say hello!
+ Lovely
[ funk | swing | rock ]
http://bit.ly/Lovely_caresaboutyou
Forged from fire to breach the demons foyer and impeach inequity, LOVELY is a rock band based in Dallas, Texas. Our mission is to spread love, peace, and joy through our music. Our sound is best described as an arcane and eclectic mix of chaotic, atmospheric and retro-modern soundscapes. It is worst described as Alt-Rock.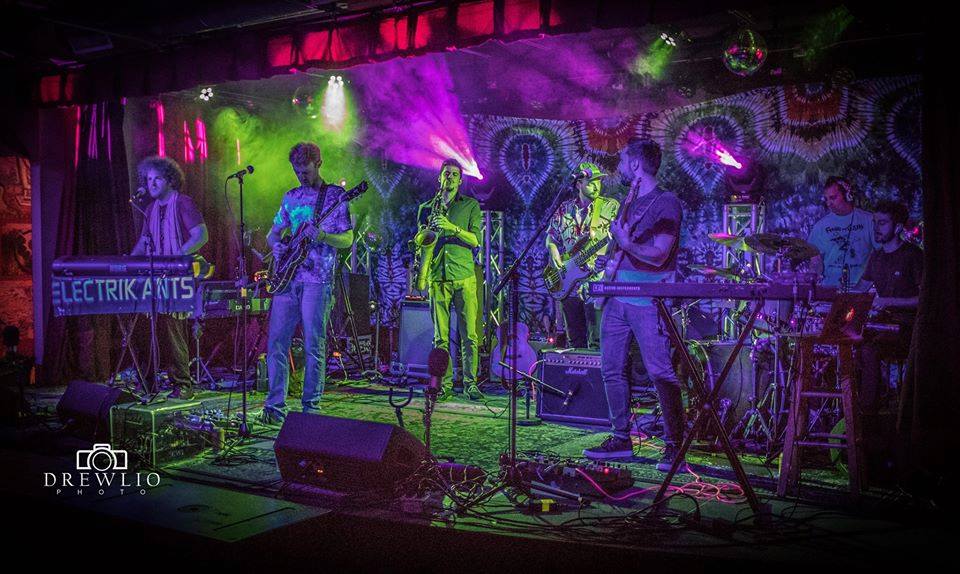 Sundown at Granada & Time2Fly Music present:
Whiskey Wednesday featuring:
Electrik Ants
Electrik Ants are 7 musicians that can't help themselves. A genuine blend of hip hop, funk, psychedelic, and groove, unique and exciting. As if the Gorillaz, Red Hot Chili Peppers, Lettuce, and Pink Floyd all hopped in a rocket ship. Sax, DJ, drums, bass, and three members that rotate between rapping, singing, guitar, keys, synth, and percussion – an adventure of vibe and sound.
Influenced by: Gorillaz, Lettuce, Pink Floyd, Red Hot Chili Peppers
21+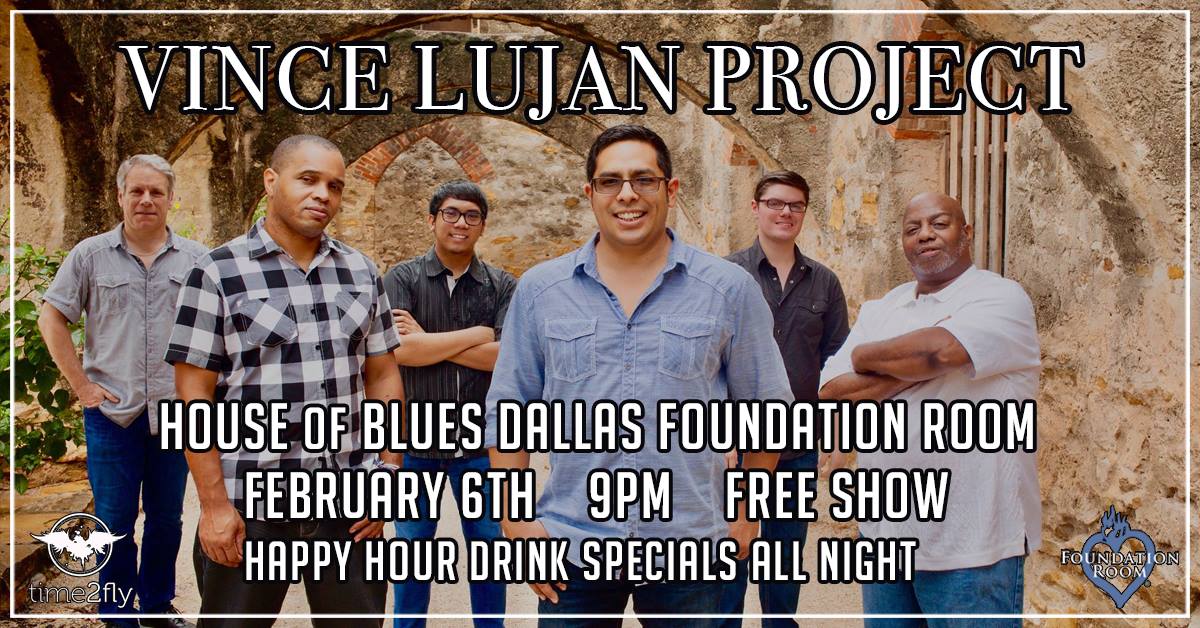 Live music every Wednesday night in Foundation Room! Join us for cocktails and appetizers as we listen to Vince Lujan Project this week. Happy Hour prices from open to close!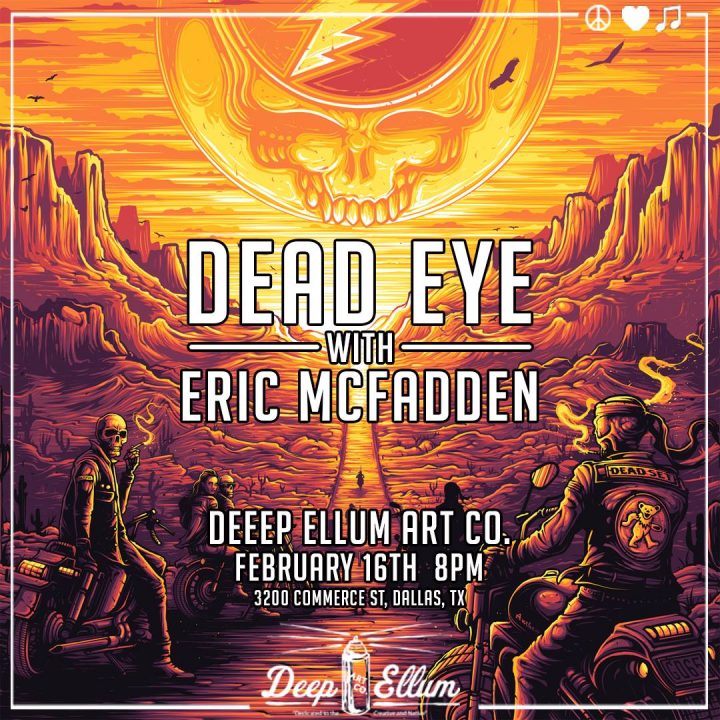 Deep Ellum Art Company Presents:
[ live music | art gallery | bar | patio ]
http://DeepEllumArt.Co
DeadEye (Austin, TX)
[ rock | blues | psychedelic ]
http://deadeyeaustin.com
Austin, Texas' Grateful Dead Tribute! Founded in 2010 by Joe Faulhaber and Shadd Scott. DeadEye celebrates the entire catalog and shares their energy and passion on a regular basis. Loyal to tradition while bringing a fresh, modern approach to the Dead's music.
+ Eric McFadden
[ alternative | rock | blues ]
www.EricMcFadden.com
Eric McFadden is a virtuoso of the six-string. He has toured the world both as a solo artist, as well as traveling with funk legend George Clinton (Parliament/Funkadelic), and rock legend Eric Burdon (The Animals).
Tickets on Sale Now!
http://bit.ly/DeadEye-EricMcFadden