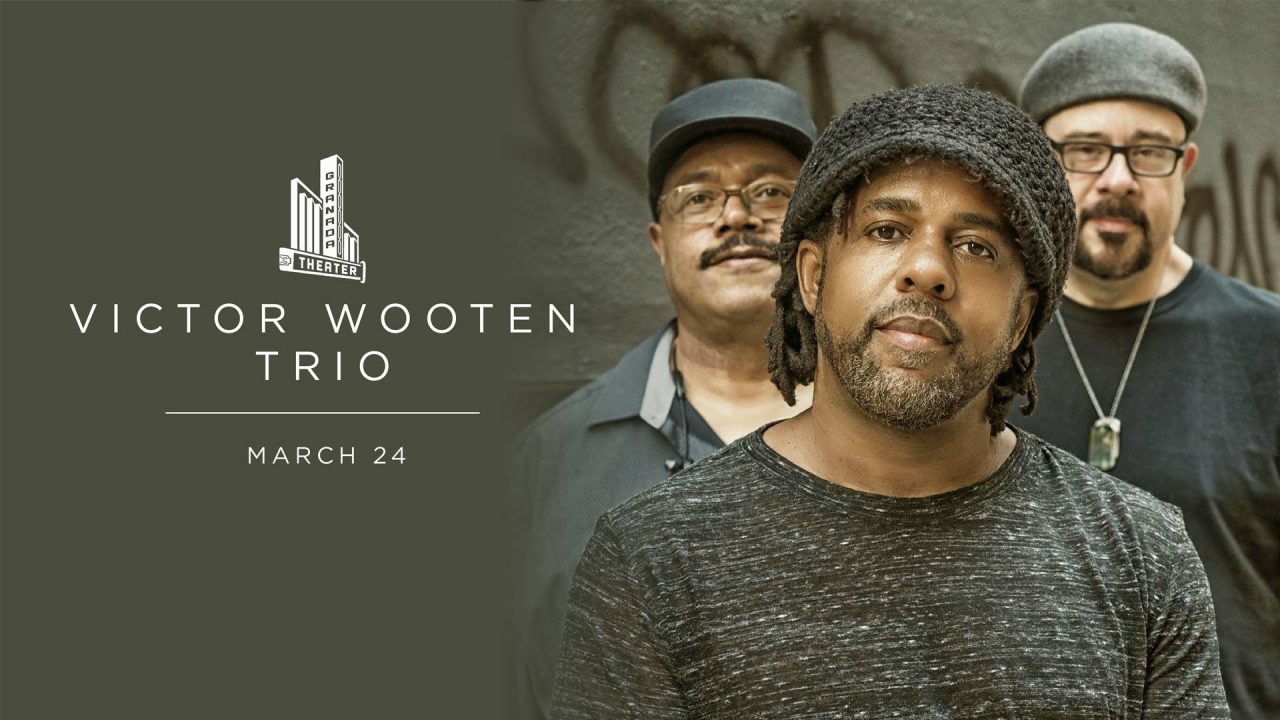 Five-time Grammy Award-winning musician Victor Wooten is a master innovator of the bass guitar, gifted composer, producer, vocalist, multi-instrumentalist and founding member of Béla Fleck & The Flecktones. Wooten has joined forces with the legendary drummer Dennis Chambers' Official Page, Drummer. (Parliament/Funkadelic) and saxophonist BOB FRANCESCHINI for an unforgettable live tour supporting their new album, produced by Wooten, TRYPNOTYX . They hit the Granada Theater March 24, 2018 with locals Medicine Man Revival.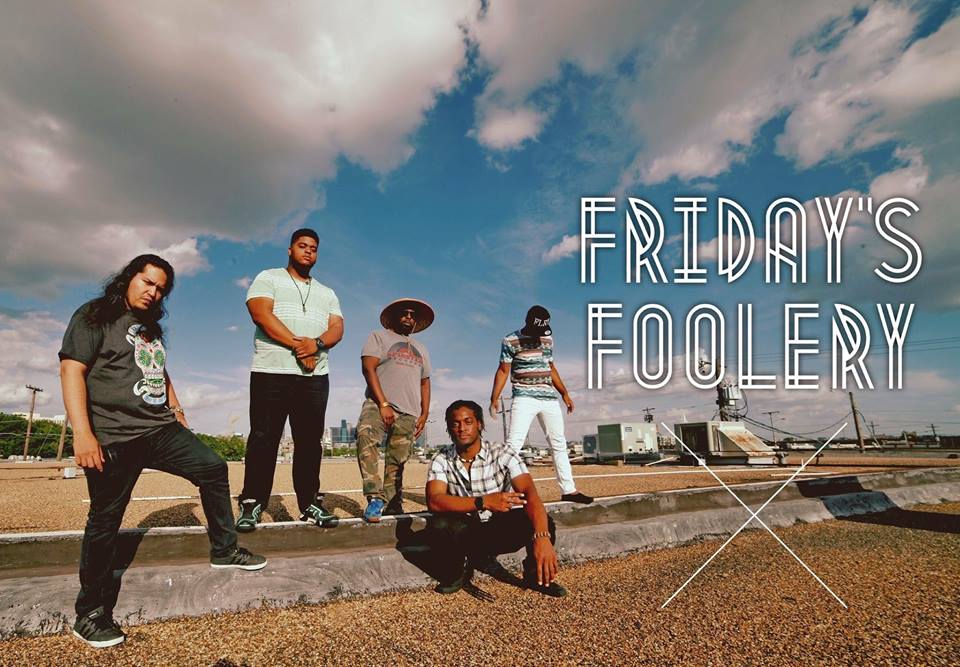 Sundown at Granada & Time2Fly Music Present:
[ real food. real music. real local. ]
The *official* after-party for Victor Wooten Trio Live at Granada Theater on Saturday, March 24. Keep the Vibe Alive – Live Music until 2am!
feat. Friday's Foolery
[ soul / pop / alternative ]
www.fridaysfoolery.com
Friday's Foolery was formed in the summer 2011 during a church rehearsal while playing around with a few Disney tunes and posting them on YouTube. From there, they formed their style with the motto "Creativity through Diversity."
Influences include: Bill Withers, Stevie Wonder, Micheal Jackson, Radiohead, The Roots, The Police, Hall & Oates, The Doobie Brothers, Robert Glasper, Jill Scott, Coldplay, Nirvana
>>> NO COVER <<<
www.sundownatgranada.com
www.time2flymusic.com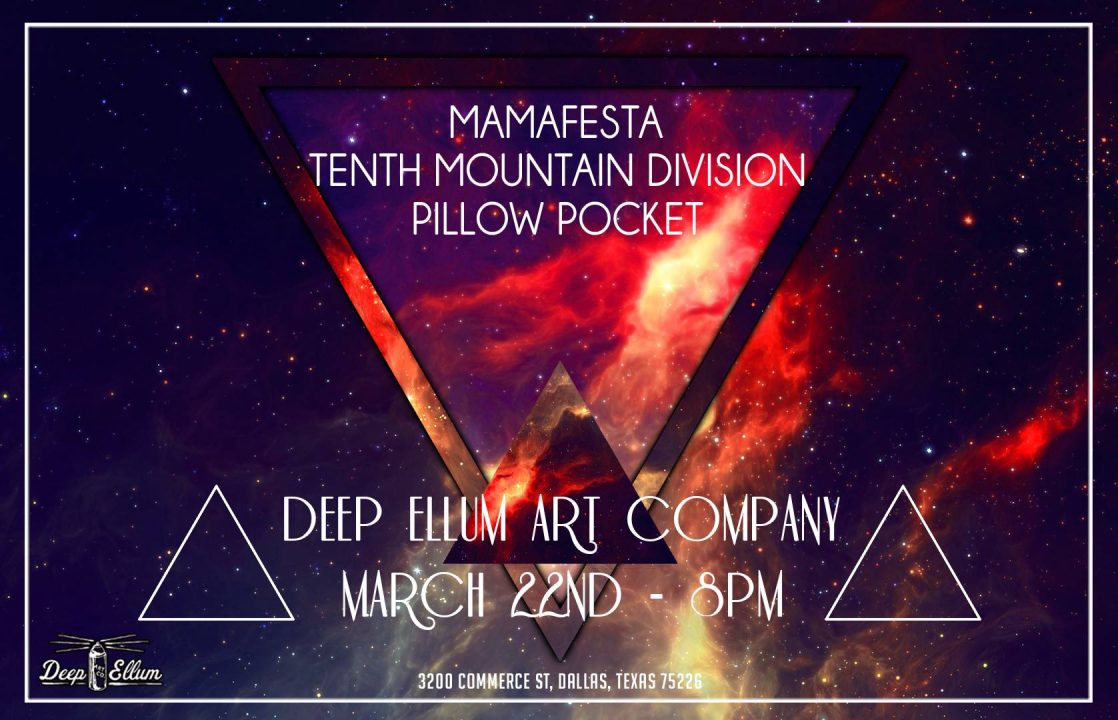 Deep Ellum Art Company presents:
[ live music / art gallery / game yard / bar ]
>>> 4pm: DOORS & BAR OPENS
>>> 8pm: BOX OFFICE OPENS
>>> 9pm: MUSIC STARTS
Mamafesta (11:30pm)
[ funk / soul / rock ]
Mamafesta is an original groove-rock outfit that was born in the fall of 2011. Over the years Mamafesta has begun to channel their own unique sound and reach out to their audiences through their musicianship and vocal messages Together these four talented musicians create a high-energy wave of sound that entices and evokes the spirit of the soul.

Mamafesta respects meaningful lyrical messages and well arranged tunes that have the freedom to go to a destination that the audience, atmosphere, and band all equally manifest together. Mamafesta prides themselves on their original material while still paying homage to the past greats and present day innovators. Hold on tight or just let go…
Tenth Mountain Division (10:15pm)
[ ski rock / bluegrass / americana ]
Tenth Mountain Division has evolved greatly since its inception but retains its roots in the American musical styles of rock, Americana, bluegrass, prog and the crossroads between them all.
Through out its preliminary years finding their roots in college and playing with an array of different line-ups, the band finally found their permanent line up in May of 2017 with the addition of bassist and vocalist Andrew Cooney. Drummer Tyler Gwynn and the ever-talented keyboard player Campbell Thomas form the quintet that creates a diverse soundscape combining soaring electric guitar leads and jabbing keys while retaining its roots in bluegrass with Heuga's incomparable mandolin style. The rhythmic interplay of Cooney's driving bass fused with Gwynn's incendiary drumming round out the unique sounding band that is truly a style of its own; what the band refers to as "Ski Rock".
Pillow Pocket (9pm)
[ progressive / Electro-funk ]
Pillow Pocket packs the funk punch that you crave. Dallas's newest electro-funk band on the scene, providing high energy grooves that are cooler than the other side of the pillow. They're not just another "jam band" but a band that can jam! The party is just getting started…
Band influences include Lettuce, The Motet, Tauk, Spafford, Umphrey's McGee, The New Deal, Vulfpeck, Spafford, Dopapod, Phish, Grateful Dead, Turkuaz, Herbie Hancock, P-Funk, and Kung Fu.
Tickets on Sale Now!
http://bit.ly/MamafestaArtCo
$8 ADV // $12 DOS
http://DeepEllumArt.Co/