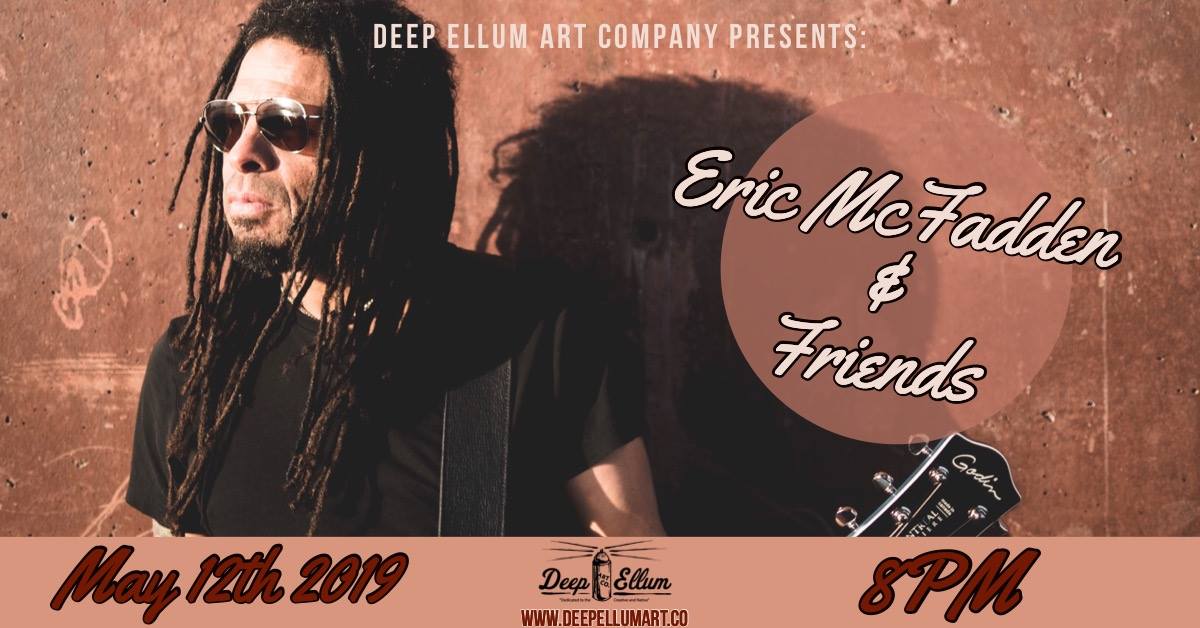 Deep Ellum Art Company Presents:
[ live music | art gallery | bar | backyard ]
http://DeepEllumArt.Co
An Evening with
Eric McFadden & Friends
Sunday, May 12, 2019
(7:00 PM – 10:00 PM)
Tickets On Sale Now!
http://bit.ly/EricMcFadden5-12
Eric McFadden is a virtuoso of the six-string. He has toured the world both as a solo artist, as well as traveling with funk legend George Clinton (Parliament/Funkadelic), and rock legend Eric Burdon (The Animals). McFadden is a member of the new supergroup, T.E.N. (www.TEN-music.com), alongside Thomas Pridgen (Mars Volta) and Norwood Fisher (Fishbone). Eric has also been collaborating with Fishbone frontman, Angelo Moore, & Queen delphine on a project called Jubilation Nation. If that isn't enough, you can catch Eric on the road with his dear friend & New Orleans favorite, Anders Osborne!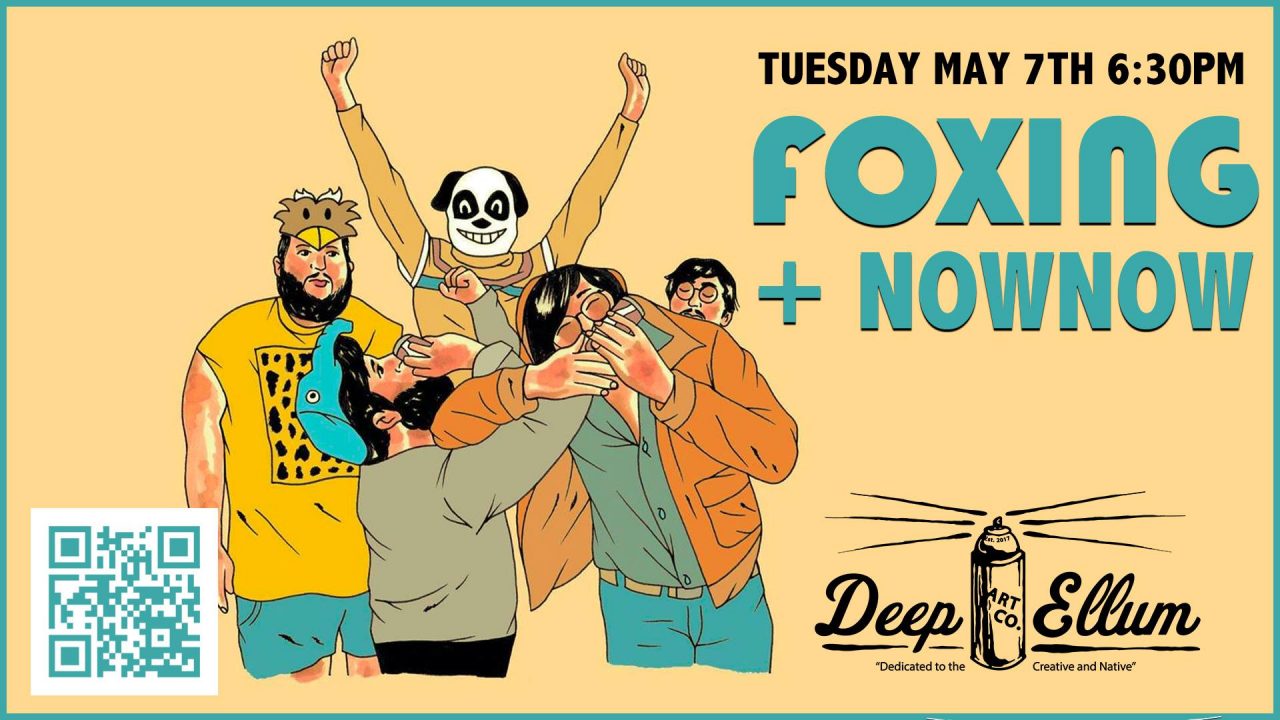 Foxing | Now, Now at Deep Ellum Art Company
w/ Daddy Issues
Showtime: Tomorrow May 7th
8pm-11pm
Foxing returned in 2018 with Nearer My God (one of Brooklyn Vegan's favorite albums of the year), and they're now set for a 2019 co-headlining tour with Now, Now (who released Saved, their first album in six years, in 2018).
The tour hits Chicago, Cleveland, Pittsburgh, Toronto, Brooklyn, Boston, Asbury Park, Philly, DC, Orlando, Tampa, Dallas, Austin, and more.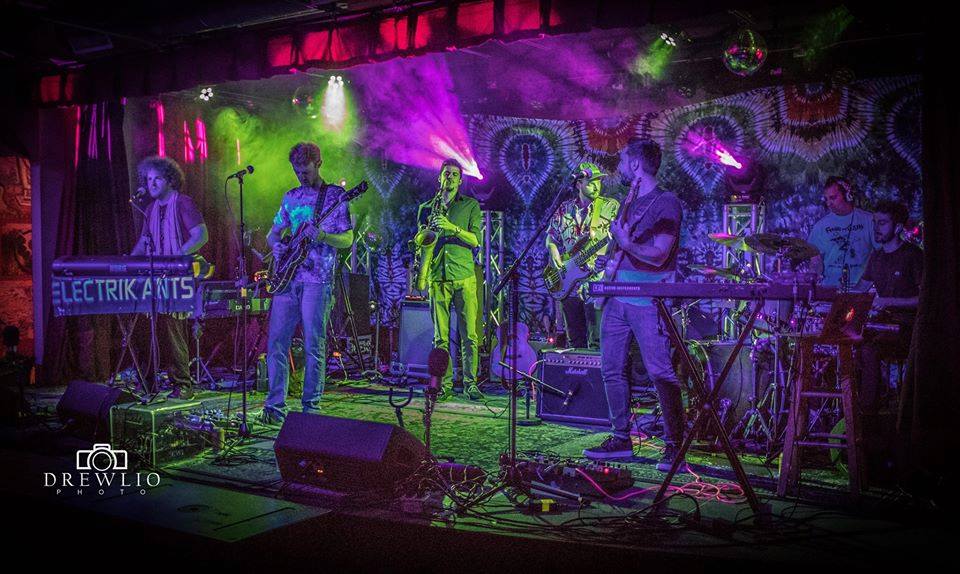 Keep the vibe alive at Sundown at Granada with Electrik Ants after Jim James graces the Granada Theater!
Showtime: 10pm– 1am
—–
Electrik Ants
is a septet blending hip hop, funk, psychedelic, and groove, unique and exciting. As if Gorillaz, Red Hot Chili Peppers, Lettuce, and Pink Floyd all hopped in a rocket ship. Sax, DJ, drums, bass, and three members that rotate between rapping, singing, guitar, keys, synth, and percussion – an adventure of vibe and sound.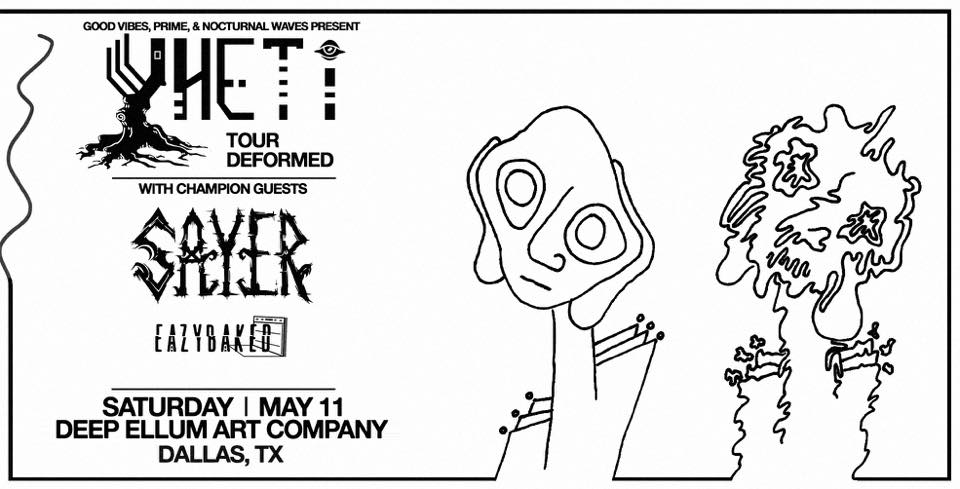 Good Vibes Presents, PRIME, & Nocturnal Waves Present:
Saturday, May 11th, 2019
at Deep Ellum Art Company
Purchase tickets at https://deepellumyheti.theticketingco.com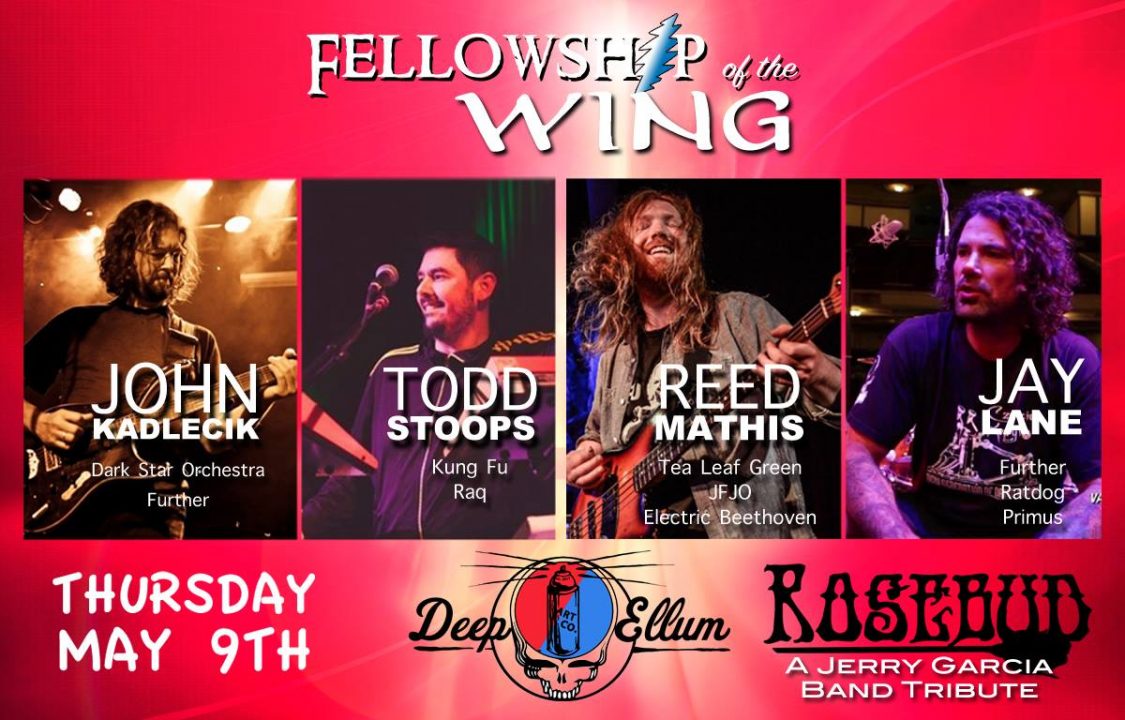 Deep Ellum Art Company Presents:
[ live music | art gallery | bar | backyard ]
http://DeepEllumArt.Co
John Kadlecik's
'Fellowship of the Wing'
feat. Jay Lane (of Primus)
Reed Mathis (of Tea Leaf Green)
& Todd Stoops (of Kung Fu)
+ Rosebud: A Jerry Garcia Band Tribute
Thursday, May 9, 2019
(8:00 PM – 12:00 AM)
Tickets on Sale Now!
http://bit.ly/FellowshipOfTheWing-DTX
—–
♫ ABOUT FELLOWSHIP OF THE WING ♫
From the depths of Furthur, Golden Gate Wingmen and Electric Beethoven emerges John Kadlecik's Fellowship of the Wing! In this
musical brotherhood, John Kadlecik (Dark Star Orchestra, Furthur, Phil Lesh and Friends, Golden Gate Wingmen), Jay Lane (RatDog,
Furthur, Primus, Golden Gate Wingmen, Wolf Brothers), Reed Mathis (Billy and the Kids, The Rhythm Devils, Golden Gate Wingmen, Electric Beethoven) and Todd Stoops (Kung Fu, RAQ, The John Kadlecik Band, Electric Beethoven) mingle originals, unique covers and many Grateful tunes, sure to take you on an epic musical adventure!
♫ ABOUT ROSEBUD ♫
To celebrate the music of the Jerry Garcia Band, Dallas, Texas' own "ROSEBUD: A Jerry Garcia Band Tribute" brings together the talents of some familiar faces from Grateful Dead tribute FORGOTTEN SPACE. The mission is simple: Celebrate and honor the music of the Jerry Garcia Band in a super fun setting by covering favorite classics and deep cuts from all eras of JGB's existence, while exploring the improvisational soloing and deep grooves of this amazing body of work.