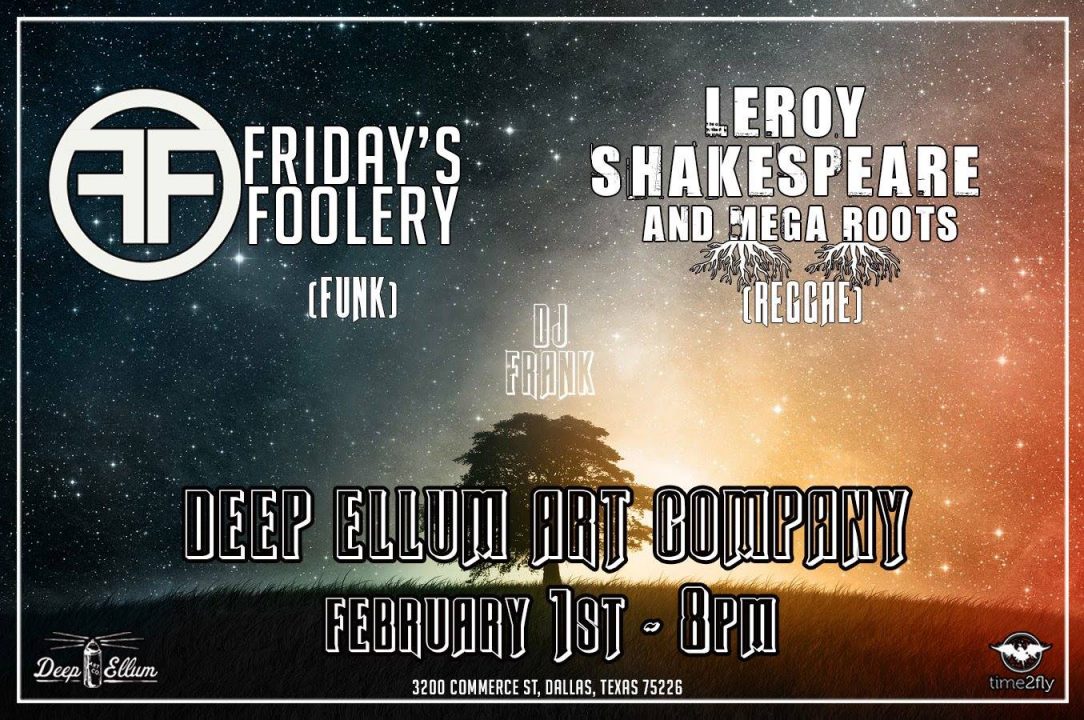 Deep Ellum Art Company Presents:
[ live music venue / art gallery & yard / bar ]
Leroy Shakespeare (8:30pm-10:30pm)
[ roots / dancehall / rock ]
"A powerful new sound with reggae rhythms, drum and bass to rock your feet with good messages, a uniquely powerful and intelligent roots reggae and dancehall. Action on stage can become interesting, just when it seems calm…he hits the listener with upbeat power chords and energy that makes you want to jump up! His music is perfect for young rastas.
Leroy Shakespeare was born in Kingston, Jamaica and come to the U.S. in the late 80's, based in Dallas and Los Angeles. The unique and powerful brand of roots reggae and dancehall, driven by good vibes across the U.S."
w/ Friday's Foolery (11pm-1am)
[ soul / alternative / pop ]
Friday's Foolery was formed in the summer 2011 during a church rehearsal while playing around with a few Disney tunes and posting them on YouTube. From there, they formed their style with the motto "Creativity through Diversity".
DJ Frank- 8:30-9pm
Leroy Shakespeare- 9-10:30pm
DJ Frank-10:30-11pm
Friday's Foolery-11:30-1:30pm
Tickets on Sale Now!
http://bit.ly/LeroyDallas
$8 ADV // $10 DOS
http://DeepEllumArt.Co/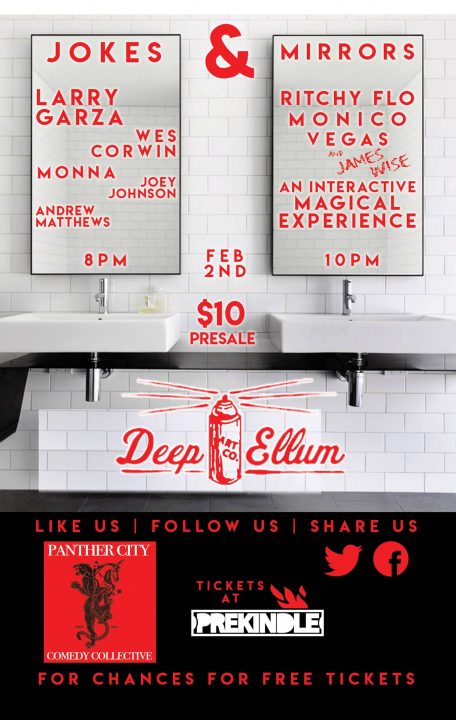 Kautsch Surfers presents an amazing night of locally sourced Stand Up Comedy and Magic.
San Antonio Comic Larry Garza will be headlining an 8pm showcase with great local stand up talent Wes Corwin, Monna DP, Joey Johnson, andAndrew Matthews.
Ritchy Flo, Blake Dvorak, Monico De La Rosa, and James Wise will be bring their magical presences to the stage at 10pm.
And then after all that DJ Mikey Rodge will be shuttin'r down.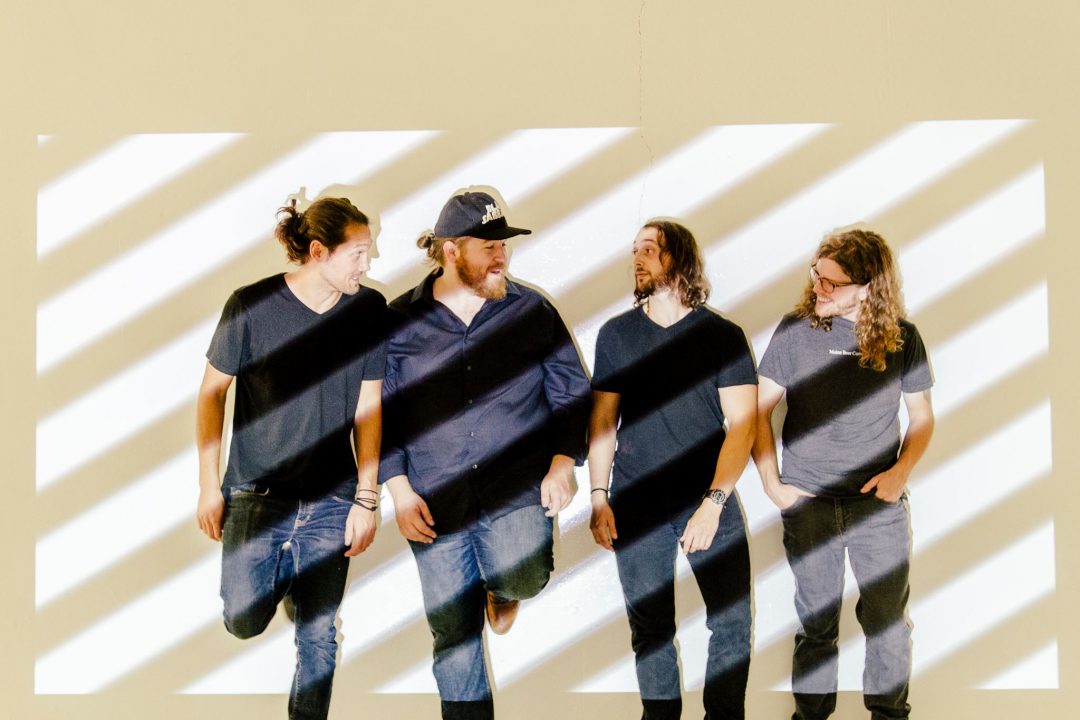 Deep Ellum Art Company Presents:
[ live music / art gallery & yard / food trucks ]
Backup Planet (11:30pm)
[ experimental funk-rock ]
www.backupplanetmusic.com
Rock 'n' roll epitomizes escapism in its purest form.
It's not just artistic anesthetization either, but rather a galvanizing force that inspires us to keep pushing through life's trials and tribulations. That's why we still listen to Led Zeppelin, Black Sabbath, Pink Floyd, Rush, and countless others all these years later. It's the same reason audiences will be talking about Backup Planet's second full-length album, Reactions, for a long time to come. The Nashville, TN quartet—Ben Cooper [keys, vocals], Chris Potocik [drums, vocals], Gavin Donati [guitar, vocals], and Blake Gallant [bass, vocals]—write arena-size anthems echoing with progressive intricacy, funk swagger, and even a little metallic edge. Giving listeners an inspiring and invigorating aural haven, their moniker couldn't be more apropos…
+ Cream Cheese Accident (9pm)
[ The String Cheese Incident Tribute Band ]
Based out of Austin, Tx, Cream Cheese Accident is a celebration of the music of String Cheese Incident. The members, all involved in the local Austin jam scene, are all long time fans of SCI and love the fun and feel good vibe of the band.
$8 ADV // $13 DOS
Tickets on Sale Now!
http://bit.ly/BackupPlanetCCA